Ken Saro-Wiwa commemoration in Dublin

international | environment | feature

Tuesday November 13, 2007 23:50

by Tadhg McGrath
November 10th 2007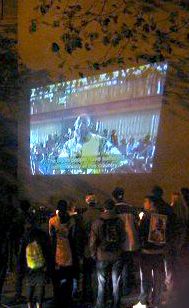 A large crowd braved the cold evening weather to attend the first Irish screening of the documentary on the trial of Ken Saro-Wiwa and the Ogoni Eight - "Don't Let Shell Kill Again" , which was appropriately projected onto the outside wall of the Shell headquarters building at 52 Lower Leeson Street in Dublin, on the 12th anniversary of the executions.

Sister Majella McCarron, in what will probably be her last public appearance, made a short speech to provide a context for the film, remembering Saro-Wiwa and the others who were executed at the behest of Shell, after a series of events which shocked the world in 1995.

Sister Majella gave us an insight into the situation in Ogoniland today, and Senator David Norris read an excerpt from Saro-Wiwa's speech at his sentencing hearing in Port Harcourt, when he and his co-defendants heard that the special military tribunal had decreed that they were to be hanged.

The annual Ken Saro-Wiwa Memorial Seminar was also held at UCC in Cork on November 10th, and Saro-Wiwa was remembered as well on Friday morning in Mayo, where an attempt to hold a peaceful march to the proposed Shell refinery site at Bellanaboy was marred by the police efforts to force construction traffic along the road.

The large force of police (including Special Branch) who surrounded those who attended the screening in Dublin reminded many people of attempts to intimidate opponents of Shell in other parts of the world, and their refusal to close a lane of traffic to allow people to pass the commemoration in safety showed that they have much in common with their colleagues in Mayo.

After the film screening, a wreath was laid at the front door of the Shell building.

Here is an excerpt from Saro-Wiwa's speech which was read by Senator David Norris during the candle-lit vigil:

"We all stand before history.

I am a man of peace, of ideas.

Appalled by the denigrating poverty of my people who live on a richly endowed land, distressed by their political marginalisation and economic strangulation, angered by the devastation of their land, their ultimate heritage, anxious to preserve their right to life and to a decent living, and determined to usher to this country as a whole a fair and just democratic system which protects everyone and every ethnic group and gives us all a valid claim to human civilization, I have devoted my intellectual and material resources, my very life, to a cause in which I have total belief and from which I cannot be blackmailed or intimidated.

I have no doubt at all about the ultimate success of my cause, no matter the trials and tribulations which I and those who believe with me may encounter on our journey. No imprisonment nor death can stop our ultimate victory. "

To watch the short film click these clicks : http://www.youtube.com/watch?v=YZhy_VaYisU

http://www.youtube.com/watch?v=nNaY4xBiQp8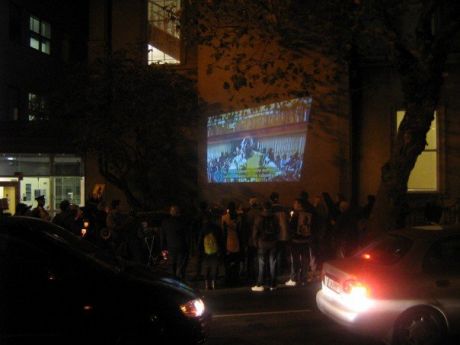 Film projected on to wall of Shell HQ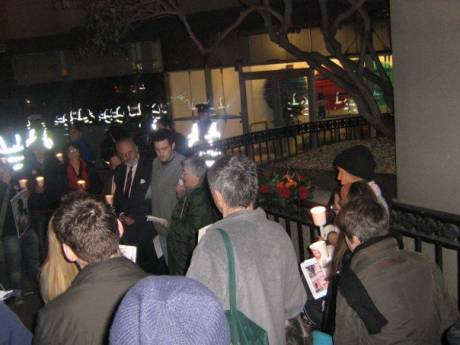 Large force of Gardai surround commemoration