Anti War Demo at Ennis, War Planes at Shannon

international | anti-war / imperialism | news report

Wednesday November 07, 2007 21:53

by Edward Horgan
Business as usual, murder and torture facilitated at Shannon airport
I went to Shannon airport at about 8.15 am this morning.
Today was another "quiet" day at Shannon. There are more Ryanair flights, but far fewer other civilian flights including Aer Lingus, other long haul tourist or business flights. However, US military and CIA flights are continuing at a high level.
At Shannon airport on the morning of 7 November 2007, what appeared at first sight to be civilian business type executive jet, was being protected by Irish army jeep with armed soldiers standing guard. I checked the tail number which was 70140 with no letters. A phone call to Tim and an internet search revealed that this plane was in fact a Gulfstream C 20E based in US Airbase in Ramstein, Germany. Its belongs to the US Army Priority Air Transport Fleet, (USAPAT) used to transport US senior military commanders, or for other special tasks.

I took some photos and continued on to Ennis to attend the Ceifin Conference that was being addressed by Kathleen O'Toole, the former Boston USA Police Commissioner who is now Chief Inspector for An Garda Siochana. The previous speaker was Sean Love of Amnesty, who read out a testimonial from a Guantanamo prisoner.
During the questions and answers session I introduced myself as a civil society peace activist, and explained that Shannon airport about 15 miles away played a key part in the rendition of prisoners for torture as confirmed by Amnesty International, the European Parliament, and the Council of Europe. I informed her that the Gardai were in serious dereliction of duty by failing to enforce the UN Convention Against Torture at Shannon, by failing to investigate allegations that prisoners were being transported through Shannon for the purposes of being tortured. I also pointed out that Gardai at Shannon were also abusing their powers and bringing unjustified charges against peace activist who were attempting to expose the truth at Shannon. I then asked the Garda Chief Inspector what action she would take to investigate these issues. The large attendance at this conference was mainly from Co Clare, and they responded to my questions and statement with a spontaneous round of applause which took me by surprise. The response by Kathleen O'Toole was also more encouraging than I expected. She explained the limitations of her post, but said had not yet had a chance to look into the issues at Shannon directly, but that she had had discussions with the chair person of the Irish Human Rights Commission Dr Maurice Manning on the issue, and that she would consider looking into the issues at Shannon in more detail. I also met her briefly during the coffee break and arranged to make a written submission to her on the problems with the Gardai at Shannon airport.

I had only become aware of this conference the previous day when Tommy Donnelly phoned me. Tommy arrived from Galway this morning and mounted a one man anti war and anti CIA peace protest outside the conference at the West County Hotel. Tommy's protest was also well received by locals at the conference.
We then went back to Shannon airport and took some more photos of the US military Gulfstream. Also at the airport in the early afternoon was an OMNI Air troop carrier just taking off, and an ATA troop carrier at Gate 42 being refuelled by Top Oil. Also at the airport was a large Volga Dniepr Antonov transport aircraft that have been used in the past for moving large amounts of munitions through Shannon to the Middle East, including attack helicopters.
As usual in such cases, I then went to Shannon Garda Station and made a formal written request for the Gardai to search the Gulfstream aircraft no. 70140.
I had made a similar request on 30 Oct 07 to have Gulfstream N475LC, a known CIA rendition aircraft searched, and I received a written reply from Inspector Kennedy which said:
"I wish to inform you that the Gardai will not be taking any action on the information contained in your Statement."
Yours sincerely.,
T. A. Kennedy
Inspector for Superintendent.

Separately, there are indications at Shannon that the so-called smoking gun of torture rendition will be exposed at Shannon over the coming year. There have been strange goings on within the airport over the past year, and the Aer Lingus betrayal on the Shannon Heathrow slots is just one of these. Other airport workers, in addition to Aer Lingus workers, are being treated like serfs in Imperial Russia, and many are being threatened with redundancy and dismissal. On3 wonders what the unions have been doing in recent years.
The travelling public, and business interests, in the Mid West of Ireland have also been treated like non-citizens, non-people, while priority has been given to Dublin interests, and of course to US military and CIA use of Shannon airport.
One attendee at the Ennis Ceifin conference told me that he had been told by Minister Michael McDowell in 2003 that the Irish Government had no choice but the give the US military and CIA the use of Shannon airport, "otherwise they would have devastated the Irish economy".
So it seems that blackmail was used after all, probably on March 17, 2002, a year before the war began, and over a bowl of Shamrock.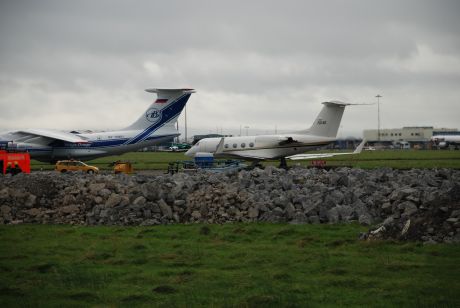 Volga Dneipr munitions transporter? and Gulfstream running for cover?