US Supreme Court considers constitutionality of Lethal injection

international | crime and justice | other press

Friday October 19, 2007 12:42

by halowe'en decorations - "we're not on uppers we can afford pumpkins"
"a quarter century of poisoning"
New York Times :- .........."The Supreme Court has granted two stays of execution and refused to vacate a third in the three weeks since it agreed to hear a challenge to Kentucky's use of lethal injection. On Thursday, the Georgia Supreme Court became the latest state court to interpret the justices' actions as a signal to suspend at least some executions. It granted a stay to Jack Alderman, who had been scheduled to die by lethal injection Friday night for murdering his wife 33 years ago. The top criminal court in Texas, a state that accounts for 405 of the 1,099 executions carried out in this country since 1976, has indicated that it will permit no more executions until the Supreme Court rules, sometime next spring..........."
......." The Nevada Supreme Court this week postponed all executions in that state. The governor of Alabama gave one inmate a 45-day reprieve. The country's most recent execution took place in Texas on the night of Sept. 25, hours after the Supreme Court announced its review of the Kentucky case........."

..........."This sequence of events has led some death penalty opponents and other analysts to declare that a de facto moratorium is in place..........."
http://www.nytimes.com/2007/10/19/washington/19scotus.h...5SlkA

Of course there is no moritorium in place, but the US supreme court is strapping down the table again. Of the 929 deaths by lethal injection at least 40 were botched :-

(from Speigel) ......."the US death penalty debate has been given a new lease on life now that the Supreme Court is examining the question of whether the preferred method of execution, lethal injection, is in fact constitutional. The death penalty is still in force in 38 US states, and lethal injections are the preferred method. The death penalty is still in force in 38 US states, and lethal injections are the preferred method. Everyone thought the Lucasville, Ohio, execution was over when Joseph Clark suddenly raised his head and groaned: "It's not working!" Appalled, the executioners closed the curtain that separated them from the witnesses and hastily began giving the murderer a second poisonous injection. The curtain was opened again 35 minutes later, but the spectacle was not yet over. Clark tried to say something again and again. His 2006 execution took 86 minutes from beginning to death. Reports suggest US executioners have not yet mastered the technique of administering lethal injections. At a prison death chamber in Starke, Florida, for example, a convicted murderer strapped down in the execution chamber last year gasped for air "like a fish on dry land" before he died 34 minutes after receiving the injection...............

http://www.spiegel.de/international/world/0,1518,511791....html

More immediate background :-
Supreme Court Grants Stay of Execution for Virginia Man Oct 18
http://www.nytimes.com/2007/10/18/washington/18execute....fta=y
Court stays execution in Nevada Oct 17
http://www.nytimes.com/2007/10/17/us/17lethal.html?fta=y

General background -
global
http://en.wikipedia.org/wiki/Death_Penalty
US
http://en.wikipedia.org/wiki/Capital_punishment_in_the_...tates

Campaign background -
USA
http://ncadp.org/
http://www.deathpenaltyinfo.org/
http://www.amnestyusa.org/Our_Issues/Death_Penalty/page...n2=28
http://www.amnestyusa.org/document.php?lang=e&id=ENGACT...72007

______________Johnny Cash :-

It all began when they took me from my home
And put me on Death Row,
a crime for which I am totally
innocent, you know.

I began to warm and chill
To objects and their fields,
A ragged cup, a twisted mop
The face of Jesus in my soup
Those sinister dinner deals
The meal trolley's wicked wheels
A hooked bone rising from my food
All things either good or ungood.

And the mercy seat is waiting
And I think my head is burning
And in a way I'm yearning
To be done with all this
weighing of the truth.
An eye for an eye
And a tooth for a tooth
And anyway I told the truth
And I'm not afraid to die.

I hear stories from the chamber
Christ was born into a manger
And like some ragged stranger
He died upon the cross
Might I say, it seems so fitting in its way
He was a carpenter by trade
Or at least that's what I'm told

which is excerpted from Johnny Cash' "mercy"
http://www.mp3lyrics.org/j/johnny-cash/the-mercy/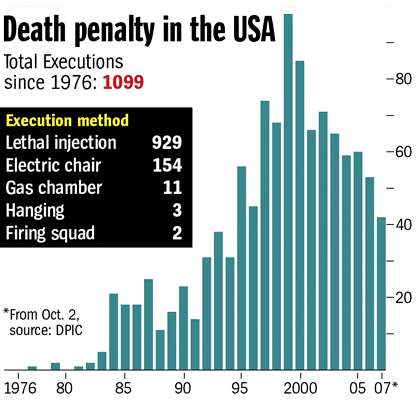 included children, burning skulls, injections that didn't work, mentally handicapped people, heads that snapped off, even witnesses who vomited blood