The ongoing "war" against Barcelona's okupas and its social movement(s)

international | housing | feature

Wednesday October 17, 2007 23:53

by dunk

fuspey at yahoo dot co dot uk
What reaction will there be now?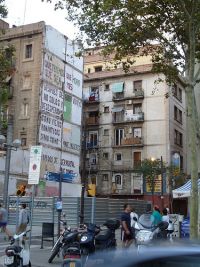 This morning at 8.30 the Mossos arrived and carried out the eviction of anohter of Barcelonas most important social centres, Ruina Amalia, one of the last few squatted spaces in the Raval nieghbourhood of the old city. The centre was another of the critical spaces and nodal points of BCN's social movements, about 20 people lived in the squatted space and its social centre hosted a wide range of services and support to the social movement: Okupa office, ASF (architects sans frontiers: arx without borders) support, free internet access, Carcoma the popular carpenter, costume workshop, free shop, kilombo library, theatre and dance space, flamenco patio with cheap bar and cafe.

This is another severe blow to critical nodal points of the cities social movement. It seems blow after blow has been dealt out with no real response from the movements..... Is it time for a change of thinking or acting?
It is clear that a determined effort has been made by the city authorities to take out as many occupied spaces as it can in the city, this happens as the brand of "BCN: tourist central" brings more money and demand for space to a city that has seen rapid change. As well as shutting down many living spaces, the authorities are also using measures and mechanisms to destroy the spatial and organisational suppport structure of the cities (and beyond) social movements. Last year we saw the dstruction of la Makabra and this year L'Opera, Miles de Viviendas and now Ruina Amalia, each of these spaces played integral parts to both local struggles and wider points for the movement(s) here. It seems that the use of law for the "deselojo express" was not strictly legal, still many spaces were closed while lawyers and civil society argued about the legality, not sure if they still use this mechanism which basically meant that authorities arrived and handed the space an order saying "get out in 7 days or you will be removed and face legal proceedings...".

Ruinamalia had a court order which stated that an eviction might happen or could only happen within the courts time limit. That day passed 2 or 3 days ago and so the CSO were awaiting a new court procedure to get ready for the next round of trying to avoid eviction. BUT, this morning with, it appears, no court order the Mossos arrived and began evicting at 8.30. By 12.30 everyone was out of the building, some of the buildings inhabitants were on the streets outside, builders or deconstruciton workers were inside smashing stuff up, Mossos vans were on the streets keeping an eye on things.

So, what will be the reaction?
OR
What has been the reaction to this "war against okupas"

Firstly, to point out that not all social centres are occupied spaces, many which play critical roles in the movement are rented spaces like la quimera and infoespai in Gracia.

Secondly, not all okupas are social centres, although many hope to open up at some stage as a local space for organising. Last week in Barceloneta 2 okupas (occupiers) were murdered, these were 2 Moroccons and not clear as to what exactly went on there. In pallars, most of the okupas were not the white political-punky type, although some were, most were sub-Saharan africans without legal work papers who built a shanty town of sorts in the upper shell of that old factory in Poble-Nou.

The reaction.....
With the change of use of laws and the increase in evictions there did'nt seem to be any major reaction. Was this laziness or a feeling that all will be ok, as it always has been before...? Eventually an okupa demo was called to support the okupa spaces and movement, to fight against speculation, and to protest against the seemingly illegal procedures the state was using. That demo resulted in the kubotan (martial arts weapon) being used and much Mossos banging of heads, that demo also saw another new ploy by the state: the encircling of demonstrations by an entire ring of riot cops, cop vans and ambulances in front and behind, no allowing of people in or people out of the demo once it kicked off. This was reacted to by the social movements by the 2 "you cant clip our wings" demos, the first of which was a heated event with a 6 hour stand off forming at the top of the tourist Rambla, where it joins Placa Catalunya. This was followed by a less well turned out demo last month.

But tonight, will it be a repeat of before, or will things be different this season? (summer time is less quite, so its seems as this is a new year, after people return from being away from hot hot summer city.)

And after tonight, perhaps there will be new spaces opening. As with all these spaces there was a whole community to support, build, maintain, expand those wild ideas that led to the spaces existence. So far, as i know anyway, Makabra, Miles, L'opera have not grown and opened up a new chapter in their stories.... NOT YET, anyway...

Meanwhile in Dublin It seems that things are definately going very well for the cities social centre, Seomra Spraoi. Perhaps there can be an increase in communication, solidarity... between these two cities and their movements, who are all only little drops in the global movement(s) to bring about a change to this world. Be nice for people here to hear a word or 2 of support from you there in Dublin and beyond

I'll leave you with the poem which is still visible from the last remaining internal wall of what was the Miles okupa in Barceloneta (little Barcelona)...

ya que tenemos que morir

que sea pues depués de haber vivido

no solos y desesperados como viejos románticos

sino como hombres, mujeres, híbridos

de ser mortal [e inmortal] que somos

(roughly translating as....)

Well we know that we will die
but that we will do so having lived
not alone and desperate like those old romanitcs
but as men, women and hybrids
knowing that we are mortal

we are thousands

La luche sigue!

************************************************************************
Ruinamalia;

The occupied social centre Ruinamalia does not surrender.

Starting from the 1st of October, the occupied and self governing social centre Ruinamalia and the occupants of 11 and 11b in street Reina Amalia are in danger of eviction.

After a juidicial farse, justice decided to give the rights of power to make in this site of living, a new empty building site in the Raval. The espuculators will destroy completely the diversity of the neighbourhood and its spaces of autonomouse socio-cultural meetings like what has happened this year with teh occupied feminist house Mambo or the libertarian workshop/space of the "china neighbourhood".

With this eviction, many people and activities will be thrown out to onto the street: the okupa (squat occupation) office (legal support for those looking for a house), free internet access with free software, Carcoma the popular carpenter, costume workshop and its free shop of clothes and other marvels, the kilombo library, the room for teaching theatre and dance, the flamenco patio and its friday evening kafetas (cheap food and/ or drink gatherings...little feasts with a show sometimes..).... And all our dreams of constructing worlds beyond the laws of the market and competition. We will continue to imagine resistance against the control of speculation logic and its accomplices.

ruinamalia@squat.net

espai d'accés a internet gratuït amb software lliure : free internet access space with free software:
http://ram.squat.net

la biblioteca (library) Kilombo
http://kilombo.squat.net
__________________________________________

IMC features and links:

No a la destrucció dels barris, recuperem-los! (imc-bcn feature, in catalan : No to the destruction of neighbourhoods, reclaim them!
http://barcelona.indymedia.org/feature/display/321090/i...x.php

[Ruinamalia] Cercavila avui a les 8 al Gat : call for a city wander support demo against the eviction, to meet at Rambla Raval's sculpture of a big fat cat...
http://barcelona.indymedia.org/newswire/display/321122/...x.php

Desallotjament Ruïna Amàlia : eviction photos
http://barcelona.indymedia.org/newswire/display/321171/...x.php

Desallotjament Ruïna Amàlia 2: eviction photos 2
http://barcelona.indymedia.org/newswire/display/321175/...x.php

************************************************************************
Miles De Viviendas (and its pirate university / free school)

http://www.sindominio.net/miles
http://www.universitatpirata.org/
http://www.youtube.com/group/unipirata
__________________________________________
stories and features:

We are thousands: Barcelona and the ongoing attack
against its squatted social centres (indymedia)
http://www.indymedia.org/en/2007/05/886474.shtml

We are thousands : Somos 1000´s (indymedia ireland)
http://www.indymedia.ie/article/82327
___________________________________________
_audio:

1- miles de v, what it is, past, present, future...

a 24 minute interview with one of the squatter pirates
about all things great, positive and creative about
their space and actions.
-OGG
http://indybay.org/uploads/2007/05/30/milesdevivienda.ogg
-MP3
http://indybay.org/uploads/2007/05/30/miles-de-vivienda.mp3

2- re-occupation of miles
audi 2 (20 mins, MP3 format)
http://www.indymedia.ie/attachments/jun2007/copia_de_re...3.mp3
__________________________________________
video :

eviction and interviews
http://bcnnews.freehostia.com//index.php?option=com_con...mid=1

************************************************************************
La Makabra

Makabra eviction: Barcelona: 3 early morning raids
on 3 squats, including MAKABRA, ¿what reaction will
follow?
http://indymedia.ie/article/79776

A little piece of magic; toward a truly participative
architecture (the art of occupation)
http://easa.antville.org/stories/1525102/

************************************************************************
Seomra Spraoi, Dublin's social centre

Seomra Spraoi: We got us some space! (imc-ie feature)
http://www.indymedia.ie/article/84294

Today's Seomra Spraoi RTE Radio One Interview ( July
26, 2007 )
http://www.indymedia.ie/article/83592

Do Make Say Think: Totally Dublin Article On Seomra
Spraoi
http://www.indymedia.ie/article/83000

Sunday Tribune Article About Seomra Sproai
http://www.tribune.ie/2007/07/08/97321.html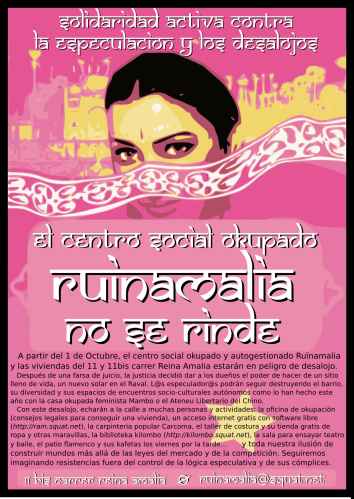 Ruinaamelia; "We will continue to imagine resistance against the control of speculation logic and its accomplices."


riot cops in cherry picker pluck defender of space from Miles roof