Spanish Civil War memorial unveiling

antrim | history and heritage | news report

Monday October 15, 2007 22:38

by Ciarán Ó Brolcháin - International Brigade Commemoration Committee

ciaranobrolchain at hotmail dot com
Monument unveiled in Belfast
With the International Brigade Memorial Trust AGM taking place in Belfast on the weekend of 12-14 October, attendees were overjoyed to witness the unveiling of a memorial to those who took a stand in defence of the Spanish Republic on Saturday 13th October in Writers' Square.
A large crowd had gathered for the Saturday morning event. The proceedings were opened by the secretary of the International Brigade Commemoration Committee, Kevin Doherty, who explained the work of the Committee in Belfast over the past two years to have a memorial erected in the city, and was greeted with applause when he mentioned that they had received no corporate sponsorship. A wreath of flowers was then presented to Amaya Ruiz Ibárruri, the daughter of La Pasionaria Dolores Ibárruri.

Doherty then continued to explain some of the difficulties faced by the committee in having a memorial erected, and thanked the Minister for Social Development Margaret Ritchie for the role she played in guaranteeing a site for the monument. Ritchie was then invited to say a few words.

The last surviving Irish veteran of the International Brigades, Bob Doyle, then made a short speech about the continuing need for vigilance against fascism and imperialism, and the continuing nature of the class war. Pól Mac Adaim, Chairperson of the IBCC, then performed the international workers' anthem the Internationale in Irish and English before Bob unveiled the memorial.

With the proceedings finished many of the crowd began making their way to one of the events organised by the IBMT. Many more however stayed to admire the memorial and to meet the International Brigade veterans who were present for the event, Bob Doyle, Jack Edwards and Jack Jones.

No pasarán.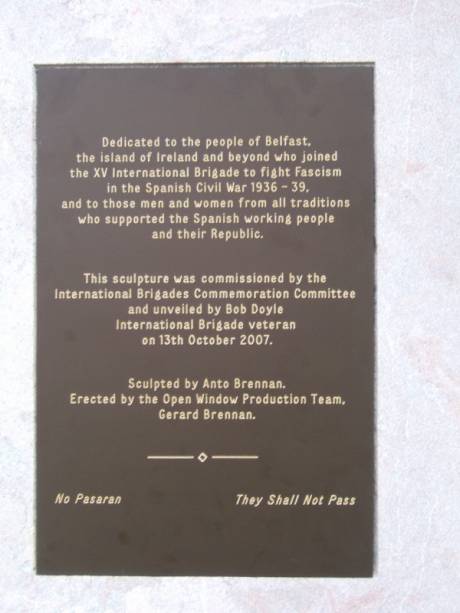 The inscription on the monument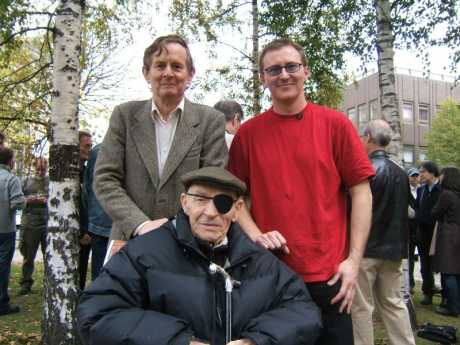 Bob Doyle with Harry Owens and IBCC Chair Pól Mac Adaim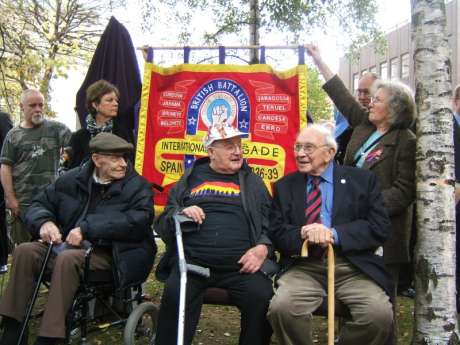 IB veterans Bob Doyle, Jack Edwards and Jack Jones