Human Aerial Art at Tara

meath | history and heritage | feature

Monday September 24, 2007 00:32

by Paula Geraghty

mspgeraghty at yahoo dot ie

0876101340
People power combines art protest and politics.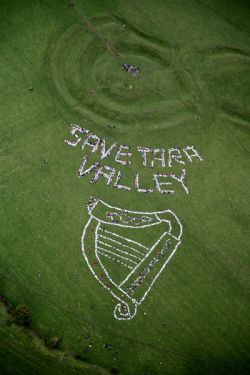 Over 1500 people from across Ireland and beyond, gathered at the Hill of Tara to take part in a living human sculpture to call for the rerouting of the M3 away from the Tara Valley.
It was magical, yes, driving up to Tara and getting stuck in an unforgiving traffic jam, to photograph a very special moment where over 1500 gathered to tell John Gormley and Bertie Ahern, to reroute the M3. The event was to start at 3pm, but hundreds were there 2 hours in advance. French, English, Irish and other unknown tongues wafted in the flurry of excitement as people examined their tickets discussing which letter in the living protest they would be. One child's birthday present was participating in the living sculpture.

When the helicopter arrived, all bets were off as hundreds rushed to see it land. One woman with a child on her back ran in vain after another two shouting "don't go near the blades!" There were plenty of stewards holding back the tide of incredibly keen onlookers.

On the ground there was a great leap of faith as to what would emerge from their choreographed contortions. From the air ,the voice of Ireland spoke out: moving, twitching, questioning and resisting the policy of Fianna Fail/Possessive Democrats/Green Party and big business interests. The issue of the M3 is not dead. It is very much alive. The battle is not over!
(Images © Paula Geraghty)
Related Links: Averting our eyes from Crime at Tara | Photo Essay: Tara Under Full Moon | Government Creating 'Facts On The Ground' At Tara Hill Complex Despite Huge Opposition | Stop Wasting Public Money on Wanton Destruction of the Tara-Skryne Valley | Heed the People - Respect the Law - Stop the Dig - Save Tara! | On The Road to Hell - The Battle to Save the Tara-Skryne Valley Begins | Tara - N3 - Widen The Road Instead. Traffic, Cars and Peak Oil | Save Tara Website | More on Tara from the Indymedia Vaults