Irish Activists in Lebanon on 1st Anniversary of Israel's War

international | anti-war / imperialism | feature

Sunday August 05, 2007 11:23

by Damien Moran
Damien Moran reports from Lebanon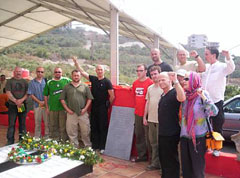 Derry Anti-War Coalition visit to Lebanon
Over the past week I accompanied 12 members of the Derry Anti-War Coalition (DAWC), including
the Raytheon 9
, to visit communities in southern Lebanon which were devastated by the Israeli war last summer. We visited Bint Jbail and A'ita al-Chaab near the Israeli border, both of which received heavy bombardment from Israeli airstrikes and incursions from armoured bulldozers, tanks and troops, reducing civilian infrastructure to dust and pebble, their hearts to shock and fear, their eyes to tears for their lost loved ones. In addition to this, the DAWC protested outside the obliterated Palestinian refugee camp Nahr-al-Bared near Tripoli in Northern Lebanon. The primary purpose of their visit was to lay a commemoration stone at Qana (read:
Slaughter in Qana by the Israeli's
), site of a brutal Israeli massacre of innocent civilians one year ago. A poignant ceremony took place on Monday last with families of the deceased, local community leaders and Lebanese media.
The plight of the Palestinians
The de facto war zone at Nahr-al-Bared between the Lebanese army and Fatah-al-Islam has been the scene of vicious fighting, deadly sniper attacks and indiscriminate destructive shelling which has smashed the once thriving commercial centre and 55 year old refugee camp to rubble. 123 Lebanese Army personnel and countless numbers of Fatah-al-Islam fighters, as well as scores of innocent refugees have been killed over the past 70 days. Over 50,000 innocent civilians have fled the battleground, the majority of whom were already displaced Palestinians many times over, forced to take up temporary shelter in the tiny, under-resourced and over-populated Baddawi camp, about 7 kilometres away.
This refugee camp, approximately 1.5 square kilometres in area, now houses up to 56,000 Palestinian refugees. Electricity cuts are frequent, safe drinking water lacking, sanitation systems under serious pressure, illness going under and untreated, internal hostilities growing. The residents are losing hope as they know their future is very uncertain and insecure.
Irish Activists on the Frontline
As part of their journey through Lebanon the DAWC held a series of high profile meetings with anti-war academics, resistance fighters, as well as spiritual and political leaders from the Lebanese community. The whole trip facilitated by the invaluable guidance and assistance of two veteran Irish pece activists, Caoimhe Butterly and Michael Birmingham. The latter are both on the frontline of human rights work in Lebanon and have in the past done similar owrk in Palestine and Iraq.
The tragedy of war
Both Lebanese victims of war and Palestinian refugees greeted us all with amazing warmth throughout our visit. The hospitality we received from the local Southern Lebanese communities and Palestinian refugees densely packed into Baddawi camp was one which strongly reminded us all of our duty to arry their message home and abroad and to continue to fight alongside them in their struggle for justice. Despite having to endure terrible living conditions - the Palestinian refugees facing an increasingly racist Lebanese community and a very indefinite future due to the destruction of their 50 year old home at Nahr al-Bared, the spirit of resistance is alive and well in these strongly-binded communities.
Act yesterday, not tomorrow
The debt DAWC and myself owe to Caoimhe and Michael is huge. They are both doing excellent work in Baddawi camp, though their humble personalities will admonish me for writing this, and as international activists are playing an invaluable role in drawing attention to the plight of the innocent civilians still caught up in Nahr-al-Bared. In the coming 24 hours I will try to outline how the Irish community could and need to respond to these pressing issues.
Some of the basic forms odf protest should be exercised though on their own they are not sufficient. Please get on to your local NGO if they are based in Lebanon - find out the work they are doing and request they defend and support the civil rights of Palestinians living in Lebanon.
Go to your local councillor or politician and ask them to use their influence to put pressure on, demand the Lebanese leaders do not collectively punish the civilians of Nahr al-Bared. Contact yiour local, national newspapers and demand they publish accurate and fair news on Lebanon's international obligations to not punish civilians alongside militants in Nahr-al-Bared and to obey all the Geneva Conventions.
Solidarity vigils with the residents of Baddawi-refugee camps could be held outside Lebanese consulates/embassies worldwide, as well as Israeli embassies to hold them accountable to the Palestinian right to return to their homeland. The ongoing boycott of Isralei goods is also essential. The publication of articles related to Nahr-al-Bared in publications you are involved with, have influence on will also help to make the international community respond in demanding a humantarian solutuion to a humantarian crisis. I'm sure there are many other things which can be done that I hope people will outline below and enact accordingly.
Time is running out for the citizens of Nahr-al-Bared, both trapped in the camp and in Baddawi camp. Supporting actions like those of the Raytheon 9, back in court on September 3rd in Derry, are quintessential if our resistance to militarism and the breaching of civil rights is to prove successful. In addition to this, supporting Michael and Caoimhe's work financially will go a long way to helping the refugees in the camp.
Michael can be contacted at michaelbirmingham1 at gmail dot com
Caoimhe can be contacted at sahara78 at hotmail dot co dot uk
If you would like to donate to their work please email them and ask for the relevant a/c details.
For very important background reading please see Caoimhe Butterly's indymedia report: '
Update on the situation in Nahr al Bared
'