Meath - Event Notice
Thursday January 01 1970
Summer Solstice Celebrations at Tara Commence

meath | history and heritage | event notice

Thursday June 21, 2007 02:27

by TaraWatch

info at tarawatch dot org
Festival will continue from Wednesday night until Sunday evening, followed by a demonstration outside Dept of the Environment on Monday
Wednesday night saw the launch of summer solstice festivities on the Hill of Tara. Singer Laura Murphy opened the event, with people gathering to camp out and be present for the Thursday sunrise,
on the longest day of the year.

Different groups are holding one-off events on Tara during the coming days. TaraWatch has a schedule of events they are presenting until Sunday. These will be followed by a demonstration outside the Department of the Environment on Monday.

Music on Thursday morning will begin at 4.45 am, with harpist Laoise
Kelly performing until the sunrise, at approximately 6.00 am. Paul
Casey O'Bheal will do invocations of poetry, followed by more music
from Wilson Noble and Martin Furey.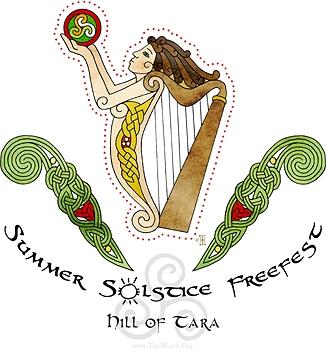 Last night, crowds began to gather and camp on the Hill of Tara for the summer solstice. Pictures of the Wednesday nights events will be posted here shortly. here is information on some of the upcoming events over the next few days.

**Free Summer Solstice Celebration on Hill of Tara, Wednesday to Sunday

http://www.myspace.com/summersolsticetara

TaraWatch is having a free Summer Solstice Celebration on the Hill of
Tara from Wednesday 20th June until Sunday 24th June.

It will be followed by a demonstration at the Department of the
Environment, Monday 25th June beginning at 12.00 noon. The
demonstration will call on the new Minister for the Environment, John
Gormley (Green Party), to reverse the decision of former Minister, Dick
Roche, and re-route the M3 motorway from the Hill of Tara
archaeological complex, and the newly discovered national monument in
Lismullen.

The main purpose of the event is to celebrate the World Monuments Fund
recently putting the Hill of Tara onto the List of the 100 Most
Endangered Sites.

A large number of poets are volunteering to entertain celebrants, over
the course of four days. Many performers and attendees are traveling
from abroad to participate.

Singer Laura Murphy will open the event on Wednesday evening, with
people gathering to camp out and be present for the Thursday sunrise,
on the longest day of the year.

Music on Thursday morning will begin at 4.45 am, with harpist Laoise
Kelly performing until the sunrise, at approximately 6.00 am. Paul
Casey O'Bheal will do invocations of poetry, followed by more music
from Wilson Noble and Martin Furey.

Other performers over the course of the weeknd will include: Larry Beau
(& his minstels), Twenty-One Crows, Urban Country Divide, Bela Emerson,
Jimi Cullen, Christine Broe (poet), Perciphone Petticoat (UK poet),
Freespirit,
Rory Faithfield and The Bhoys From the County Hell (The Pogues Tribute
from County Meath).

On Sunday a debate on the future of Tara will take place at 2.00 pm,
followed by a historical tour of the Tara complex.

The Office of Public Works allows free camping to take place on the
public land on top of the Hill every year. Fresh water is available and
there will be additional toilet facilities in the car park. There is a
strict 'no alcohol or drugs' policy.

Many celebrants will travel from Tara to the Customs House, for a
demonstration on Monday at 12.00 noon outside the Department of the
Environment on Monday. TaraWatch will make a submission to Minister
Gormley at that time.

Organizer Heather Adams said:

"The Hill of Tara is the most magical place in Ireland to celebrate the
summer solstice.

"This is a totally free festival, and all we ask is that people don't
drink alcohol and respect the site.

"This will be a great opportunity for campaigners to gather and
contemplate the future of Tara.

Contact: 087-972-8603 - info@tarawatch.org

SCHEDULE OF EVENTS

Wednesday evening

Laura Murphy entertains the campers

Thursday

Sunrise performances

- Laoise Kelly will begin playing at 4:45 am for sunrise to about 6.
- Paul Casey O'Bheal will do Invocations of poetry
- Wilson Noble
- Martin Furey

Afternoon Elemental Invocations:

Paul Casey O'Bheal and Heather Elizabeth Adams

3-4 pm Twenty-One Crows

5-6 pm Martin Furey

6-8 pm Urban Country Divide + Trad Session

8-10 pm Bela Emerson

10 pm- Larry Beau

Friday

1-3 pm Jimi Cullen

3-4 Christine Broe (poet)

5-6 pm Wilson Noble

6-8 pm Freespirit

8 pm Perciphone Petticoat

8.30 pm Paul Casey O'Bheal

Saturday

1-2 pm Rory Faithfield

4-5 pm Twenty-One Crows

5-6 pm Wilson Noble

6-7pm Martin Furey

8-10 pm The Bhoys From the County Hell (The Pogues Tribute)

10pm- Martin Furey

Sunday

2.00 pm: Discussion on future of Tara

400 pm Historical tour of Tara complex

Monday

12.00 pm - Demonstration outside the Department of Environment,
Custom's House, Dublin. Handing in submission to Minister Gormley

Participating Artists and Contributors

**Martin Furey
http://www.myspace.com/martinfurey

**Larry Beau
http://www.myspace.com/larrybeau

**Laoise Kelly
http://www.myspace.com/laoisekelly

**Freespirit
http://www.myspace.com/freespiritgraham

**Urban Country Divide
http://www.myspace.com/urbancountrydivide

**Bela Emerson
http://www.myspace.com/belaemerson

**Wilson Noble
http://www.myspace.com/wilsonnoble

**Rory Faithfield
http://www.myspace.com/roryfaithfield

**Laura Murphy
http://www.myspace.com/murphlaura

**Twenty-one Crows

**Jimi Cullen
http://www.myspace.com/jimicullen

**Perciphone Petticoat
http://www.myspace.com/perciphonepetticoat2

**Paul Casey Ó Bhéal
http://www.obheal.ie/blog

**Ann Colt
http://www.myspace.com/poetgodess

**Heather Adams
http://www.myspace.com/heatherelizabethadams

**Artwork by Ingrid Houwers
http://www.illahie.deviantart.com

**Link-up consulting by Stone Naylor
http://www.myspace.com/stonefreephotography

**Poetry consulting by TWiN Poetry Group
http://www.myspace.com/twinpoetry

MORE INFORMATION 087-972-8603 - info@tarawatch.org

http://www.tarawatch.org

http://www.myspace.com/hilloftara