Photos of Seomra Spraoi's last weekend at Ormond Quay

dublin | miscellaneous | news report

Tuesday May 29, 2007 11:47

by Social Gaff - Seomra Spraoi

seomraspraoi at gmail dot com
Hundreds pass through during three-day farewell
The weekend just passed was the final one at Lower Ormond Quay for the Seomra Spraoi social centre. Farewell events included an acoustic gig on Friday evening, a children's craft day on Saturday and a party on Saturday night. Sunday saw the usual People's Kitchen cafe, with a big turnout, followed by a film screening.
Seomra Spraoi has to move out, as the owner of the building is selling up. However, the mood at the weekend was one of pride, admiration and elation, as people reflected on how far the project has come.

Hopefully Seomra Spraoi will reopen in a new space soon. Keep an eye on Indymedia or on the blog:
http://seomraspraoi.blogspot.com/

The Ormond Quay space is still being used for evening meetings this week. Also, people are packing up and clearing the place out. You can help by dropping in anytime between lunchtime and late evening, Tuesday to Thursday, 6 Lower Ormond Quay, Dublin 1.

You can also help the Seomra Spraoi project by filling out a standing order form (posted below). The rent is likely to be bigger at the next place.

[The first five photos are by William Hederman] More photos to follow shortly.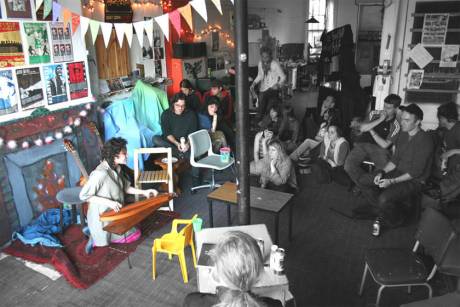 Larkin Grimm plays at the RAG gig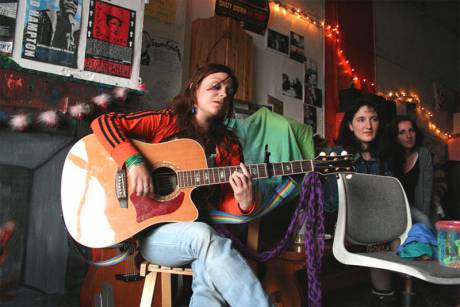 A woman called Katie, an impromptu addition to the RAG gig line-up