Six arrests in Ballinaboy As 30 Enter Shell Site

mayo | anti-capitalism | feature

Saturday April 14, 2007 20:38

by Dublin Shell to Sea - Dublin Shell to Sea
30 enter Shell site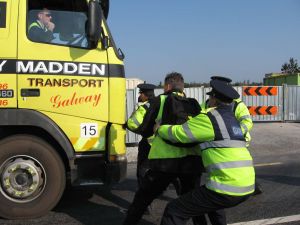 Six people were arrested this afternoon on the site of Shell's controversial refinery in Ballinaboy, Co Mayo. The six were part of a group of more then thirty who entered the site at 11am this morning as part of a 'people's site inspection'. A five hour game of 'cat and mouse' ensued as Gardai and Shell's private security personnel attempted to remove the protesters from the site. The six arrested were taken to Belmullet Garda station before being released.

Today's site incursion was the latest in a series of similar actions and follows closely on yesterday's site incursion by a group of female activists from both the local area and Cork Shell to Sea. Those involved in today's action were from both the local area and the Dublin Shell to Sea group.

Related Links: Women's trespass at Bellanaboy on Friday 13th | Work halted at Bellanaboy as protesters gain entry to Shell's site, six arrested. | Corrib Gas pipeline route selection begins. | We can stop them | Shell to Sea activists blockade lorries at Bellanaboy | 04.04.07 Sees Yet More Aggression by Shell Cops |
Shell's site has become the scene of regular protest and garda heavy handed tactics since Autumn of last year when Shell recommenced work on site. The recent upsurge in protests has coincided with the start of 'peat haulage' from the site by Shell. This process, which involves the removal of more then 350,000 cubic metres of peat from the bog where Shell intend to build the refinery, is expected to take more then five months.
Speaking from Ballinaboy this afternoon Dublin Shell to Sea spokesperson Caoimhe Kerins said
'Today's action is part of a broader campaign to highlight both the criminal giveaway of Ireland's gas reserves and the bully boy tactics being used by Shell and the state to impose this unwanted pipeline and refinery on the community of Rossport and the surrounding area. The issues involved are of National importance and impact on every person in Ireland. That is why we are here today. Hopefully this marks the start of a long, hot summer for Shell. The next major protest will be outside of Shell Headquarters in Dublin on Friday April 27th. I'd encourage everyone to come along and join in the campaign to protect our natural resources and send Shell to Sea'.