Veteran of Spanish Civil War dies

international | anti-capitalism | news report

Wednesday April 11, 2007 13:18

by KBranno

kevinbrannigan at hotmail dot com
One of the last Scottish veterans of the International Brigades in the Spanish Civil War has died, aged 99.
James Maley, a life-long communist, went to Spain in 1936 to fight for the Republican government against the insurgence by fascists under Franco.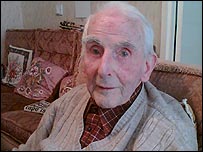 He left with a party of Glaswegians who travelled to London before embarking on a boat train to Paris and then Spain.

Mr Maley, who fought at the Battle of Jarama, the defence of Madrid in February 1937, died on Monday 09th /April/2007.

During the Battle of Jarama, Mr Maley and his machine gun company were left in no-man's land, low on ammunition.

Returned home

They hid among the olive trees for two days before being captured by nationalist troops.

News of his capture reached home in an astonishing way.

For several months, Mr Maley's mother in the Calton district of Glasgow had heard nothing - but then she saw her son paraded with other prisoners on a newsreel shown at the local cinema.

It was the last showing of the film which was then being sent to Paisley.

Mrs Maley travelled there and persuaded the projectionist to clip out a frame which she was able to keep as a memento until her son was returned home later in 1937.

Eleven years ago, Mr Maley returned to Spain for the first time since his deportation, to take part in a BBC radio documentary.