Commemorating the women in the struggle 1916-23

dublin | history and heritage | feature

Tuesday April 10, 2007 17:30

by NMI
North Inner City Folklore Project commemorates the women that the establishment forgot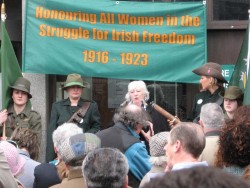 On Monday in Dublin, a local history group organised a commemoration of the brave women who fought alongside the men in the fight against British rule and the establishment of the Free State.

The march was led by a colour party of women wearing the uniforms of Cumann na mBán and the Irish Citizens Army and photographs of many of the women were carried on the march. After being erased from the historical record for many years (literally in the case of Elizabeth O'Farrell) the women of the 1916 to 1923 period of Irish history are starting to be recognised once again for the important role they played in the struggle for Irish freedom.


Women have always played an important role in the movements for Irish independence and the social struggles associated with them. However a hundred years ago, as events began to unfold which led to the Easter Rising of 1916, the war for independence, and the civil war, in many cases they played a decisive role. This was not just in terms of numbers, but also in quality of leadership, motivation and commitment.

Today's event reminds us that we should respect the influence women have had in Irish revolutionary history, and remember them with great regard.It is hoped that this commemoration will become a regular event in the Dublin calender.

For more information contact the
Dublin North Inner City Folklore Project,
19 Buckingham Street, Dublin 1.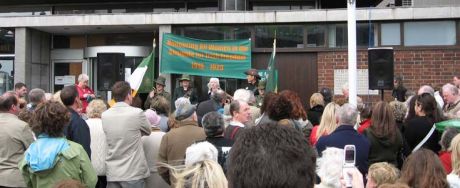 Crowd gathering at Liberty Hall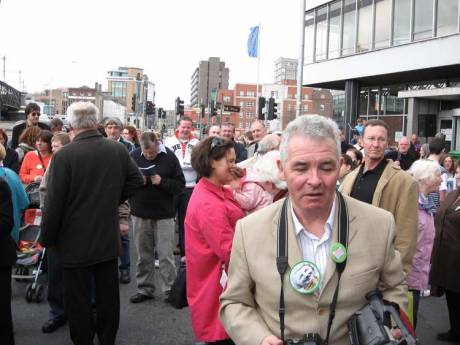 Terry fagan, Director of the North Inner City Folklore Project