Shell shut down at Bellanaboy

mayo | environment | feature

Thursday March 22, 2007 21:58

by Eve and Bob - Rossport Solidarity Camp & Shell to Sea
Shell' s site shut down by mass trespass in response to contaminated run off.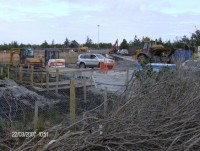 Sixty Shell to Sea protesters entered the proposed refinery site at Bellanboy this afternoon causing work to be stopped. The protesters entered the site at gate three on the Bellanaboy-Belmullet road at 3:30pm due to serious concerns about untreated water leaving the site, refusing to leave until their concerns are addressed.

Approximately thirty Gardai followed protesters onto the site instructing them to leave which they refused to do. Gardai initially attempted to forcibly remove protesters from the site but desisted once reminded that they too were trespassing on private property.

Related Links: Indymedia Mayo Archive | Shell to Sea | Rossport Solidarity Camp |

Large volumes of untreated water being discharged into a drain was noticed this morning by a local woman at the picket. It appears that untreated water from higher up on the site is being pumped down and discharged into the drain. Campaigners immediately contacted the fisheries board and Mayo county council to have the issue addressed. Samples of the run off were taken by campaigners and an aluminium test conducted by John Monaghan showed levels to be almost double the maxium allowed levels. Officials from the council failed to show up at the site as agreed forcing campaigners to occupy the site.

The issue of untreated aluminium contaminated water leeching off the site and into local drinking water sources has been an ongoing issue since Shell first began peat excavation in April 2005.

Protesters remain on site.

More information will be posted as available.