Shell to Sea National Demonstration: A Great Spirit Prevails

dublin | environment | feature

Monday February 26, 2007 13:18

by Jim&El Bull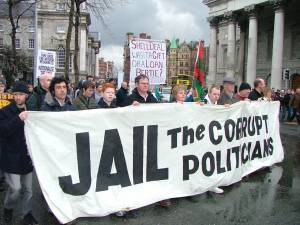 El Bull says:The march was half way down O'Connell St. by the time I arrived. There were some very pleasant folks at the front the march, who were handing out "brown envelopes", which summed up very nicely the core of the problem in Co. Mayo – the sell off of our natural resources by corrupt politicians. Wearing entertaining masks and engaging very amicably with all standing by on the footpath, they captured the spirit very well.
As it turned out, there was a S2S pamphlet in the envelope, rather than a stash of cash. I also was handed leaflets for Marxism 2007, further S2S info, a flyer on the IAWM demo at the FF ard fheis and a copy of Workers Solidarity – plenty of reading to keep me going, or anyone else on the footpath who was inclined to take whatever literature that was offered. The rest of O'Connell Street was fairly impassive while watching the ensemble go by.
There was a group of maybe a dozen or so "rugby balls" went up the centre island of the street – lads with rugby balls, each about the size of a 32" wide screen TV, on their heads. These rugby balls ended up by the Falun Gong stall that was set up in the middle of the centre island, so it was a day of all sorts of interesting stuff going on in town – I should really get in there more often.
Related Links: Review of Our Story · Announcement of National Demonstration · Breaking News of the last Friday's Events (incl. Audio Reports) · Another Report of the Occupation · Photographic Report · Solidarity Action in Scotland last Friday
The march took maybe quarter of an hour to pass the spot where I was. I'm not sure how many bodies on the street that translates to. I reckon there were more than 1,000 but less than 10,000 (I know, that's quite a spread, but I was so content absorbing the atmosphere that I didn't put much effort into doing a headcount.
The Gardaí were numerous, but well behaved. There were a few dozen flanking the march, as well as a handful along each of the side streets approaching O'Connell St. (or at least those that I travelled). The Garda helicopter was buzzing overhead and there were plenty of vehicles (bikes, jeeps, unmarked cars) on O'Connell St. & in vicinity.
The crowd was in good form and undeterred by the shower that was falling. It all seemed just fine, so out I stepped onto O'Connell St. to add my presence to the dissenters.

A number of comments from this story have been hidden because of Sock Pupperty -i.e. where the same user posts under different names pretending to be different people and fabricating points of view and counter-arguments with themselves. In this particular instance this person has impersontated the contributions of other users. This activity is considered a very serious breach of Indymedia guidelines and will not be tolerated. -Ed