Ian Paisley should say "Sorry!" to Eugene Reavey

national | rights, freedoms and repression | opinion/analysis

Wednesday January 24, 2007 16:35

by Harry Wells - The Well, Well, Well Foundation
Victim of RUC killers and of Paisley slander finally vindicated
In considering the recent revelations about Mark Haddock's UVF career at tax payer's expense, as a killer informant for the RUC, let us not forget Ian Paisley.

Last week the Historical Enquiries Team of the PSNI was forced to apologise to Eugene Reavey for the RUC whispering campaign that tried to justify the sectarian shooting of Reavey's three brothers in January 1976 in Whitecross, south Armagh. The shootings happened the day before the Kingsmill massacre of 10 Protestant civilians on January 5 1976, in the same general area. Three members of the O'Dowd family were also shot dead by the UVF the previous day. The Reavey and O'Dowd killings happened within 30 minutes of each other.
Members of the RUC and the UDR were involved in the Reavey-O'Dowd shootings. This was collusion Armagh style, where RUC men such as Billy McCaughey and John Weir went on shooting sprees with the UVF. Billy McCaughey, who was at the Reavey shooting, was also formerly a member of the B Specials and of the Paisleyite Ulster Protestant Volunteers, before joining the RUC.

After Eugene Reavey collected his brother's bodies for burial the whispering and the harassment started. The RUC accused him of being involved in the Kingsmill massacre. Eugene Reavey subsequently pointed out that one of the RUC officers making these claims, and who was investigating the killings, was also actively colluding in UVF shootings.

Ian Paisley repeated the slanders in the British House of Commons in 1999, under Parliamentary Privilege. He said he was quoting from a police dossier. Journalist Susan McKay explained what happened next – see

http://www.indymedia.ie/article/74511

Ian Paisley and his party like to tell us how uncomfortable they are at the prospect of sitting with terrorists in government. Terrorists and killers in the police don't seem to bother them so much, so long as they are killing Catholics.

Paisley did not refer to the fact that Eugene Reavey lost his three brothers the day before the Kingsmill attack, or to the three O'Dowd killings. The thought may not have crossed his narrow mind.

As well as being asked to apologise to Eugene Reavey - see Irish News article, click on article to read it - and his family, perhaps Paisley should also be asked who in the RUC gave him his information. Maybe he is obliged to respect confidentially. If so, he is respecting the confidentiality of liars and quite possibly of sectarian killers.

In 1999 Ian Paisley Jnr said:
"There is not the slightest chance of an apology being offered" (The Guardian, February 12, 1999, Terror of farmer named by Paisley as IRA killer).

Will the Ian senior change his sectarian tune now, or will Hell first freeze over?

Don't hold your breath?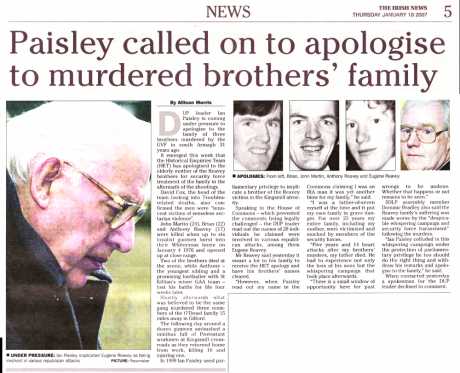 Ian Paisley asked to apologise for siding with RUC killers against one of their victims