Alec Empire Interview: "People Are Organized But Political Music Is Not Really Being Made."

international | arts and media | feature

Thursday December 28, 2006 10:55

by Pinhead - Gabber Shoplifters FC
Former lead screecher of German techno punks Atari Teenage Riot talks to Inydmedia.ie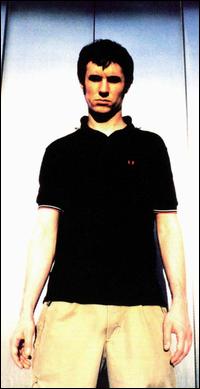 In this exclusive interview for Indymedia.ie Alec Empire discusses the origins of Atari Teenage Riot in a climate of rising Nazi attacks in the early 1990's, experimentalism and conservatism in music, his future projects and much more besides.
With the would be 'Sir' Bonos of the world doing such a wonderful job as the soft, recuperating face of global governance, its easy to be cynical about the space where politics and music combine. Still, few artists spring to mind that can rival the continued enthusiasm of Alec Empire for pushing the boundaries of contemporary music to incorporate radical politics. As a techno innovator responsible for the emergence of the digital hardcore genre, Empire was a figurehead to a generation of German experimental artists emerging in the wake of the Berlin Wall's collapse through the creation of his Digital Hardcore Records label.
Starting off within the punk scene fronting bands like Die Kinder, Empire eventually grew disillusioned and moved towards the growing rave scene. During the turmoil of re-unifaction the bubbling techno scene was seizing ware houses in the east of Berlin for massive parties, linking it to a long standing autonome squatting scene that was spreading eastwards from its traditional bastions in areas like Kreuzburg.

Related links: Atari Teenage Riot Arrested Playing At Anti-fa March | Praxis on Breakcore In The Spectacle | Digital Hardcore Record Label | Kaboogie Myspace | Alec Empire Myspace | Oxegen, Poxegen: The Modern Rock and Roll Experience | Pimping the Music Industry and an Interview With A Vampire |
Empire's political radicalism made him antagonistic to the E-fuelled, loved up, utopian culture that was all over the techno scene like a rash. Outside skinhead groups, cushioned by a renewed German nationalism, were fire-bombing migrant centres and organising pogroms while the police stood back and watched. As a forceful rebuttal to an apolitical rave scene, Empire formed the seminal Atari Teenage Riot. Involvement in the anti-fascist movement came to heavily define the band, even late into their career.
One viral video popular among fans on Youtube features the group playing off a truck at a Mayday anti-fa march in Berlin in 1999. Screaming the lyrics of an early song suitably called 'Start the Riot,' the band implore the crowd to do just that - as they drive straight into the heart of escalating ritualised conflict with police. This was a group after all who believed that the 'riot sounds, produce riots' and they certainly sought to test it when given the chance.

Atari Teenage Riots first full length album Delete Yourself stands head high as a musical document of the intense political struggles and debates that emerged in post-reunifaction Germany. Atari Teenage Riot weren't just an angered, aesthetic reaction to the loved up boredom of rave or a desire for a scene that actually engaged with the realities of rising unemployment and accommodation shortages. It was a deliberate attempt to politicise and organise within a subcultural milieu. Atari Teenage Riot and Empire pioneered the digital hardcore sound of sped up break beats, metal riffs chuggy enough to put Slayer on the run and chanting punky vocals interspersed with samples from film and ainme. If you can imagine the dress up sloganeering of the early Manic Street Preachers ram raided by a German black bloc armed with trolleys full of drum machines and samplers - then you have some idea of what Atari Teenage Riot sound like. Coming to me at the time through the pages of NME, this was an early teenage musical revelation. This combination of two distinct sounds, previously only sketched on The Prodigy's epic Music for the Jilted Generation now sounds a little musically dated but an indelible experimental template was in place.

A trip organised by Beastie Boy's operated Grand Royal Records began a process of filtering DHR material out on limited releases stateside. Eventually the rave new world of the Berlin underground wound down around them and ATR found themselves competing on the stages of the big summer festivals alongside the likes of Nine Inch Nails and a whole plethora of bands still hanging around in the post-grunge wake. In the US they became a pre-cursor to that peculiar wave of stateside adoration of UK big beat that saw acts like The Prodigy dominate the album charts through the cartoon punk of Fat of the Land. Just before the blockades of the Seattle WTO opened up new constituencies for their music within an actual, growing movement , personal tragedy struck as band member Carl Crack died of a drug overdose and the Atari Teenage Riot project was more or less wrapped up.

Is it true that ATR signed to Phonogram Records in 1993 as a fake 2 Unlimited type act, all in order to get cash and leg it Sex Pistols style to set up DHR or is this a music journalistīs fantasy?

Yes, in a way thatís true. I was involved in the techno underground scene when it started in Berlin in '89 and '90. I met Hanin and Carl during that time. When the attacks from neo-nazis on immigrants were increasing and were supported by large parts of the population , I wanted to start a band to make a strong political statement against that. I wanted to name the band Atari Teenage Riot. When we played our first show with Disposable Heroes of Hiphopcracy there was a huge buzz starting. When we played our second show , there were all A&Rs there, wanting to sign us right there. This was before the Prodigy or bands like that.

Techno was just going commercial and the majors didnít understand it. They loved the fact that we were a band and in their view easier to sell to the mass market. We knew that digital hardcore as the genre that I invented would not work within that system. We had to start our own label. So we went for the deal with the highest unrecoupable advance which was very high in those days. Then our goal was to get out of the deal as fast as possible by sabotaging the whole thing. It worked. A year later we started DHR with that money, pressed up the first 12 inches, John Peel loved those and then it all started to happen...

Apart from Coldcut, dance (in its loose sense) is often seen as an apathetic music scene with politics read into it rather than read from it. ATR however developed as a reaction to Nazism in the German dance scene can you tell me about that?

Yes, when the attacks from neo-nazis increased and the situation was getting so much worse in those days, we felt we had to become even more active. All of us had been involved in the Anti Fascist Action in Germany, but we wanted to do more, we needed to create music to make a stronger statement which also had to go out to the rest of the world. The new technology we had (samplers etc.) meant that we could act much faster than rock bands.

Our first single 'Hunt Down & Kill The Nazis' was released about 2 and a half weeks after the huge neo-nazi attacks in Rostock/East Germany in 1992. Neo-nazis set an asylum on fire and people inside got killed, the police came one hour later and the neighbours stood there applauding. It was that crazy. My grandfather died in a concentration camp in the Third Reich during the Second World War, and I could not watch this go on any more. Germany was just re-unified and there was a strong up-coming nationalism. When this stuff gets mixed with high unemployment rates and fear, it usually escalates like it did back then. While everyone else tried to have discussions with the neo-nazis, we went straight at them. I still think you cannot talk sense with people who want to eradicate you...you know... The ATR shows were often attacked by skinheads and so on...

What's the state of play politically in the German music scene now?

Itís very bad...it almost doesnít exist. People express their political views through other channels than music. For that part things have changed for the better. The internet helped a lot. So people are organized but political music is not really being made. I think thatís sad. The underground is very active still, but nothing seems to be able to cross over to a broader crowd. And this would be important to have a real impact.

The political sloganeering and aesthetic of digital hardcore and ATR always reminded me of the autonome movement. How do you think this movement fares today in Europe with coming high profile evictions of important centres like Ungdomshuset in Denmark on the cards?

Iím not involved enough to make a statement about that. But the autonome movement had inspired us to do ATR, the way we did lyrics and so on. Hanin and me were part of many demonstrations in Berlin before we started ATR. West-Berlin was very political. The punk scene, the squat scene...this is were we came from and it played into ATR of course. I felt the movement needed a new soundtrack.

Digital hardcore signalled a musical disjuncture. It partially dropped the instrumentation of hardcore punk for the digital equipment of rave yet retained the ferocity of punk. What do you think of bands religiously adhering to an anarcho-punk/82 crust format despite newer technology being available to facilitate more DIY versatility in production?

If thatís what they feel like then thatís OK Ė it wouldnít work for me though because right now I canít see myself following an ideal which belongs to the past. The scene was definitely more radical back then in certain areas. They laid the ground for what all of us take for granted today. I believe there are many different approaches which can be very effective when they are added together. Keep that fire burning but donít preserve the ashes...

What sort of equipment do you yourself use?

I use so many things at this point, itís hard to pin down. I use all my old analogue gear as well as new digital stuff. Old compressors, filters , ring modulators and so on...anything that manipulates sound. I love distortion...and there are so many types which can be created. Itís science.

Kaboogie, which youīll headline in Dublin, is typically characterised as a ībreakcore night.ī It seems to me at least, that there is a huge similarity between a lot of the acts around today and some of the musical direction of ATR and Digital Hardcore Records. Is breakcore the king's new clothes and are we in Ireland just catching the tail of a much larger European beast that's existed for years and mistakenly viewing it as new?

Breakcore was a term that we used before I came up with digital hardcore for my style of music. The first breakcore records were done by us for the Force Inc Music Works label in 1991 and 1992. Distorted breaks with noisy synth lines at a speed over 170 BPM. Breakcore or Digital Hardcore will always stay Ė itís like punk rock. It is the only music genre which allows making statements with electronic gear. It is aggressive and is there to shake people up, makes them question their world. Different scenes interpret the genre from new all the time and push it along.

In the past you have described loosing faith in the punk scene politically as a teenager and then ATRīs later attempts to unite fans with īthe right thoughts and political ideas.ī Now all these years later how do you view using music as a tool of political organisation?

Itís not the same thing these days. I use my music to express my opinion about politics. I canít tell if that unites people in the same way as ATR did back then. But I know from what fans write to me or tell me that the music has an influence on their thinking. This is great. People tell me that it gives them hope and it inspires them to change their lives. People can get together fast via the internet these days, Iím not sure if music could do a better job. My music gets played at demonstrations Ė it produces a certain type of energy there.

Do you still stand by the Live at Brixton Academy release as noise experimentation or was it just a case of a chaotic performance sounding like samplers backfiring and songs being rearranged randomly?

We never did anything random. Noise is about letting go and riding it, shaping it as you go along. So you have to react super fast and take action in terms of controlling the sound. You have to know you gear inside out, because your brain will make these decisions before you can realize the next steps. It is like free jazz, but the physical power of the music has to be mainly generated by your mind and imagination, rather than your body (like when you play an instrument for example). ATR Live At Brixton is a very special recording in that sense. We would not be able to repeat it. It was a state of mind we were in after months of getting very fucked up on the road. It is after all the last recording that Carl Crack did with ATR before his death.

Your last release īThe Futuristī talked about leaving rock and roll behind, yet ironically any ground that techno gained over rock in the mid 1990s has now been dramatically beaten back by the stadium emotion of bands like Coldplay. How do you feel about this, do you think there is any hope of an electronic or experimental backlash?

The end of the 90's was so wild, this almost had to happen. George Bush, Blair, the return of garage rock and retro. I interprete the last years in that way that people were scared. 9-11, the war, everything suddenly changed. Thatís perhaps why the music scene, especially in the UK has gone so conservative. But I already see the signs of that ending. Evolution is on our side, thatís the good thing. I mean we can watch films on our mobile phones, but we listen to music which sounds like it was done 30 years ago? This is stupid and boring. We witness the death of the music industry like it existed for the last fifty years. Pop music in the British sense is dying. And thatís no provocative statement, itís a fact. Globalisation plays a huge part in that. The identity of the 'people' of a nation will slowly fade away. And with that goes pop music. The underground has the right model in place. It has created a worldwide network already and only the good music can survive within that system. 'Goodí meaning, truly chosen by the crowd and not being financed by corporations or religious organisations.

A recent song by Sandi Thom called "I wish I was a punk rocker" illustrates how radicalisation in the sixties and seventies has become mystified in pop culture. How do you think things stand for us today almost seven years after Seattle and the whole anti-globalisation upsurge in the West?

I am very optimistic. We have seen that the international politics of George Bush have failed. The Iraq war is an ongoing nightmare. Doing politics like this has no future. There are more sources of information, more voices, more opinions. It gets harder and harder to control people. Thatís good. But we all know itís an on-going fight which we will probably never win, but if we donít continue than it would be much worse.

The Kaboogie gig will see you playing to a crowd pummelled on a regular basis by Aaron Spectre and Bongra amongst others - how will your set treat them?

Iíll decide when I get there. I always play what I feel in that moment. I am not an entertainer, I do my thing and I do it without compromise. Iím looking forward to the other sets as well!

Music journalists are fond of using trite cliches about punk and anarchism when writing about you. But honestly where do you locate yourself within the anarchist tradition or is it just a simple by-word for everything from the Situationists, to CNT and to the black bloc?

I see myself as an artist with 'extreme' political views. Extreme compared to other musicians who go for the obvious protest song every once in a while.

Whatīs this Alec Empire live in France DVD you are currently editing all about and have you anything in the pipe line for us?

The DVD will contain something like 4 shows. 3 were recorded in France and we will also add the classic Live in Japan show with Merzbow, Charlie Clouser (NIN), Nic Endo and Gabe Serbian (Locust). We havenít been able to do it in one go, we kept going back in between the new recordings. So it shows Alec Empire live from the years 2001-2006 in the various stages. I have recorded so many new tracks as well over the past months. There will be loads of stuff coming out.

Alec Empire will deliver a DJ set courtesy of Kaboogie at the Underground in Kennedys on December 29th. Kaboogie should be familar to Indymedia readers for recently doing musical combat with fund-raising regulars Porco Dio in a mash up of scenes in aid of Indymedia Ireland. The Empire gig starts at 9.30pm and goes until the wee hours. Support will come from AIHI, Kalpol. and Super Extra Bonus Party. There'll be a 12 bip hit on the door for entrance.