Motion for Wheelock Inquiry Passed by Dublin City Council

dublin | crime and justice | feature

Wednesday December 06, 2006 18:52

by tom foley - Human Rights Watch

freedomjig at hotmail dot com

Nth inner City
Taoiseach Gives Assurances to the Wheelocks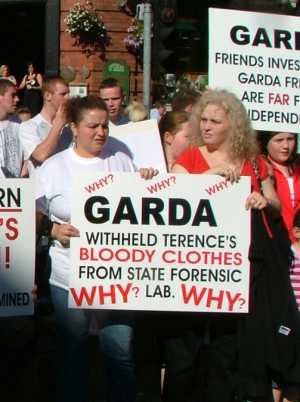 Dublin City Council have joined those calling for an inquiry into the circumstances surrounding the death of Terence Wheelock. Terence, who was from Summerhill in Dublin, suffered fatal injuries while in Garda custody in June 2005.

The Gardai have claimed that he hung himself, but this is strongly denied by his family who have pointed out many contradictions in the Garda story. The most glaring one is the report of a serious head injury which most likely came from a major blow Terence received to the head while in Garda custody.

There is an ongoing inquest into Terence's death taking place at the Coroner's court, but this has only a limited remit. With Garda brutality on display in Rossport, any independent inquiry which serves to limit State violence will be a big step forward for everybody - not just the people of inner city Dublin. The Wheelocks and their supporters will be continuing their campaign this weekend, distributing leaflets in Dublin city centre.
Previous Indymedia Coverage: Interview with Esther and Larry Wheelock | Wheelock family move out of Summerhill | First mention of Terence on Indymedia | Original report of Terence's death | 1st Anniversary March | John Maloney's death in Garda Custody
---
Tom Foley writes:
The Wheelock family came one step closer to an independent inquiry on monday night in relation to death of there loved one Terence Wheelock who sustained injuries while in Garda custody on the 2/6/05, leading to his death. Dublin City councillors passed a motion at City Hall, calling for an independent inquiry. The motion was passed unanimously, there was broad cross party support for the motion.

Terence Wheelock was a tenant of Dublin City Council and as a tenant there was in their view a duty on Dublin City Council to find out how Mr Wheelock (20) sustained his injuries at Store Street Garda station.

The motion brought forward by Cllr Aodhan O Riordain of the Labour Party, stated that "the council believes that the rights of the Wheelock family and the reputation of the gardai are best served by an independent inquiry." Numerous councillors spoke about the merits of an inquiry Cllr Naoise O'Muiri "saying if the Gardai have nothing to hide then they have nothing to fear and will benefit from such an inquiry".

A former Lord Mayor Dermot Lacey said "There is an inbuilt division between working class males and the Gardai". Cllr Christy Burke of Sinn Fein who has liaised with the family, gave an impassioned speech calling also for an inquiry."The human side to this, is that Mr and Mrs Wheelock is devastated with the loss of her son, he left his home that day and to them, he never came back, the family had to move from their home of 20 years, they have lost a son, at the very least they merit an inquiry"

Members of the Wheelock family were present at the council sitting and where in the public gallery. Councillors paid tribute the way the family have carried there campaign for an inquiry in a dignified and peaceful way, and that they were an example to other working class people.

Larry Wheelock Jnr brother of the deceased Terence Wheelock, personally met the Taoiseach Bertie Ahern earlier that day. He was visiting Rutland St School in the north inner city.

Larry requested that the delaying tactics by the Gardai with regard to documents, internal Garda reports, and pathologist's reports, should not be used as an obstacle or hindrance in there pursuit of the truth. They should be made available to them and their legal team, without having to pursue them with acts of discovery in the High Court which would be a long and dragged out process.

The Taoiseach gave his assurances and stated he would do his best in relation to the matter. Larry jnr and family were clearly delighted with the motion for an independent inquiry being passed by the city council: "This brings us three steps closer to an independent inquiry, we're delighted, The version of events giving by Gardai to our family, simply does not hold up, and is inconsistent with the facts. And there's intimidation tactics by individual Gardai involved in Terence arrest, has only strengthened our resolve to find out what happened Terence that day"

The inquest in to the death of Mr Wheelock resumes on the 15 Dec 06.