Anti-Incinerator Campaigners hold a protest at Taoiseach's visit to Ringsend

dublin | environment | news report

Friday November 24, 2006 21:33

by Paula Geraghty

mspgeraghty at yahoo dot ie
Activists in the Combined Residents Against Incineration today demonstrated in Ringsend as Bertie Ahern went on a pitstop tour of the area. Luminaries such as Michael McDowell visited the local community centre earlier in the week but evaded local campaigners.


People wished to express dismay, disappointment and anger at what the community have to go through with the threatened proposal of the multimillion Euro incinerator.

Bertie Ahern's car stopped at the entrance so not to be seen driving through a picket.

More details will follow.

images (c)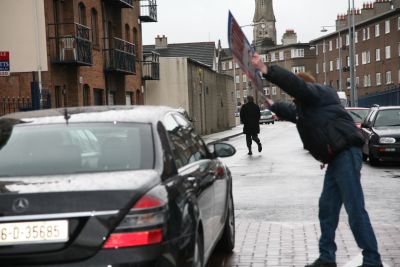 Eoin Ryan MEP is seen in the middle ground running up to new FF offices opned up today in the constituency.