Shellspeak: Media Mechanics and Financial Dynamics

national | environment | news report

Saturday October 14, 2006 13:42

by Gaz B -(A)- - wsm (pers cap)

requiembroadcast at eircom dot net
"it is laughable to say that in some way Shell has press-ganged the media to its cause" - Daily Mail ShellToSea basher Paul Palmer

Learning its lessons from the disaterous PR that resulted from the incarceration of the Rossport 5, Shell has steadily accrued a team of PR companies, gurus, community liasons and external advisors to help it launch a charm offensive with the re-start of work at the site in Bellnaboy. Financial Dynamics (a PR comany were the name says it all really), london PR guru and Tony O'Reilly employee Roy Godson, John Egan, Susan Shannon, Louise McMahon, Christy Loftus (58k a year for 3 years), Padraig Hughes and retired Garda John Carey have all been hired to win over support despite Shells claims that the "Corrib Gas Partners have the consent of the majority". Odd that Shell has to hire these people when they have the support of the majority, Shell could easily save themselves a few quid there.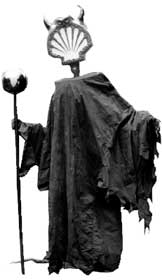 The Mainstream Media
Increasing his profile as the most prominent Irish crime journalist after the death of his main competitor, Veronica Gueirn, Paul Williams was awarded Ireland's ESB National Media Award in 1996 for "campaigning and social issues." As useful a source of information on campaigning and social issues as Wayne Rooney is on the EU Constitution and with the RA now relegated to the status of an old boys club, good old Paul has resorted to scraping the bottom of his self-made provo-barrel for a story as he watches his raison d'etre slowly disappear down the crapper leaving only a scurrilous brown trail in its wake. Nobody should be surprised by the unsubstantiated content of the Sunday World, a Tony O'Reilly owned Red-Top with the journalistic rigour of the Beano, a paper which wikipedia describes as "populist revisionist". An anonymous source tells me that Wiliams is an adultering-cocaine snorter who has lied under oath in court. In fact, thats not an anonymous source, it was put up on the net by Giovanna Di Stefano, John Gilligans lawyer at globalnameadshame.com. Thats obviously not a reliable source for various reasons but it's ironic that Williams stoops to the same low level of his adversary by presenting wholly unsubstantiated information as facts. The Sunday World carried a full page add from the Corrib Gas Partners several pages before William article, but sure, you can't bite the hand that feeds you now can you Paul? The vested interests of Tony O'Reilly in oil and gas exploration, the advertising revenue from the Corrib Gas Partners and the fact that both O'Reilly and Shell hire the same PR guru, Rory 'Roarer' Godson, are the type of editorial filters that Chomsky has wet dreams over.

O'Reillys Providence Resources (45% stake) is the largest Irish company involved in offshore oil and gas activity and controls significant acreages off the west coast and in the Celtic Sea. O'Reilly stands to make more than €1.4 billion following the recent decision by Exxon Mobil to finance the exploration and development of a major oil and gas prospect in the Porcupine Basin off the west coast. Providence Resources obtained the exploration licence to explore the Dunquin Prospect and has signed a deal with Exxon Mobil to develop the project. The Department of Communications, Marine and Natural Resources charges €11,000 for the licence and then annual rental of €27 per square kilometer. Providence Resources, which has contributed nothing to the field, stands to make billions through retaining a "carried interest". Under the current Irish Exploration and Production fiscal regime, the Irish taxpayer will gain little revenue from this valuable oil and gas reserve, while O'Reilly stands to make a massive fortune from a resource given to him for virtually nothing by the State. In an interview with Forbes magazine in September 1983, O'Reilly remarked that his ability to secure lucrative blocks for exploration was due to his influence as the country's largest media owner. So don't sit around expecting any indept look at the flogging off of the countries resources any time soon from the Indo, SIndo, Herarld or Sunday World. Anyone willing to take bets that The Sunday Independent will make it clean sweep of INM papers tomorrow, most likely with an article from failed RTÉ comedian Brenden O'Connor aka Fr. Brian? Relegated from tv for being as funny as a bad case of genital warts, O'Connor turned his comedic assests to his laughable pieces of trash he writes for the SIndo. Check out http://www.villagemagazine.ie/article.asp?sid=1&sud=36&...=3083 for an example of how he likes to manufacture stories with his brand of revisionism. Kevin Myers article isn't worth responding to. We all know the geezer purposely prints rubbish to make a name for himself.

The Heralds former Heavy Ganger worries about protestors intimidation of Gardai
The Evening Herlalds retired detective inspector and fromer member of the now disbanded garda murder squad, Gerry "Laying down the Law" O' Carroll contributed his own article, worrying about the abuse of Gardai by pesky protesters (despite clear evidence that the opposite is true). O'Carroll ought to know a thing or two about abuse and 'mobs' having been involved with the notorious Garda Heavy Gangof the 1970s, although he stills denies they ever existed. The Heavy Gang, wich was investigated by Amnesty Internatinal, was responsible for the systematic torture, abuse and false prosecutions of Irish citizens. It was also The Herlads 'Sheriff' (the name was given to him by none other than INM buddy, Paul Williams), who extracted the confession from Joanne Hayes, the women at the heart of the Kerry Babies Scandal. Hayes and members of her family were charged with concealing murder but Hayes later retracted her confession, and the Garda case collapsed when a second baby was found on the Hayes farm, which Hayes maintained she had given birth to in a field before it died. Both babies were found to have had different blood types, and in 1984 a tribunal was established and found that Hayes was not the mother of the baby found on the beach and had no responsibility for that death. Gerry O'Carroll has never accepted the conclusions of the Tribunal (what journalist listens to scientific evidence anyway?) O'Carroll stands by his belief that Joanne Hayes was the mother of both babies adding last year on Liveline that he had treated Hayes "like my own daughter… I was kindness and patience personified". This 'patience personified' has recently relased an autobiography titled 'The Sheriff'. There is a link to O'Carroll recent performance on the Late Late show below were amongst other things he reminesces about a time when Gardai could give young people 'small thumps round the head', believes that short Gardai should be given guns to even up things and that requirements to Garda videoing of the questioning of suspects is like Gardai fighting crime with one hand behind their back. Asked by Kenny on the Late Late show if he ever brutalised anyone he obfuscates stating, "I was never ever convicted or even in any trial aborted because of any allegations." Not a simple no then? But Gerry O'Carroll isn't the only dodgy Garda involved in the Shell saga.

In response to yesterdays Garda inflicted injury to Maura Harrington, the Garda Press Office stated that any complaints will be fully investigated. As everyone already knows, the Garda Complaints board don't exactly have a great record investigating allegations against their mates. Former Chief Superintendent of the Mayo Garda Síochána, John Carey was hired by Shell as a community liason. It was Carey who investigated complaints made through the Garda Complaint Board in 2004 by Edward Horgan and Tim Hourigan, in connection with the harassment and arrest of peace activists at Shannon airport.The Garda complaints board ruled, presumably on the findings of Chief Superintendent John Carey, that the complaints were 'vexacious' and therefore without foundation. Could the well known former Cheif superintendent be one of these anonymous garda sources? If not I could still think of other reasons Shell would hire a former local Garda.

Shells ex-jouros
There are two Shell employees in particular who have extensive media links and who have both been employed by Tony O'Reilly in the form of PR guru Rory Godson and former SIndo journalist John Egan. A decade ago, it was John Egan, Shell's External Affairs Manager who reported on the Ogoni deaths in Nigeria while on assignment for the BBC. The former Sunday Times editor (part of the same group of papers which includes The Sun and The News Of The World) also visited and documented the povery and destruction of villages caused by Shell. Now that the former journalists main job entails defending Shell, I'm sure his links to old INM and News International Ltd colleagues are being put to good use. Liam Fay in Egans former paper, The Sunday Times, recently described the Bellanboy demonstrations as "belligerent and intransigent" while also 'documenting' the "teeth of intimidation by an angry mob of around 200" and ShellTOSeas "typically shrill hyperbole" over Gardai actions.. But we'll come back to Shellspeaker Egan later. In his long career another shellpeaker, Rory Godson, has been a jouralist for the Sunday Tribune and Sunday Independent, deputy City editor of the Sunday Telegraphand business editor of the Sunday Times. Two years ago the current Shellspeaker managed to oust fellow PR guru Jim Milton to land the role of representing `Sir Anto' O'Reilly and his various business interests. John Murray, Godsons business partner in Powerscourt PR was a former editor for the Scottish Daily Express which is part of the same media group as The Star.

Shells PR Companys links to Fianna Fail
Next on Shells PR team is Financial Dynamics. One of the main movers in Financial Dynamics is former advisor to Bertie Ahern and researcher for Mary O'Rourke, Jackie Gallagher. Gallagher was also involved in the setting up of another company, Q4PR with former Fianna Fail General Secretary Martin Mackin. With friends like these it must have been easy for a Shell delegation to meet and influence both Bertie Ahern an An Bord Pleanala in September 2003. Gallagher was also part of the team that failed when it tried to convince us that e-voting machines were safe and accurate.

Enterprise Oil (who were purchased by Shell) regularly had tables at the Fianna Fail tent at the Galway Races. Enterprises main man John McGoldrick was close friends with Fianna Fail tent fundraiser Des Richardson, a partner of disgraced lobbyist Frank Dunlop, and were often seen out socialising at theatres acording to the Sunaday Business Post. Des Richardson was one of the nice guys who gave Bertie a loan in his moment of need and was appointed to the bord of Aer Lingus in 1997 despite having no aviation experience. His finances have been under scrutiny by the Mahon Tribunal and Richardson also acted as a consultant to Dean Waste, which Wicklow County Council accused of illegal dumping. Marathon Oil (one of the Coriib Gas Partners) donated £10,000 to Fianna Fáil in 1997, while another company involved in the Corrib project, Pierce Construction contributed £6,100 to Fianna Fáil in 1999.

"From a strategic planning perspective this is the wrong site. From the perspective of government policy which seeks to foster regional development, this is the wrong site; from the perspective of minimising environmental impact, this is the wrong site; and consequently, from the perspective of sustainable development, this is the wrong site." - Kevin Moore, An Bord Pleanála.

Despite the above quote there was one former Fianna Fail minister in particualr who couldn't do enough to help facilitate the Corrib project, ex-Minister for the Marine Frank Fahey. Fahey was lobbied heavily by Enterprise Oil executive John McGoldrick before the company was sold to Shell. Fahey then introduced the orders allowing for the compulsory acquisition of lands, granted the foreshore license to land the pipeline and the consent allowing the construction of the pipeline within 70m of people's homes and was he was responsible as minister responsible for Coillte for selling 400 acres of land for an unknown sum for the terminal. He also granted the petroleum licence to Shell which requires the government and the taxpayer to purchase the gas at going market rates. Fahey has been emroiled in his own controversy lately with the Ombudsman Emma O'Reilly investigating his affair during his period as minister. Her report is due back by the end of the year but a complaint has been lodged by Trevor Sergant to the Standards in Public Office Commission on the grounds of his various schemes, decisions and extensive property portfolio. Fahey was also deemed "totally inappropriate" by Bertie Ahern over his use of departmental notepaper for party political purposes.

ShellSpeak
Now that we know who the PR and lobbyist team are, lets take a look at what they're saying and whats being regurgitated by lazy mainstream media journalists.

Corrib Gas Partners have the consent of the majority
Shell point to two sources for their claim, the Millward Brown IMS research they funded and the report from Peter Cassells. The Milward Brown survey was funded by Shell and therefore cannot be regarded as a reliable source of information. Both The Irish Times and the Village Magzine have documented how Mayo residents were hung up on during a phone survey after expressing opposition to the Shell. Their second basis for having the consent of the majority it a quote form Peter Cassells report in which he stated,"From my discussions with local people it is clear a majority of people in Rossport, the wider Erris area and Co. Mayo are in favour of the project." What Shell don't mention is that that support also includes "those who are in favour of the project but still have genuine concerns." Members of ShellToSea have already said that they are not against the project per se, but have major problems with aspects such as the onshore terminal. Shell have purposely taken this quote of of context to make it look like the community support the project in its current form. Shells false claims to have the consent of the majority have been repeated ad nauseum by its spin-doctors and regurgitated as fact by lazy journalists.

A TNS mrbi Poll from September 2006 carried out for Nuacht RTÉ revealed that "6 in 10 feel the Corrib Gas terminal should be located offshore at sea, with just under one quarter supporting the Bellanaboy option. The offshore alternative has strongest support amongst those aged under 49 years, and those residing in Castlebar/Ballinrobe/ Claremorris and Westport/Belmullet areas. "

Two thirds of those surveyed supported the stance taken by the five men from Rossport in their defiance of a court order in relation to the Corrib Gas pipeline.

Almost 4 in 5 of all adults aged 18+ in Mayo felt Shell E&P Ireland handled the
situation badly.

"In a Shell press release dated 25/09/2006 they state that, "Processing the gas offshore is not, and never was, an option and as such the question asked in the TG4 poll is not helpful to the debate". Back on 12/07/2005 re the pipeline their line was "there is no alternative pipeline route being considered by the Company and its partners. This is not an option." Shell, obviously lieing about alternative routes not being an option have agreed to re-route the pipeline. Are we now to believe them when they state that an offshore terminal is also "not an option"? The Centre for Public Enquirys reposrt found that the benefits of locating the gas processing plant offshore have not been properly addressed and that the difficulties with locating the gas
processing plant offshore are overstated.

In a radio debate on October 3 Shell spin-doctor John Egan "made an inference that the door-to-door canvas [TNS/MRBI] had been an intimidation exercise; when challenged by Garavan he insisted that he had not meant to allege criminality and apologised." In the same interview Egan also commented on the number of English accents he had heard on the picket-line earlier in the morning, presumably as a slur. How English accents mix with Paul Wiliams claim that Provos run the campaign...I'm not so sure.

The project is in the national interest.
'National Interest' is basically Shellspeak for shareholder profit. Norway will get more money from the project due to its links with Statoil than Ireland will from royalties. It doesn't matter were the gas we use comes from because we have to pay full market value for it.

The independent Advantica report stated that with slight modifications which Shell have agreed to adhere to, the project is safe. Lets look at how 'independent ' these reports are.
"The first review commissioned by the Minister was carried out by BPA [British Pipeline Agency Limited], a company half-owned by Shell, and a second review, published on the Minister's website last week, was written by AEA Technology, a company which does business with Shell." - The Irish Times

Shell has been a partner and a client of Advantica and its various associated companies on an international basis. The interconnected companies have over the years been populated with former senior Shell managers/Directors. Steven Lucas, the current Group Finance Director of Advantica's parent company, National Grid Transco Plc, formally held management positions at Shell International Petroleum Company. (http://www.shell2004.com/week34/shellnewscorrib27august...5.htm)
The Centre for Public Inquiry commissioned a detailed independent analysis from Richard Kuprewicz, president of US based consultants, Accufacts Inc. Kuprewicz's analysis addresses the health and safety implications of the proposed pipeline and processing plant. The Accufacts report found that "claims of highest international standards "meaningless" as no existing standard can address the numerous issues related to the development" and that there were,"Serious concerns expressed over "experimental" high-pressure pipeline placed in "unacceptable" close proximity to people and dwellings". Advantica, were fined £15 million in connection with a 1999 gas pipeline explosion in Scotland in which a family of four were killed.

The idea that we are scaremongering or that concerns about the corrib project are, to use Pat Kennys terms, the same as planes falling outof the sky is completely unjustified. We have the independent Acufacts report aswell as international evidence of Shells deeds. In 2003, Friends of the Earth 2003 published "Failing the challenge: The Other Shell Report' It contains first hand testimonies from communities living next door to Shell in the US, the Philippines, South Africa, Nigeria, Argentina and China and catalogues the environmental damage, the health problems and the impacts of accident these communities face. When protestors occupied Shell HQ, in-house PR tag team Susan Shannon and Louise McMahon were wheeled out to try and sort out the situation. During some heated discussion Susan pulled a blooper by an admission of Shell's culpability in the poisonous pollution that is causing cancer and other illness in Durban, South Africa. Don't worry Susan, we won't tell anyone ;)

Shell has cleverly amassed a team of people with extensive links to the media, government and Gardaí. We should not be surprised when the media presents an unbalanced view of the situation. Writing letters, texting and phoning programs will only bring us so far. There is a clear need for a variety of tactics including direct action, such as the ocupation of Shell HQ. In a rare moment of honesty in a press release dated Shell state, "The Corrib gas partners recognise that this project can only succeed in partnership with the local community." Lets prove them right.

sources
publicenquiry.ie
corribsoso.com
http://66.102.9.104/search?q=cache:xIYNXVhmYVoJ:archive...&cd=3
http://www.indymedia.ie/article/74344
http://66.102.9.104/search?q=cache:90H3whuoY-sJ:www.cor...&cd=1
http://66.102.9.104/search?q=cache:5vNgF96vXHcJ:www.ind...&cd=1
http://66.102.9.104/search?q=cache:j9K_kjdIiisJ:www.vil...&cd=1
http://www.rte.ie/tv/latelate/20060922.html
http://www.zoominfo.com/people/godson_rory_141794925.aspx
http://66.102.9.104/search?q=cache:XE_1RBAHG1UJ:archive...&cd=5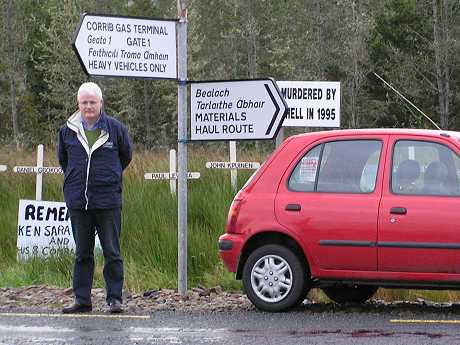 Shell PR guru JohnEgan turns his back on the destruction caused by Shell in Nigeria which he documented for the BBC