Over three thousand objections to proposed Poolbeg incinerator in Dublin

national | environment | feature

Tuesday October 03, 2006 00:17

by rory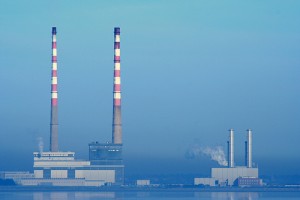 The Combined Residents Against Incineration (CRAI- which includes residents of Ringsend, Irishtown, and Sandymount) handed over 3,000 objections on Monday afternoon to An Bord Pleanala. The signatures were collected from people across Dublin, including members of the Crumlin and Ballyfermot Anti Bin Tax campaigns, against the proposed incinerator for Dublin Bay.
CRAI opposes the siting of an incinerator on the Poolbeg peninsula on grounds of health fears and traffic and environmental concerns. They are calling for alternatives to incineration such as public recycling and for democracy in planning and development.

Dublin City Council along with the other Dublin Local Authorities, Dun Laoghaire Rathdown, Fingal and South Dublin County councils have applied to An Bord Pleanala for approval on the Poolbeg Peninsula of an incinerator that will burn 600,000 tonnes of household, commercial and industrial waste per annum.

The incinerator is not just a Ringsend or Sandymount issue but one that will at some point impact on everyone in Dublin through either dioxins in the wind, further increased waste charges or traffic.
The Public Private Partnership model has been proven with the Sewerage Treatment Plant to be more expensive for the tax-payer and detrimental to the health of people in the area. Serious traffic, health and safety and cost issues relating to the plant remain to be explained by Dublin City Council and the Government. Dublin City Council have already given €10 million to private consultants for the incinerator.
Most of the local politicians have expressed their opposition to the incinerator, including local PD T.D. Michael McDowell. However, despite this, Dublin City Council have gone full steam ahead for approval. A motion was put to the Dail recently by the Green and Labour parties instructing the Minister for the Environment, Dick Roche, to drop the plans to build the incinerator but Fianna Fail and the PDs voted for the incinerator.
There was no sign of Sinn Fein and the Labour Party or the Greens at the community organised event today. Apparantly they organised their own seperate photo shoots to get the most political advantage for themselves while the communities on the ground did most of the work in collecting the 3000 objections
Rather than getting incineration and over development the poolbeg peninsula should be developed according to what is decided by the people of the area. More appropriate would be a nature park, light-impact community recreation facilities (walks, pitch and putt) and limited housing rather than the proposed incinerator and massive high rise Fabrizia development.
The campaign to ensure the environment, communities and people are prioritised over developer's profit will continue with people power and more protests to step up the pressure on politicians to ensure the incinerator and other non-community friendly developments do not go ahead.