Relentless protest in Galway over Qana massacre

galway | anti-war / imperialism | news report

Wednesday August 02, 2006 21:49

by TD - IPSC
Tomorrow, we'll be at it again !.
For the third day running, with unattenuated anger and horror at the Qana massacre, activists were outside Lynch's castle for five hours duration to vent our outrage against the Israel's ongoing vicious blitzkrieg and to support the beleaguered Lebanese and Palestinian peoples.


Belatedly, at the urging of Dr. Naber, pissed off at the hypocritical pusillanimity of the present crew in government and their Pontius Pilate act we started taking signatures on a petition urging Ahern & co to stop running with the hare and hunting with the blood slavering hounds, to be pro active, to be instrumental, for instance, in removing Israel's EU Favoured Nation status.

One Irish pro-Zionist creature began bending our ears about flying the Israeli flag "for balance", but was shit out of bollocks when it was pointed out to him that if we were a pro-Israeli group flying the Star of David, would he castigate us for not flying the Nazi swastika "for balance"?. So it goes.

We'll be outside Lynch's castle again tomorrow, from 1PM onwards for another five hour stint. Please join us there. Now is not the time to stand idly by !.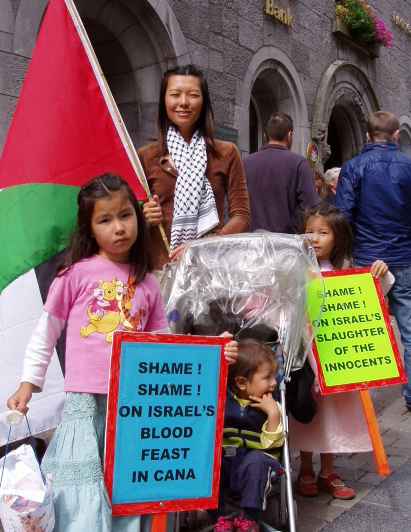 Rieko, an Amnesty International activist with her cherubs; Mitsuko, left, baby Kai in middle, Nanako on the left.