Shell to Sea's Long Walk from Rossport to Dublin begins

mayo | environment | news report

Saturday July 29, 2006 22:08

by EC - RSC

rossportsolidaritycamp at gmail dot com
Despite the moist weather over sixty walkers turned out for the first leg of Shell to Sea's awareness raising Long Walk from Rossport to Dublin.
Over sixty Shell to Sea campaigners, Erris residents and members of Rossport Solidarity Camp braved the damp conditions of a Mayo summer this morning to participate in the first leg of the Long Walk from Rossport to Dublin City. The crowd of walkers gathered outside the gates of Shell's semi-abandoned compound in Rossport amid soft Atlantic showers for the walks kick off at half ten.

After a few words of encouragement from local TD Jerry Cowley and two decades of the rosary led by Mary Horan and Caitlín Sheighin the walkers were liberally sprinkled with holy water before taking the first few steps on the road east to Dublin.

This morning's opening leg of the Long Walk wound ten kilometres from Shell's Rossport compound along the route of the never to be built pipeline, into Rossport village and on towards the refinery site at Bellanaboy. Much needed sandwiches and tea was dispensed to wet walkers on arrival at the trailer at Bellanaboy where an ongoing picket has stopped Shell's work at the site for over a year.

Tomorrow's leg will bring walkers from Bellanaboy to Bellacorrick on the border of Erris. Around six core walkers from Erris Shell to Sea and Rossport Solidarity Camp plan to walk the whole way to Dublin with many more intending to walk part of the way, for a few days or miles. Many others are helping with support work, carrying food and water, organising meetings or doing media work.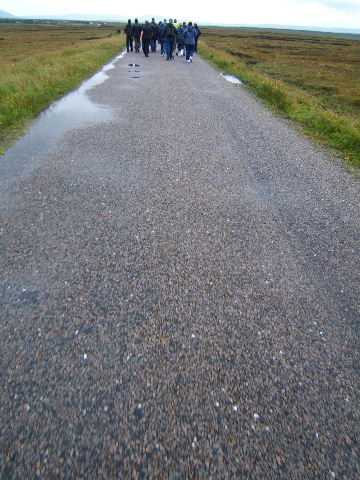 the long road to Dublin stretches out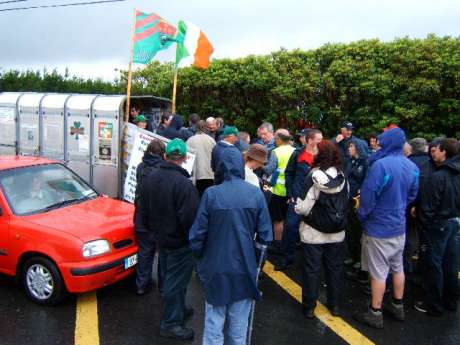 tae and sandwiches at the trailer Bellanaboy