CIA Rendition and covert aircraft still using Shannon airport

national | anti-war / imperialism | news report

Saturday July 15, 2006 15:05

by Edward Horgan - PANA Peace and Neutrality Alliance
Suspisious aircraft Under Irish Army protection at Shannon
Every time I have visited Shannon airport in recent months there have been suspicious US aircraft at the airport. However, the Gardai and Irish Defence Forces, have not been investigating the likely criminal use of Shannon airport reasons of torture and unlawful mass murder in Iraq and Afghanistan. They have been overtly and covertly protecting international criminals as they pass through Shannon airport.

Covert crimes continue at Shannon airport

On Saturday 8 July 06 while travelling through Shannon airport, I was subjected to close observation by the Airport Security Manager Tom Hanly, who seemed to have little better to do other than monitor my movements in the Ryanair queue. I was somewhat surprised because there appeared to have been no US troop carriers or CIA type aircraft at the airport as I arrived. However, as I was getting on my Ryanair flight, I noticed that Boeing 737 N368CE had just landed. I managed to get a photo of it from the steps of Ryanair. Security at the airport was its usual illogical inefficient norm. Having been forced to remove my shoes at the security check-in I had forgotten to take my mobile and some coins out of my pocket but the detection system failed to notice these. As previously reported, US aircraft N368CE has a history of covert CIA use. It was quickly refuelled and took off within an hour. As we were taxiing passed N368CE a small executive jet was parked very close to it but I was unable to identify it.

On my return to Shannon airport on Thursday 13 July 06 I noticed what looked like a US troop carrier which appeared to have no obvious markings but which was being guarded by the an Irish Army patrol from the 12 Infantry Battalion based in Limerick. My presence at the airport seems to have some unusual effects on security personnel who are getting very nervous in case they are caught out guarding CIA rendition planes. In a previous incident in April, my presence at the airport with my camera appeared to lead to the Irish army abandoning this security patrol duties on a suspicious CIA type executive jet. The same appears to have happened on 13 July. As I was entering the terminal building having taken some photos of the plane with its army guard, the airport security jeep escorted the army patrol away from the aircraft. When they saw me photographing their 'manoeuvres' the airport police officer clearly indicated his displeasure at my photographic security measures.
I would appreciate help in identifying this aircraft. Have you seen these possible criminals at any airport near you recently? If so please phone your nearest police station of the UN Raporteur appointed under the UN Convention Against Torture.

When I entered the terminal building I noticed several uniformed gardai patrolling the arrivals area. I had arranged to meet a reporter from a foreign newspaper at arrivals and our presence there aroused quite a bit of interest. When we went to the viewing gallery we were joined by a young Garda within minutes. When we asked him about the suspicious aircraft being protected on the runway, he informed us that he could not tell us who owned it "for reasons of national security". When I asked him if he had come to the viewing gallery to check on me, he said that he was not at liberty to tell me why he was there, but did admit to knowing that my name was Edward Horgan.
Events took a more bizarre turn later as I left the airport accompanied by the reporter in a Northern Ireland registered car. We were followed by no less that two Garda patrol cars. They appeared to get somewhat confused at one point and lost track of us, and ended up making two circuits of the roundabout near town centre before finding us again. We were then followed into the Lidls car park and kept under observation as we had a meeting with Conor Cregan. Such inefficient misuse of Garda resources contrasts with the seriously inadequate anti-terrorist security at Shannon airport, given that the airport is a potential high risk due to Ireland's participation and complicity not only in the Iraq and Afghanistan wars, but also in the CIA rendition for torture programme, and in the movement of Israeli military equipment including attack helicopters from the US to Israel.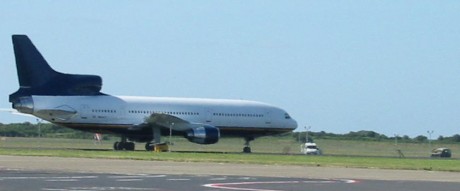 Suspicious US plane under Irish Army guard Shannon 13 jul 06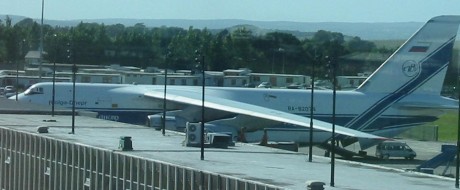 VOLGA DNIEPR transporting munitions through Shannon 13 july 06?