'Can't You Find Reverse?' - ESB Blockade Bantry Farmers.

cork | rights, freedoms and repression | feature

Monday July 03, 2006 16:41

by Niall Harnett - Bantry Solidarity Camp & Lodge / Gluaiseacht.
'Why boasteth thyself, O evil men … playing smart but not being clever.'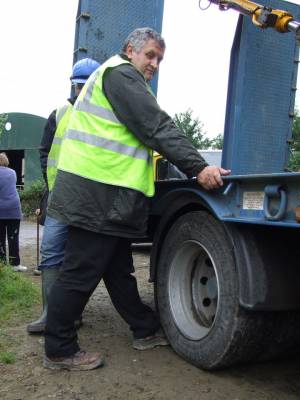 After 3 years fighting the ESB down the usual dead end routes of the courts, the planners, the politicians, the County Councils etc, things finally came to a head for the Bantry Concerned Action Group (BCAG) over the last few days when an assault by the ESB Networks Crew and Officials on a number of local farmers resulted in an ESB blockade of farm entrances in attempting to access their lands for the purposes of erecting pylons, poles and an overhead 38kv power line, to connect the as yet unlicensed and unbuilt 'Murnane & O'Shea' development 'Ballybane Glanta Windfarm' in Dromourneen to the substation at Ballylickey 14km away.

ESB Networks have been granted high court injunctions / restraining orders against a number of the BCAG and are seeking more injunctions against more local residents at the high court in Dublin tomorrow Monday 3rd July (to be adjourned). The ESB are seeking to enter their lands on the back of these injunctions and their associated threats of jail, costs and/or fines. But the BCAG are not lying down and are committed to blocking all attempts to start work on their lands, until the ESB reverse their plans and agree to PUT THIS POWERLINE UNDERGROUND.

Main photo: Liam O'Sullivan, ESB Networks Manager, demonstrating his "determination to meet and surpass the expectations of our stakeholders - to whom we are accountable"- ESB Corporate Social Responsibility Report.
In a disgraceful display of true form, ignoring all 'commitments' to 'social responsibility', 'codes of practice' and 'open communication in relation to the concerns of local communities', ESB Networks Manager, Liam O'Sullivan (and his foot) accompanied by sidekick David Killian, blockaded their own contactors from pulling out of Joe Burke's and other farms, after the contractors agreed to leave having been stopped in their tracks by the group.
Also from Niall:
Rossport model of resistance
applied with opening of a Solidarity Lodge in Bantry.
Last Thursday morning, June 29th, at about 8am, ESB Networks arrived at Joe Burke's farm in Droumaduneen accompanied by An Garda Síochána. Joe is chairman of the BCAG - Bantry Concerned Acton Group and is injuncted by the high court from 'interfering' with this 'Murnane & Shea / ESB Powerline Project'. Joe would be of 'strategic significance' to the ESB, that's why they came to his farm first. Meanwhile two separate ESB contractors, McSweeney and Lawlor, were attempting to get their diggers in on the lands of Jimmy Spillane and PJ Hourihane who have farms further back towards the proposed wind farm site.

Before they knew it, Liam O'Sullivan had his car parked on the Burke's driveway up close to the house and contractor Pat McSweeney had his low-loader truck and digger through the gates to the land and up the track ready to start work. More ESB vehicles - the truck carrying the poles, a van and jeep were out parked on the road with an 'SAG Energy Technologies' van (http://www.sag.de) kinda hidin' back further down the road. Two squad cars and a number of Gardaí parked in the driveway close to the road. Within minutes a number of local residents and visiting supporters had arrived to block the digger truck and the vehicles on the road from entering the farm. The gate was closed and a tractor and baling machine were parked behind the digger truck it to keep it right where it was until negotiations could begin.

The ESB were told in no uncertain terms that they had no permission to access Burke's farm. They were told to leave and take their machines and cars with them, but they refused, rudely. When contractor Pat McSweeney agreed to take away his digger truck, Joe opened the gate for him and removed his own machinery which was in his way. Pat Mc Sweeney started to reverse his digger back down the track towards the gate. When he got to the gate, and when the truck was right in between the gate posts … Liam O'Sullivan appeared at the side of the truck signalling him to stop … and then he stuck his feckin' foot under one of the wheels of McSweeney's truck!.. stopping him there and blocking the gate.

Joe, his wife Anne and his father Jim all told him to move and asked the Gardaí to tell him to move … all to no avail. Jim complained to the Gardaí and Anne tried to make an official complaint, but the Gardaí refused to do anything, despite being told that Joe's herd of cows, which had been milked before 8 o'clock that morning, were waiting to get back through that gate to feed in their fields.

ESB Networks Manager, Liam O'Sullivan stood with his foot under that truck for almost three hours. Finally at about 12 noon he relented and sat into an ESB van which was parked beside the gate. The van was parked in such a way as to make it very difficult for McSweeney to remove his digger truck. Joe had his cows ready at the gate across the road, waiting to cross. He told O'Sullivan to move the van to let McSweeney out so as to let his cows in. O'Sullivan said he would move the van further up into the driveway. There were local supporters blocking his way up the driveway so the only way he could get out was to reverse back. Joe and Jim Burke told him to back the van out on to the road. He refused and said he would only go forward into the driveway. The Gardaí were asked to direct him to move and they also refused. RTE / TG4 tv crew and print media photographers had just arrived to hear Joe say to O'Sullivan - "Can't you find reverse in that van, or do you want me to find it for you?!"

Contractor Pat Mc Sweeney had fierce trouble backing out that long low-loader digger truck with Liam O'Sullivan refusing to budge. It took him nearly half an hour and he had to reverse back through the gate across the road and into the cows before he could pull away. Finally, the cows got out to feed.

Meanwhile, Liam O'Sullivan's car which was parked close to the house was blocked in by some of the many cars that had come to Burke's farm in support of them. As the afternoon progressed and a successful blockade had kept the ESB out, Liam O'Sullivan tried to move his car without success. He was told that he could take out his car on one condition only … that he agree to sign a statement saying that he would never park his car on Burke's property without permission again. Without going into detail of his protestations at that and his attempts to use the Gardaí to assist him, suffice to say … he signed!

Throughout the day, diggers had also tried to get into the fields of Jimmy Spillane and PJ Hourihane further back towards the proposed wind farm site. Some had got into the fields and some were being held outside by local residents, who were also preventing those diggers that had got into the fields from moving any further. A private security company 'Express Security Group', contracted by ESB, were starting to move in for the night on all three sites, to protect these machines. Liam O'Sullivan was instructing them by telephone to keep the diggers where they were, even if the contractors who own them wanted to take them away!

On Friday morning, they were all back again and making new attempts to get on to other lands, - Dan Leary's, Stephen Barrett's and Margaret O'Sullivan's, as well as trying to get back into Joe's and the other lads' farms.

David Killian, who described himself as "working on behalf of ESB Networks and answerable to Liam O'Sullivan", arrived at Burke's on Friday brandishing the high court injunction. He asked for permission to access the land and he was refused. That's all he needed to do that day. He had come to ask that question and he had come to hear that answer so as to report back to his solicitors with a view to acting on that injunction. Liam O'Sullivan was doing the same thing elsewhere.

Killian was met by the Burkes and other members of the group who had a lot of questions they wanted answered. First of all Anne Burke wanted to know his role in this project and his job description. He took a long time and many words to not answer that question and we are still none the wiser as to his position or role. Suffice to say for the moment that his role on that day, Friday, was to go telling tales back to the high court.

Over the last few days, the ESB have been successfully blockaded from entering the lands of local residents and farmers along this 14km stretch of hills, woods and valleys. The Bantry Concerned Action Group are one in their call for these power lines to go underground. They are prepared now for any further action that the ESB want to take whether through the courts or on the ground. This is a large area of land with a lot of possible entry points and so the BCAG are calling for support in defending these lands. Anyone wishing to visit or to stay in the area to do that is welcome. The Bantry Solidarity Camp & Lodge has been set up just in the last few days and weeks and is ready for visitors (camp report coming soon). BCAG, local residents and neighbours are offering generous support to solidarity campers.

For more info contact Joe at 086 2705589 or myself at 086 8444966.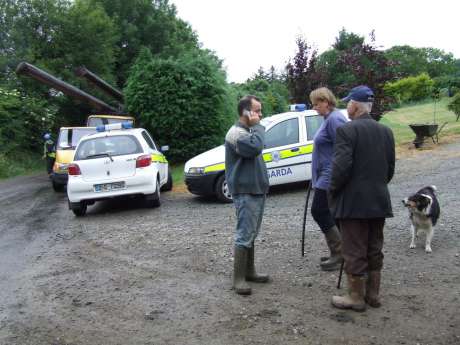 Joe Burke with his wife Anne & his father Jim, all strong under pressure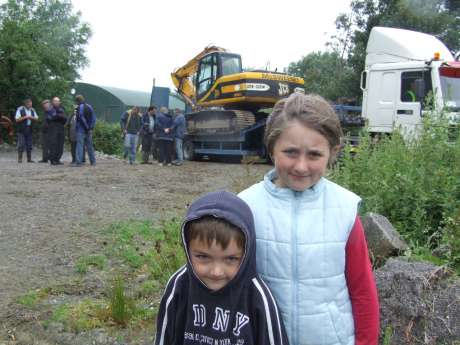 Danielle and James Burke - Bury the Powerlines, Not the Children.