Anti-War Activist places US Soldiers under (Citizens) Arrest in Co Clare.

clare | anti-war / imperialism | feature

Friday June 23, 2006 17:14

by Conor Cregan
Shannon peace activist put six young US service men under (citizens) arrest.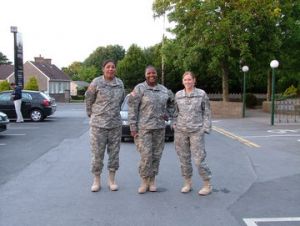 While Driving through Ennis town yesterday afternoon a local anti-war activist put six young US service men under (citizens) arrest. On Thursday morning an US troop carrier landed at Shannon with technical problems. This is a common occurrence with the chartered troop carriers that come through Shannon Airport. With an average of 1100 hundred troops going through Irelands second international airport on a nightly basis these aircraft are flat out ferrying young men and women to Iraq. Many of these stranded soldiers were billeted at the West County Hotel in Ennis near where peace activist Conor Cregan encountered six young US servicemen on the main Ennis to Limerick road.
Cregan immediately called for the six to stop. "I am placing you all under citizen's arrest. Do not move" he shouted as the stunned men came to a halt. After assuring the men that they were not in jeopardy the peace activist made an emergency call to Ennis Garda Station. Cregan called for the Member in charge to send a van to pick up these awol soldiers but Garda O'Sullivan's response was less than helpful. The deskbound officer was more interested to know if they were armed or their commander in chief George W Bush was among them. Mind you he wasn't so funny when reminded that that all emergency calls were recorded.
Convinced that he wouldn't get any joy from the Ennis Garda station Cregan went into the hotel to look for the Commanding Officer of the US troops. He approached a NCO but she could not see the man in charge but then Cregan spotted a familiar face coming towards him. DGda Jarlaith Fathy, a man who once tried to frame him for a crime he did not commit, was leaning over the reception desk.
Cregan called for the detective to take charge of the soldiers. Fathy followed him out to the front of the building where the six were sheepishly edging their way towards the entrance to the hotel. One polite young trooper leaned over and extended his hand towards the peace activist and apologized. Cregan again assured the young man that he was not in trouble and informed the lost patrol that in fact this was a diplomatic matter and that the Irish government was the wrongdoer in this situation. He thanked the men for their cooperation and left them in the hands of DGda Fathy who ushered them back into the hotel.
Later Conor Cregan registered a complaint with Superintendent John Kerin of Ennis Garda Station. Supt Kerin seemed surprised that anyone would complain about a foreign army walking the roads of Ireland and tried to convince that this was not a major issue. The top cop was more annoyed that Mr. Cregan had rang the Ennis Gardai Station on the 999 emergency line and informed him that he would be investigating the matter with a view to prosecute.
Later Conor Cregan returned to the West County Hotel to follow up this story. Standing outside the front entrance were three NCO's, of the American Army, smoking cigarettes and a chat with a member of An Gardai Siochana. These young soldiers were enjoying their down time but complained about lack of heat. One soldier informed the reporter that "the weather would be a lot hotter in Texas" where she was from. She also said it was hot in Iraq and after their two week vacation she would be returning to duty in the middle-east war zone. Standing beside her was a friend from her home state and a sergeant from "Hollywood California" who would have liked to visit the town of Ennis but had no clothes to wear.
When asked why they were not allowed to leave the hotel she replied that "the people her might not like to see us".
Another soldier dressed in "Army" shorts and T-shirt explained that they were invited to Ireland by the Irish Government.
When Conor Cregan started to clarify the nature of a neutral state like Ireland and the responsibilities that came with this status a member of An Gardai Siochana came over and just as he explained that under international law that all belligerent combatants should be interned under close arrest the young Ennis Guard asked him to identify himself.
"Conor Cregan and you are"
"I am a Guard that's all you need to know"
"And Guard you don't have any numbers on"
She replied to this sternly and ushered the US troops back into the hotel. After a while two another uniformed Garda and two plain clothes Garda arrive on the scene. The situation seemed to be in hand so this report left.