A little corner of county Mayo that is part of an international web of resistance

mayo | anti-capitalism | news report

Wednesday May 17, 2006 06:23

by Terry - Rossport Solidarity Camp
Reports on South African and Latin American visits to the Shell to Sea campaign in county Mayo, plus an interview with Siziwe Khanyile from Groundwork in South Africa.
Of late the little corner of county Mayo which has brought Shell to a halt has been visited by people from different struggles the world over looking to learn from our experiences here and seeking to share their experiences with us.
In early March we had a visit from the Saving Iceland campaign, in late April we hosted part of the Latin America Solidarity Centre's tour on the privatisation of natural resources, and on May 12th and 13th we were joined by two South African activists struggling against Shell in South Durban.
As part of the Rossport Solidarity Camp gathering on the 2nd to 5th of June we will be having speakers from the Bolivia Solidarity Campaign.
Read on for reports on the Latin American and South African visits, plus an interview with Siziwe Khanyile from Groundwork in South Africa.
Latin American Visit.
On the 25th of April, as part of a tour organised by the Latin American Solidarity Centre in Dublin, we were visited by Ricardo from Accion Ecologica in Ecuador and Tania from Coordina de Defensa del Aqua y la Vida in Bolivia. The tour was focusing on the issue of natural resources.
The meeting opened with a film 'Amazon Oil Pipeline – Pollution, Corruption and Poverty'. The film and Ricardo's presentation was about the construction, beginning in February 2001, of a 500 km oil pipeline through the Amazon and the lands of indigenous peoples and in an area with 94 seismic fault lines and six active volcanoes.
The presentation showed how the interrelationship between the debt crisis and the I.M.F. and these massive projects of resource extraction as the construction of the pipeline was a condition of I.M.F. funding. It showed how roads, pipelines and other infrastructures were being built into the interior of South America to exploit natural resources and bio-diversity. There is a co-relation between military bases and the locations of these resources, this necessary to change the social policy in order to control these riches. 30 years ago in Ecuador 80% of the profits of resource extraction went to the state, now the situation has been reversed (this was greeted with cries of 'sounds familiar' from the audience).
Interestingly Ricardo spoke of the relationship some international conservation organisations have with corporations. The people from the Saving Iceland campaign who visited us in early March were making the same point. According to Ricardo Conservation International have a partnership with Shell and BP, and the World Wild Fund for nature have a relationship with Monsanto.
Ricardo finished up by saying to applause "we will never lose the will to struggle for a better life".
Tania is from a group that has been fighting water privatisation in Bolivia. She spoke about the El Alto massacre where the army killed 60 people, residents of El Alto, a shantytown city on the outskirts of La Paz, Bolivia's capital. This was during the so-called gas war. In the question and answer session afterward, when asked about the new government of Evo Morales she said the social movements had supported Morales but are maintaining their independence so as to challenge the new government should it not fulfil its promises.
South African Visit.
On the 12th of May we were visited by Des D'Sa from the South Durban Community Environmental Alliance and Siziwe Khanyile from Groundwork.
There was also a film showing at this meeting.
The meeting started with a moments silence for the hundreds of people killed the day before in a pipeline explosion in Nigeria.
This was an important meeting bringing the direct experience of living next door to a Shell refinery to the place and people where Shell would like to build one.
Des spoke about how they start off with building one development and then add more and more, and about how a defeated 1999 Strategic Environmental Assessment was to remove 285,000 people from South Durban. This was related to the situation here in that they will say it is safe until such a time as it is built and then attempt to remove the population on the grounds it is unsafe. He also referred to Shell as an apartheid company as Shell were involved in sanctions busting in the 70s and 80s and never disinvested from South Africa.
In the questions and answers sessions there were lots of questions and comments on what Shell does to improve its image, Des spoke about how they attempt to sponsor things, set up fake community groups and worked to get international NGOs on side; some of the South African experience mirroring that in Mayo. There is no emergency planning to deal with accidents at the South Durban refineries and there is a great incidence of asthma and leukaemia among the local communities.
Des and Siziwe were dropping by on their way to the Shell AGM..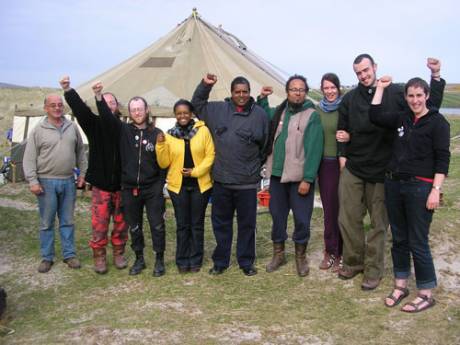 South African activists visit the camp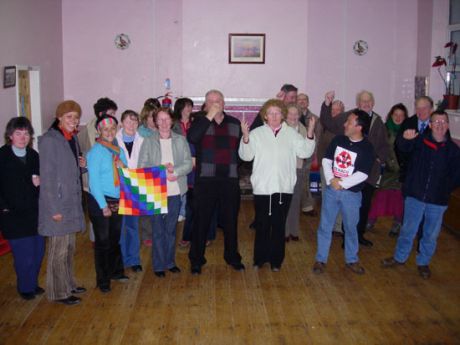 The now traditional pose for a group shot after public meetings in Glenamoy