Belfast anti-war group exposes the bloody truth of Thales Air Defence war profits

antrim | anti-war / imperialism | feature

Friday April 28, 2006 12:11

by Mark Chapman - Justice Not Terror Coalition

jntcx at bonbon dot net

+44 773 781 9569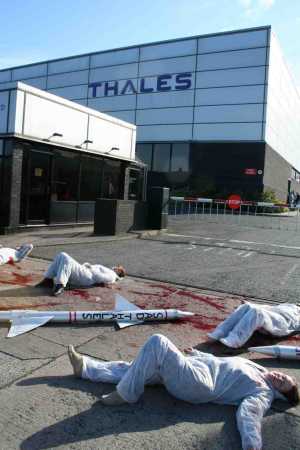 This morning, Thursday 27 April peace activists from the Belfast-based Justice Not Terror Coalition staged a 'die-in' and blockade at the main gate of Thales Air Defence, Alanbrooke Road, Castlereagh.
'
This symbolic and totally non-violent action effectively blockaded and closed down the main entrance to the Thales war profiteers site in Belfast for a period of time. We re-enacted an everyday scene from the streets of Baghdad, Samarra, Fallujah and other Iraqi towns and cities under US and UK military occupation
', said JNTC member Ann Patterson.
'
War profiteers Thales in Belfast specialise in short-range missiles for the British government's war efforts. Arms traders such as Thales concentrate on strategies to make a killing from armed conflicts. We are calling on the decision makers in Thales to start using the expertise and skills of their workers in socially useful ways rather than manufacturing weapons of death and destruction
', said Mark Chapman. Mairead McKeown and Lelia Newman delivered a letter to Thales explaining the reasons for the peaceful protest and requesting a meeting to discuss these issues of concern for the group.
'
We're taking this action today as part of the Global Call to Resist the occupation of Iraq and to oppose those who are benefiting from the continuing military occupation there. With over 100,000 Iraqi dead, over 2,300 US dead and over 100 UK troops dead, this military occupation clearly needs to end now. The US and UK administrations need to be held to account for precipitating civil war in Iraq and for increasing the likelihood of further terrorist attacks worldwide
', said Peace People Chairman, Kevin Cassidy.
Justice Not Terror Coalition
is co-ordinating non-violent resistance actions to the occupation of Iraq throughout 2006 in support of the
Global Call to Action
(
http://www.globalcalliraq.org
). These are planned for July 7 (London bombings), August 9 (Nagasaki Day), September 11 (9/11), December 10 (Human Rights Day).
Justice Not Terror Coalition