Corruption Watch at Tara - Lets do some digging of our own

meath | history and heritage | news report

Monday April 24, 2006 11:24

by watcher - http://www.tarawatch.org
New revelations about corruption in NRA contractors only add to the growing pong at Tara
Yesterday, April 23, '06, the Sunday Times ran a story about corruption in a multinational engineering company called JE Jacobs that was recently awarded the N6 roads contract in Galway. Two company members were convicted in Chicago last year of illegal bidding and trading of insider information on construction contracts.

In the article the Times referred to "Jacobs' Irish arm", (presumably for legal reasons) which is Jacobs Engineering Ireland. TaraWatch has learned the new head of the NRA Fred Barry was a director with Jacobs when he was hired last year.

Everybody knows the construction industry is corrupt, the archaeological profession is corrupt and of course the property development/rezoning industry is rank. Everybody knows there is more to the story as to why the M3 goes where it goes, and will not be moved unless it is forced. It is time Irish citizens put their heads together and figured this one out, before it is too late.

There are already many strong indications as to who and what is involved. Lat year we all saw Tommy 'Pots 'n Pans' Reilly, the Fianna Fail by-election candidate in Meath, get pulled from the race because he had bought land with Frank Dunlop in the Tara Skryne Valley. Then there was the Ireland on Sunday investigation into the owner of land at the Blundelstown interchange, Cathal McCarthy, and other 'friends of Fianna Fail', printed below.

Let's start putting the pieces together. TaraWatch is beginning a 'Land Registry Fund' to do a complete serach of land ownership in the Tara Skryne Valley. But that is only the beginning. Let's do some communal research and see what we can excavate from the muck of Meath.


NRA CONTRACTS

Company awarded N6 contract caught in corruption probe
http://www.timesonline.co.uk/article/0,,2091-2148007,00....html
The Sunday Times
April 23, 2006

Enda Leahy

THE parent company of an Irish construction firm awarded a €100m contract to build a section of the Dublin-Galway road was investigated for contract bid fixing and corruption, it has emerged.

Two employees of Jacobs Engineering, a multinational construction company, were convicted last year in America for their role in obtaining confidential details of competitors' bids for an $800m (€650m) building project. During the trial it was alleged that Jacobs' employees got inside information about rival bids for a convention centre in Chicago from a lobbying company it was paying. It subsequently won the contract, worth $11.5m (€9m), after reducing its estimate by more than one-third.

Last week Jacobs' Irish arm, which lists American and Canadian-based directors on its accounts, was awarded the tender to provide engineering, procurement and construction services for a 20km stretch of road on the N6 between Ballinasloe and Athlone. The National Roads Authority (NRA), one of the bodies that awarded the contract, said it was unaware of the corruption investigation, conducted by the US attorney's office. It said the tendering process it adopts is rigorously checked and all candidates are vetted for their ability to successfully and efficiently carry out a contract. There is no suggestion of any impropriety in relation to the N6 tender.

Jacobs has been operating in Ireland since 1974. The Irish company's immediate controlling firm is Jacobs Engineering Espana SL, but the company's ultimate parent is Jacobs Engineering Group Inc in America. Last year James Nagle and Elizabeth Koski, former employees of the American-based company, were sentenced to five years' probation, given a $4,000 (€3,250) fine and ordered to perform 200 hours of community service for their role in the Chicago scandal.

Nagle, who was the Chicago office manager and the company's chief operations manager in charge of obtaining the contract to expand the Chicago Metropolitan Pier and Exposition Authority (McPier) building, said senior staff throughout the company were also aware of secretly obtained information relating to their competitors' bids for the deal. The company initially submitted a bid of $18.8m (€15.2m) but dropped it by $7.3m (€5.9m) to win the contract. This was after Nagle received inside information about a rival's bid from Ronan Potts LLC, a lobbying firm.

In documents filed by the US attorney's office, Nagle claimed the decision to reduce the bid was taken at an internal meeting of Jacobs personnel brought in from throughout America. The documents alleged: "At no point . . . did any Jacobs official object to having the information. To the contrary, the information was discussed in a routine manner throughout the process by [Nagle's] supervisory panel." In the months after the case, a Chicago schoolboard sued the company to recover $28m (€22.7m) after Jacobs' renovations of three local high schools came in over budget.

Last week, inquiries to Jacobs in Ireland were passed to spokespeople in Scotland and America who refused to comment other than to say Nagle and Koski had been fired, and that winning the Galway contract was a success. The project, with a value of approximately €100m excluding land costs, is scheduled for completion in 2009. Jacobs is also designing a stretch of the N6 from Kinnegad and Kilbeggan after winning another tender last September.

The NRA said: "There are background checks in the tender process, but if any civil or criminal action has been taken against an organisation, particularly where there is a finding and they've been to trial and paid their dues, they would not be excluded from contractual contests."

Jacobs engineering case puts past contracts under scrutiny
Los Angeles Business Journal,
http://www.findarticles.com/p/articles/mi_m5072/is_13_2...15025

Jacobs Engineering Gets Ireland Contract
http://www.businessweek.com/ap/financialnews/D8GTPSHG0....an=db

Road deal with Jacobs
http://www.galwayindependent.com/news/7081.html

National Roads Authority Appoints New Chief Executive - NRA Press Release 12th January, 2005
http://www.nra.ie/News/PressReleases/2005/htmltext,1323....html
"Mr. Barry (53) is currently Managing Director of Jacobs Engineering Ireland Ltd. from where he brings extensive experience in the design and construction of private and public sector projects both in Ireland and in a number of international locations."

New roads boss appointed on €300,000 salary package
Sunday Independent
Thu, Jan 13 05

A NEW chief executive has been appointed to the National Roads Authority (NRA) on a salary package in the region of €250,000 a year plus a performance bonus of 50pc, writes Treacy Hogan. Fred Barry (53), currently managing director of Jacobs Engineering Ireland Ltd, takes over in the top job from next April.

In a statement yesterday Peter Malone, NRA chairman said the appointment underlined its commitment to deliver on the Government's ambitious development programme creating a spine of high quality national routes. "Fred will lead the NRA team in delivering on this mandate with an investment of up to €10bn over the next five years, through a combination of the public purse and private investment, to developing an efficient and safe national network of motorway and main roads," he said./a>

The new chief executive is a civil engineering graduate of UCD and worked in construction projects in Canada and Nigeria before joining Jacobs Engineering in Dublin in 1980. Mr Barry also worked for Jacobs in the UK and the US. He succeeds Mr Michael Tobin.

=====================

BLUNDELSTOWN INTERCHANGE

Tara Tycoons – political cronies poised to make fortunes
John Lee, political correspondent, Ireland on Sunday
2005-10-09

Major developers who are also financial backers of Fianna Fáil stand to make millions from the controversial M3 motorway which conservationists say will destroy the historic Hill of Tara.

A company controlled by multi-millionaire builder Joseph Murphy Jr – whose main business, JMSE, was exposed as corrupt the Flood tribunal – owns valuable lands along the route.

So too does multi-millionaire Fianna Fáil backer Cathal McCarthy, formerly a business partner of Frank Dunlop, the corrupt former government press secretary, and of Des Richardson, a close friend of the Taoiseach.

Both Mr Murphy and Mr McCarthy stand to make millions from the sale of land needed for the motorway – which campaigners say will destroy some of our most important archaeological sites – and for the construction of intersections.

But Mr Murphy, in particular, stands to make even more substantial profits from the hundreds of acres of land which he owns within a few miles of the motorway route and which may well be opened up for development once construction is completed.

Support for the M3 route formed a major part of the Fianna Fáil campaign in Friday's by-election – even though archaeologists and ecological activists have compared it to Egypt's Valley of the Kings and insist that it should be preserved.

Mr Murphy faces an investigation by the Criminal Assets Bureau after playing a central role in the Flood/Mahon Tribunal into planning corruption. Mr Murphy and Frank Reynolds, the former managing director of JMSE who was also condemned by Mr Justice Fergus Flood, are beneficial directors of Newland Properties Ltd with an address at Ashley House, Batterstown, Co
Meath.

Newland Properties owns 26 acres in Roestown, Ratoath, Co Meath, of which five-and-a-half acres are subject to compulsory purchase by Meath County Council for construction of the M3.

But in recent years, Newland Properties has bought up more than 130 acres in nearby Ratoath, Dunshaughlin, Dunboyne and ther parts of south Meath near the proposed route.

Though the CPO on the five-and-half acres is expected to net the company about €5m, the real potential for profit is in its other properties beside and near the M3 route. Inevitably, there will be pressure to rezone this land for housing and industrial development – a move that would bring in millions more for the two building magnates, according to property experts.

Frank Reynolds said the company owned more than 100 acres "if you take in Dublin and other places". "I think if you ask anybody whose land will be affected by the M3 or N2, they would say they'd rather have the land. I wouldn't say I'd make a killing on it. You can't do much with land that has a road running through it", said Mr Reynolds."I don't know if you can do much with it building-wise as people don't want to live by a motorway".

Land Registry documents show that Newland Properties also has a massive land portfolio in Dublin. JMSE has made huge financial contributions to Fianna Fáil and the Progressive Democrats.

Tribunal star James Gogarty, when accompanying Joseph Murphy and another corrupt building tycoon, Mick Bailey, to a 1989 meeting with now jailed ex-minister Ray Burke to make a corrupt €30,000 contribution, innocently asked: "Will we get a receipt?"

"Will we f***," was the reply.

Cathal McCarthy, meanwhile, has made millions from the development of Navan town centre in partnership with another rich developer, Gerry Duignan. IoS has seen files that show Mr McCarthy owns 12 acres at the most controversial interchange on the motorway – right beside the Hill of Tara, ancient seat of the High Kings of Ireland.

An additional 200-acre landback beside the interchange site was transferred to the name of Mr McCarthy since April 2004. The land is highly valuable given its proximity to the interchange and the M3. Opponents of the current route of the new motorway argue that the 29-acre, floodlit interchange will damage the Hill of Tara.

It has also been learned that in 1999, Mr McCarthy and Mr Duignan – registered with the Public Offices Commission as Duignan & McCarthy, PO Box 44, Navan, Co Meath – contributed £30,500 to Fianna Fáil. The contributions are listed as '£2,500 for attendance at a fundraiser, £3,000 for attendance at a fundraiser and £25,000 for attendance at a fundraiser'.

JMSE Managing Director begins evidence to Flood Tribunal
http://www.rte.ie/news/2000/0125/flood.html

Flood `obstructers'to face massive legal bills - Sunday Business Post
http://archives.tcm.ie/businesspost/2003/05/11/story906...5.asp

The Third Interim Report of the Tribunal of Inquiry into Certain Planning Matters
http://www.ireland.com/newspaper/special/2004/planning/...t.pdf -

===========

TOMMY REILLY / FRANK DUNLOP

Tommy 'Pots and Pans' Reilly and Frank Dunlop Made Land Deal in Tara/Skryne Valley
It has emerged that Tommy Reilly, chairman of Meath Chamber of Commerce and a Fianna Fail candidate in the forthcoming Meath by-election, bought between 10 and 11 acres of land in the Tara/Skryne Valley in or around 1997 for between £90,000 and £100,000 punts, acording to the disgraced lobbyist Mr. Frank Dunlop.

Mr Reilly is a vocal suporter of the proposed M3 motorway through the Tara/Skryne Valley and has made public statements in regard to the Hill of Tara which equate the heritage value of the site to a few, "pots and pans".

Mr Dunlop also confirmed yesterday that he has known Mr. Reilly for between 25 and 30 years.

Mr. Dunlop was a key witness in the Flood Tribunal and has told the Tribunal that he maintained a "stash of cash" in a "war chest" in an AIB branch at Rathfarnham Road in Dublin and, from this stash of money, made payments to politicians in respect of planning decisions.

Mr Dunlop said yesterday that, "We did not have any great intentions for it. It is not near where you would be expecting any development to be taking place".

Mr Reilly told the Irish Times on 18/1/05 that, "everything was legal and above board" in relation to the purchase in the townland of Edoxtown near Skryne, County Meath.

Below you will find a detailed map of the Tara/Skyrne vallery. The proposed route of the M3 is highlighted in solid red. The townland of Edoxtown, where Reilly and Dunlop have their parcel of land, is circled in solid blue. [http://www.apollogallery.ie/newsitem.shtml?id=311&start...ge=10] You will note that there is a Promontoary Fort near the lands. That fort, one of the outer defensive forts to Tara, disappeared in recent years and there is nothing there now only a flat field.

Source: The Irish Times,
Date: 19/1/04,
Page: 6
Title: "Party to check FF candidate's land deal"
Author: Mark Brennock, Chief Political Correspondent, The Irish Times.

Reilly withdraws as candidate for by-election - RTE News
http://www.rte.ie/news/2005/0131/byelection.html

Fianna Fail and Dunlop-linked land deal 5km from Hill of Tara under scrutiny
http://www.indymedia.ie/newswire.php?story_id=68295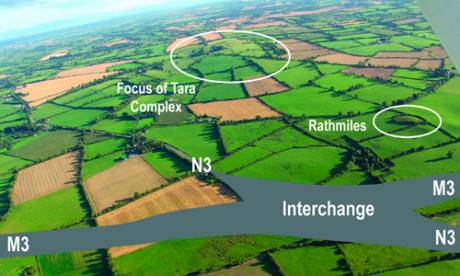 Blundelstown Interchange. Over 50 acres. Land owned by Cathal McCarthy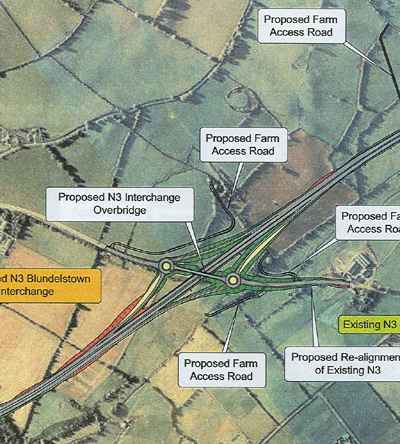 Closeup of Blundelstown Interchange