Drumming up rhythms of resistance in Mayo

mayo | environment | news report

Saturday April 15, 2006 21:59

by Eve C - Rossport Solidarity Camp

rossportsolidaritycamp at gmail dot com
Report on radical London based drum band, Rhythms of Resistance's visit to Mayo in support of the Shell to Sea campaign.
Rhythms of Resistance, a radical London based drum band, joined members of Rossport Solidarity Camp this week in bringing some noise to the streets of Mayo and in raising awareness about the Shell to Sea campaign and the Rossport Solidarity Camp. The band are among many British based environmental and social justice activists who have visited the Rossport Solidarity Camp since it was reopened in February.

On Wednesday the band and campers paid a visit to Shell's office in Bangor Erris, a small town near Rossport. Samba and leafleting took place. The Shell office was closed up and was either irregularly closed or pretending to be.

On Thursday we visited Ballina. The weather was beautiful. We kicked off events outside the civic offices unfurling a banner emblazoned Rossport Solidarity Camp and a poster-painting depicted a Shell skull looming over the Rossport landscape read stop Shell hell. After playing a few samba numbers outside the civic offices campers and Rhythms of Resistance who usually perform at demonstrations and direct actions in England moved onto the main street and a spot outside the arts office. We handed out flyers about the Corrib gas project and the Solidarity Camp. Lots of people stopped to listen, cars slowed up and we chatted to interested passers-by about what is happening in Erris and how it affects us all.

On a drizzly holy Saturday we once again loaded our vans with surdos, heps, caixas, tams and agogo bells and headed for the county capital of Castlebar. We arrived around three and set up shop on the footpath just in front of the forecourt of a Shell filling station. We handed out flyers and leaflets to passers-by and cars and got loads of beeps and hand tapping motorists. After a few drizzly showers and a few tunes we moved onto the main market square for more music before retiring to a local drinking establishment for much earned refreshments.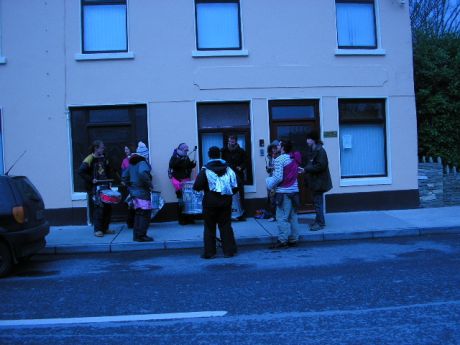 outside Shell's office in Bangor Erris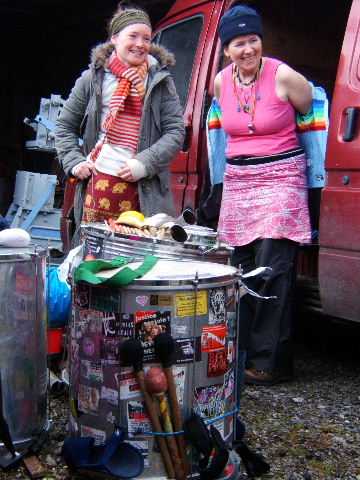 getting ready for action in Ballina