Belarus: Anarchists and Indymedia call for solidarity!

international | politics / elections | news report

Saturday March 25, 2006 17:41

by Padraic - 1 of Indymedia Ireland Editorial Group
Anarchists and Indymedia activists have made calls for solidarity with the anti-Lukashenko protesters in Minsk. Demonstrators were cleared form October Square on Friday March 24th but are back on the streets today
According to Belarussian indymedia activists in Minsk, last night (24 March, 2006) at 3:30 AM, OMON moved to destroy the tent camp that had been put up in the city center to protest fraud in the Belarussian elections. 30-40 tents were trashed and around 500 people arrested. Among the destroyed tents was a Belarussian Indymedia tent, and among the arrested there were many radical activists, such as members of the anarcho-punk band Deviation and editors of the banned satirical anarchist paper Navinki. Those arrested were heavily brutalized. As all the police stations in the city are full, the people arrested in the October Square were taken to unknown destinations outside the city limits, one of them said to be the town of Zhodino. Their exact location, condition and charges pressed against them are currently unknown. Indymedia activists estimate that several thousand people have been detained during the last 10 days throughout Belarus.

Friends and families of those arrested have gathered outside the prisons and jails, and there have been some attempts at stopping prisoners being transferred outside Minsk. Initial reports suggest that those arrested have been beaten, threatened and not allowed to make phone calls. There are also unverified reports that some of those processed through the courts have recieved sentences of between 10 and 15 days.

Political repression in Belarus is common and institutionalised. In December 2005 Lukashenko brought a number of new repressive measures through the puppet House of Representitives. They include the new crime entitled "Discredit of the Republic of Belarus".

Independent media is not tolerated by the authorities. In September 2004 new rules were brought in for "arts groups... bands, dance groups and things like that. Under the new rules they must go to the cultural committee and after representing their case they must hope to get a special licence that allows them to play in public". Under these conditions political actions are often "cultural projects with veiled meaning". Indymedia Belarus holds public meetings and advertise them on their website but sometimes have to cancel them due to security considerations.

For some back ground see this link for an interview with the editors of the aforementioned Navinki newspaper. This link is an interview with Belarussian anarchafeminists -
Some video footage of the protests is available here.

Follow belarus.indymedia.org for updates and video footage coming up.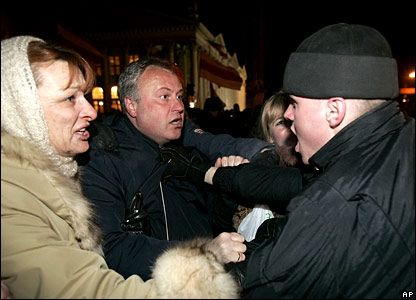 The police cleared protesters from October Square.