Ex-Mayo Top Cop Pumps for Shell

mayo | rights, freedoms and repression | feature

Wednesday March 15, 2006 20:02

by anarchyvist - Shell to Sea Dublin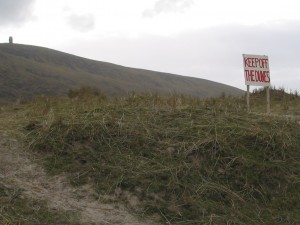 Residents of Erris will be discomforted to hear that the former Chief Superintendent of the Mayo Garda Síochána, John Carey, has been appointed as a local consultant to the Corrib Gas Project. Carey 's new role, which will be part-time, will 'see him meeting local groups and residents and conveying their hopes and concerns relating to the project to the Corrib management team' according to last week's Mayo News. He will, apparently, 'also be involved in informing people locally about the plans for the project as it moves forward'.
Carey's appointment is fast on the heels of the appointment of two other prominent locals. Journalist Christy Loftus, and former County Secretary, Padraig Hughes now act as 'external advisors' to Shell. Both men are in a prime position to influence local opinion and defend the role of Shell in endangering the lives of the local community and ripping off the Irish taxpayer.
Carey, a local man from Bangor, resigned his position in the guards in April 2005. He had been Chief Superintendent of the area, stationed in Castlebar for the previous 9 years. He is generally considered to have 'retired early'. Perhaps he just wasn't Assistant Commissioner material. He is also a well known Mayo GAA personality. He captained the team to win the National League in 1970 and went on to win All Star honours, becoming Mayo's first All Star in 1971.
Mayo has a strong connection with An Garda Síochàna. The first Commissioner was the delightfully named Mr Michael Staines TD. A native of Newport, he was a 1916 veteran who took part in the war of independence. He was chairman of the committee set up by Collins to establish the new police force and was proposed by none other than Mulcahy as Commissioner. His motto was that 'the newly formed Guardians of the Peace would succeed not by force of arms but on the Moral Authority of the people'.
The very first guard was a Mayoman: Garda Kerrigan was a native of Newport. The first member to be honoured with a Scott Medal for Bravery was James Mulroy a native of Straide. Über cop Commissioner Noel Conroy is from Blacksod. Assistant Commissioners Al Mc Hugh and Nacie Rice are Mayo men too. Oh, and not forgetting former Deputy Commissioner, P.J. Moran.
Carey's new role within his former jurisdiction is a further indication as to the lengths the Shell-led consortium is willing to go to coerce local community acquiescence on this issue. His obvious connection and strong identification with the guardians of the peace is a dangerous development and one which should be resisted by the people. His local knowledge will no doubt be invaluable to the Special Branch, who have been observed in the area in increasing numbers over the past few weeks.
Reacting to this development Shell to Sea has said Carey's appointment is a 'strategic decision by Shell in an attempt to localise the issue.' Dr Mark Garavan, spokesman for Shell to Sea, told Padraig Burns of The Mayo News that the decision to appoint Mr Carey, which follows the recent appointments of Loftus and Hughes, did not affect the substantive issue of their campaign.
"If you look at the language they [Shell] have been using in their most recent press releases, you can see that they are implicitly conceding that they had lost a lot of trust locally in the area" he told the paper. "Obviously, Shell have decided to take a strategic decision to localise the issue by their appointments in recent weeks, but they have still to address the substantive issue and until that happens we won't be changing our approach".
"Shell must accept that the project as it stands is not viable and until that happens there can be no change. As it stands they have not indicated any change in their approach, the mediation is still stalled and there is still no sign of it restarting", he said.
Carey's appointment has been welcomed by both Loftus and local Shell boss Mark Carrigy. Loftus said Carey would bring 'invaluable local knowledge' while Carrigy said he was delighted that Mr Carey had agreed to 'assist the Corrib Gas partners as they work to regain the trust of the people of Erris and Mayo'.
So when Carey comes knocking on your door informing you of the plans for the project as it moves forward, tell him as impolitely as you can that Shell isn't moving forward and will be forced to process the Corrib gas at sea. And then you can perhaps discuss with him his attitude (as an ex-guard) to corruption amongst the business/politician class of this country. But be careful out there, Carey has friends in high places and those boys in the car behind him are probably armed.