Daily Ireland: McVerry says death in Garda custody a factor in riots - alternative narrative emerges

dublin | arts and media | opinion/analysis

Tuesday February 28, 2006 16:43

by James Reilly
Story in Daily Ireland - followed up (ripped off!) by Evening Herald – also discussed in RTE's Liveline – Costello breaks unwritten establishment rule – rebuked by Labour leader
Radical Jesuit priest Father Peter McVerry puts some of the incoherent anger seen on Saturday to role of police in inner city areas - in particular death ("murder" say Wheelock family) of Terence Wheelock in Garda custody. He says a combination of circumstances was fortuitous for the expression of this anger.

Stories reproduced here – Herald 'ripped off' the story because they did not name Daily Ireland as the source. They referred instead to Father McVerry speaking to a "a republican newspaper".

Lively discussion on RTE's Liveline – McVerry very able to handle the "they are all scumbags" detractors and various assorted blueshirts voicing their disappointment at this unlikely turn of events.


CHAOS
See also Herald story on "Chaos not organized say Gardai". They have to say that, though it is possibly true, since the Gardai can't be blamed for 'spontaneity'. Usually the police mind suggests that everything is a well-planned conspiracy by a small group of evil conspirators – not tenable here since the Gardai would be expected to know about it through 'intelligence' and to plan accordingly. Since there was no plan by the boys in blue, ergo, they did not know what was coming down the pipe and therefore it was not planned by anyone.

Simple really.

COSTELLO
Joe laid low by unwritten rule of the establishment: don't attack parliamentary opponents, or question those tasked with defending the state, when there is an opportunity (no matter how tenuous the evidence) to bash Gerry Adams and his pals. Joe did not adhere to the script – how long can he last in New (Stalinist) Labour?

Good one Evening Herald – thanks for bringing this one to our attention.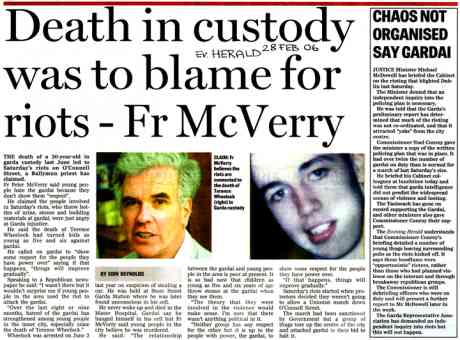 Evening Herald follow up (rip off!) that lead to Liveline discussion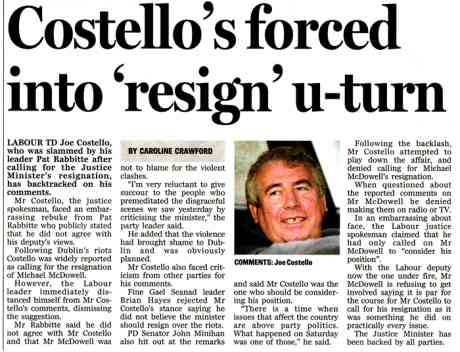 Joe Costello laid low after breaking unwritten establishment rule