Guerilla Artists attack racist graffiti in Limerick!

national | miscellaneous | news report

Wednesday July 03, 2002 00:10

by Amanda Moloney
Over the weekend and under the cover of darkness, a group of daring Guerilla artists painted over racist graffiti and sent a clear message to the Administration of Limerick University and their plans for "renewal" of Plassey.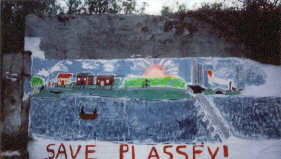 Guerilla Art
Over this weekend in Limerick, racist graffiti which covered the canal bank wall mysteriously disappeared. In its place now stands a mural of a beautiful riverside area which is about to be replaced with concerete.
The mural is of an area called Plassey, which is on the banks of the Shannon. For generations it has been popular for swimming, row-boats, fishing, walking and jogging. It is also directly behind the University of Limerick. The current administration plan to build a large bridge and connecting road across the river in this area.
The plan is an unpopular one for a number of reasons. It will cause the destruction of one of the cities few remaining green spaces, for example. The university has even been taken to court by some of its own students in order to get it stopped. Unfortunately they have lost the case and while they may appeal it is increasingly likely that the bridge will go ahead.
The mural was painted by a number of people disguised in Limerick Corporation jackets. The wall had been previously covered in racist slogans and adverts for the NSRUS website.