Resisting Water Privatisation in Bolivia and Ireland

national | environment | feature

Thursday November 24, 2005 18:00

by MUIREANN DE BARRA - Gaffer Productions

muirmaid at eircom dot net
Bolivian Water Activist To Address Public Meetings in Derry And Dublin
*** Due to unforeseen circumstances the Dublin meeting on water privatisation has been postponed until Sunday Nov 27th. It will take place in the Teachers Club, Parnell Sq. at 5pm. ***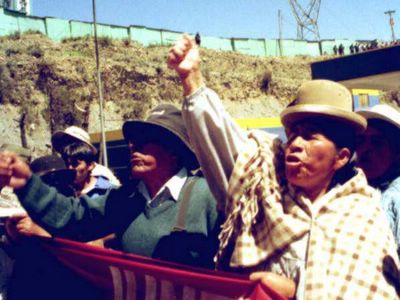 In January 2005 Bolivia's second water war was launched in the city of El Alto. Armed with sticks, traditional indigenous Aymara flags and the words - 'Fuera Aguas del Illimani! Aguas del Illimani must go!' - the people of El Alto challenged Bolivia's President and the World Bank to expel Suez - one of the world's largest water corporations - and return water to public control. In a city of 800,000 poor indigenous rural migrants -the privatisation of water left 200,000 people without access to a water service and imposed a $500 connection fee on people living on less than $1 a day. Inspired by the success of Bolivia's first water war in Cochabamba (2000) - which saw the termination of a 30-year private water contract with US engineering giant, Bechtel Corporation - the people of El Alto were determined to fight for their right to water.

After an initial victory, the government rolled back on its' promise of a publicly controlled company when Suez threatened to bring a multi-million dollar lawsuit against the Bolivian state. Over the last year, El Alto's community interest group, el Fejuve has struggled to negotiate a fair and just water service for the people of El Alto.
As a representative of El Fejuve, Julian Perez will speak in Dublin and Derry on the 25th and 26th November respectively about the citizen led campaign to reverse the privatisation of water service as demanded by World Bank lending conditions. In both venues he will be joined by local campaigners involved in resisting water privatisation on the Island of Ireland.
COMPLETE EVENT NOTICE AS SUBMITTED TO INDYMEDIA IRELAND
Public Meeting about community struggles in El Alto and Cochabamba, Bolivia against the private control of water services. Bolivian water activist Julian Perez (El Fejuve, El Alto) and Joe Higgins TD (Socialist Party) speak about the resistance to water privatisation locally and globally.
RESISTING WATER PRIVATISATION IN BOLIVIA & IRELAND

PUBLIC MEETING IN DUBLIN AND DERRY - NOVEMBER 25TH & 26TH


De pie por el agua - standing up for water!


Organised by Muireann de Barra & Aisling Crudden (Gaffer Productions) in partnership with the Latin America Solidarity Centre

In January 2005 Bolivia's second water war was launched in the city of El Alto. Armed with sticks, traditional indigenous Aymara flags and the words -'Fuera Aguas del Illimani! Aguas del Illimani must go!' - the people of El Alto challenged Bolivia's President and the World Bank to expel Suez- one of the world's largest water corporations and return water to public control. In a city of 800,000 poor indigenous rural migrants -the privatisation of water left 200,000 people without access to a water service and charged a $500 connection fee from people living on less than $1 a day. Inspired by the success of Bolivia's first water war in Cochabamba (2000) -which saw the termination of a 30-year private water contract with US engineering giant, Bechtel Corporation -the people of El Alto were determined to fight for their right to water.

After an initial victory, the government rolled back on its' promise of a publicly controlled company when Suez threatened to bring a multi-million dollar lawsuit against the Bolivian state. Over the last year, El Alto's community interest group, el Fejuve has struggled to negotiate a fair and just water service for the people of El Alto. As a representative of El Fejuve, Julian Perez will speak in Dublin and Derry about the citizen led campaign to reverse the privatisation of water service as demanded by World Bank lending conditions. As Bolivians prepare to elect a new President next month, the nationalisation of natural resources such as water is seen as a key factor in determining future social, economic and political stability for the majority indigenous population and broad based social movements.

Since the beginning of the new millennium, water privatisation has been criticised and abandoned in a number of cities in the developing world and has spawned a global water justice movement seeking to have water recognised as a human right and a public good. As one of the largest companies in the $200 billion global water industry, Suez has faced opposition to its' operations in South Africa, the Philippines and Uruguay and has had its' water contracts cancelled in France, the United States, Argentina and Bolivia. Joe Higgins T.D. will reflect on the importance to resist the privatisation of water services both locally and globally and will draw on the experience of the 1996 Dublin based campaign against water charges. Water must be seen as a precious resource and we must ensure that it is kept in public hands.


DUBLIN PUBLIC MEETING


TEACHERS CLUB, 36 PARNELL SQUARE

FRIDAY NOVEMBER 25TH - 6.30PM


JULIAN PEREZ (EL FEJUVE EL ALTO, BOLIVIA)

JOE HIGGINS T.D. (SOCIALIST PARTY)

CHAIRED BY: OISÍN COUGHLAN (FRIENDS OF THE EARTH, IRELAND )




DERRY PUBLIC MEETING


SANDINO'S, WATER STREET

SATURDAY NOVEMBER 26TH

4 PM


JULIAN PEREZ (EL FEJUVE EL ALTO, BOLIVIA)

SPONSORED BY COMMUNITIES AGAINST WATER TAX & DERRY TRADES COUNCIL

For further information contact: Muireann de Barra (087) 7411136


OR Latin America Solidarity Centre (LASC)
www.lasc.ie
5 Merrion Row, Dublin 2, Ireland
Phone +353 1 676 0435
RELATED LINK http://www.lasc@iol.ie