Shell to Sea Picket, Ennis, Co Clare.

clare | rights, freedoms and repression | news report

Sunday August 07, 2005 16:03

by Niall Harnett - Clare Shell to Sea

clare at shelltosea dot com
Fri 5th Aug '05, 5pm, Sheils' Statoil, Gort Rd, Ennis
Clare Shell to Sea which includes members of
Gluaiseacht,
The Woodland League,
The Derrybrien Development Society,
and other concerned citizens in Clare turned out in Ennis on Friday eve in support of The Rossport 5 and the Shell to Sea campaign.
Picket started at 5pm at Shiels' Statoil, Gort Rd, Ennis to highlight Statoil's involvement in the Corrib Gas fiasco and to ask motorists to boycott Statoil until they come out in support of the 'Offshore Platform Proposal'.

Statoil own 36% of the Corrib gas field, Shell 46% and Marathon 18%. Statoil is owned by the State of Norway and would not allow what is happening here in Ireland to happen in Norway. What is best practise in Norway is not being followed in Ireland.

Motorists beeped, honked and shouted in support. Passers-by bought 'Justice for the Rossport 5' T-Shirts. (Proceeds to the families of The Rossport 5). Leaflets were handed out. Clare FM rang for an interview which they broadcast on the news. Journalists and photographers showed up from newspapers The Clare Champion & The Clare People.

Gardai showed up in two squad cars, 3 guards in each, and without taking a few minutes to survey the situation, they aggressively accused us of blocking access to drivers, which we weren't doing, we were simply approaching drivers asking them to support the picket and drive on. Some did, some didn't.

The owner turned up, annoyed and upset, not least because he had buried a friend aged 32 that day and was not in the mood for a picket on is premises. In deference to him and the death of his friend we wound down the protest, talked with the owner and concluded on friendly terms.

Shame on the Irish Government for giving away the Corrib gas field.

Shame on them for doing nothing to protect it's citizens from the predation of private foreign companies.

Shame on you Bertie Ahern. Shame on you Noel Dempsey.

Shame on you Mr Finnegan, President of the High Court for allowing injustice to reign supreme in your court.

We say...

... Vindicate the Rossport 5.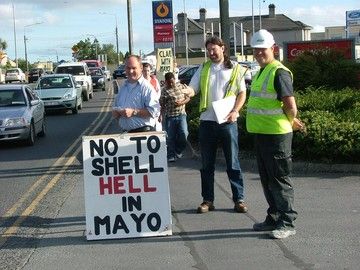 Woodland League, Derrybrien Development Society.