through streets broad & narrow: crying five for 50, and ten for a pound. The end of Moore Street?

dublin | history and heritage | feature

Thursday May 12, 2005 17:40

by kevin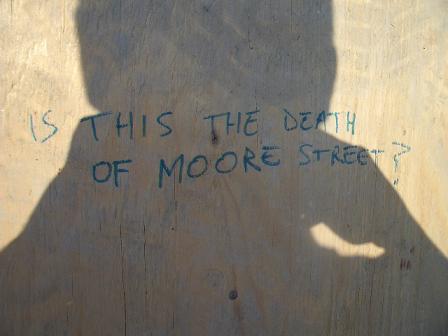 Moore Street in Dublin is one of the oldest surviving street trading districts in the city. Recently the City Council announced that it was raising the yearly cost of a trading license by roughly 450%, depending on the size of the trader's stall. Some traders pay around 150 euros a year (rising to 750 euros a year) for a smaller stall, such as the fish traders; whereas the flower sellers at the Henry Street junction, because of their location and the area of space they take up, could see their trading license fees rise to over 1500 euros.
All of the traders I spoke to were adamant they would not pay the increase, and a couple said that this measure was just the latest in a long line of attempts to rid the street of the traders by the authorities, short of ordering them off the street which would be far too politically sensitive. Other proposals have been made in the past that would ultimately mean the removal of the traders, such as the idea to have Moore St and Henry St covered with a glass roof (discarded eventually), or the construction of a new hotel and conference centre on the Carlton Cinema site, which would include the demolition of many existing small shops on the east side of the street, and the eventual removal of trading space from the street.
Indymedia's coverage of gentrifaction and Moore Street:
The Corp's Market Study | Save 16 Moore Street. | Photos Of The Site Of The 1916 Insurgents Last Stand | Sale Of The Century? | Save 16 Moore Street. | Photos Of The Site Of The 1916 Insurgents Last Stand | Communication is the Key | Is this the Death of Moore Street
Moore Street and Street Trading On Other Sites:
Lar Bolandís photos of ĎThe Hillí Dublinís grubbiest flea market, evoke echoes of the grim twilight world of Montoís slum tenements, deprivation, shebeens, and prostitution for Alan Murdoch from the Irish Arts Review. | Street Trading In Belfast | Dublin Street Traders need not become victims of Rip Off Ireland (Sinn Fein Press Release) | The Legal Side of Street Trading: STREET TRADING ACT, 1926 | CASUAL TRADING ACT, 1980
Commentary and photos on proposed changes in the north inner city.
Why is Dublin City Council putting the squeeze on the street traders? They are a part of Dublin folklore at this stage, and the street is a shining example of a living city centre, with noise, colour, food and drink from all over the world. Even in the last ten years, the character of the shops on the street has undergone a radical transformation, reflecting the continuing mutli-ethnicity of the north inner city. Shops selling Eastern European, Russian, and African food sit alongside old reliables such as Trader Johns pub and Buckley's butchers. Dublin City Council says the rise is to cover the costs of cleaning the street daily, but the main reason for the squeeze relates to a very important and strategic piece of property that belongs to the Council, which is a big part of their regeneration plans for the inner city, and specifically the "markets" district near Smithfield in Dublin 7.

Dublin City Council's Wholesale Fruit and Vegetable Market Building is located at Mary's Abbey, which is the continuation of Abbey Street west of Capel Street. You can see it on your left as you are on the LUAS on the way out to Tallaght. It is a listed building, and was built in 1892. It is considered an architectural 'jewel' on the northside of the city, with its red and beige brick, arches, pillars and distinctive features. At the moment most of the fruit & veg that comes into the country is collated here by wholesalers, strapped onto pallets, and then delivered by truck to different parts of the country. Night owls passing through the district early in the a.m. are often astounded by the amount of activity, with forklifts, pallet trucks, and even horse & carts shunting and packing all sorts of food. This is repeated daily, and the activity usually dies down mid-morning. The area could be considered a "primary industry" zone, with numerous warehouses surrounding the central core of the Market Building.

The Council wants to turn this building into a public food market, similar to the English Market in Cork City. The market would sell upmarket food direct to the public, as happens every weekend in the market in Meeting House Square in Temple Bar. There are no indications as yet of how much it would cost to run a stall at the new market. The plan is to move the current wholesale market out to a greenfields site somewhere on the M50 motorway ring, so that nationwide deliveries would have easier road access. There has been resistance to this move by many of the fruit importers, such as Fyffes, who have large premises close by, as well as other medium-sized businesses. The large fish market building next door to the fruit market is being closed down, and this is earmarked for demolition for the creation of a large public plaza/square, with the nearby public house The Hacienda being turned into a historial interpretative centre for the locality*.

None of the other buildings in the area are considered to have any architectural value, many admittedly are fairly ugly warehouses and depots. The departure of the central Fruit Market would probably have the knock-on effect of most of these premises being demolished, bought out by private investors (or quite possibly the City Council) and redeveloped into residential units. The other effect of the removal of the Fruit Markets from this area would mean the demise of the Moore Street traders. They purchase most if not all of their produce in this locality. It is cheap and easily accessible, and these prices are reflected in the prices on the street stalls, which are usually much cheaper than supermarkets. The Moore Street traders are primarily from long-established inner city working class communities, and most quite simply would not have the capital or outlay required to set up in the new gourmet public market.

To put this into a bit of perspective. If there are roughly 50 traders on the street (I only counted about 30), and each of them is paying an average increase of 850 euro, this means that Dublin City Council will take in an extra 42,500 euro in license fee revenue. Anti-asylum seeker TD Noel O'Flynn's recent fact finding trip to South America with 2 other Fianna Fail and 1 Fine Gael TDs cost in the region of 14,000 euro. Other TDs have been on similar trips. Perhaps a plebisicite could be held for the citizens of Dublin, deciding whether the money should be designated to pay the increase for the Moore Street traders, or instead fund three fact finding missions for Fianna Fail & Fine Gael TDs. After all it is the taxpayers money (i.e. yours!) that is bankrolling all this.

(* this is a joke)