'Good German' and Shannon Airport 'Police' Inspector Impersonates A Garda Síochana

clare | anti-war / imperialism | feature

Wednesday April 13, 2005 20:47

by Tim Hourigan

087-9777703
Airport Police Try To Seize Camera Containing Evidence Of Same At Shannon
While planespotting OUTSIDE Shannon Warport in broad daylight last Sunday, some planespotters found themselves on the receiving end of a fit of madness from one of the APOs who decided somehow that he had jurisdiction outside his patch.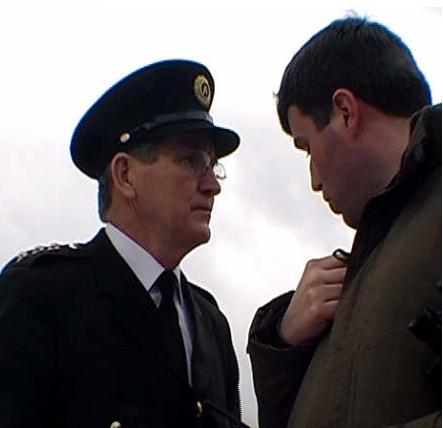 Besides manhandling a young lady and her camera, Airport Police Inspector Mike Hogan tried to pass himself off as a member of An Garda Siochana, which is a criminal offence.
Following the EYFA Anti-War Conference in Co Clare last week, some of the participating peaceniks held a vigil in Ennis, where they distributed leaflets and food to the fine people of the banner county.
We informed the locals that there has been a huge increase in troop movements through Shannon. (95,584 in the first three months of 2005 alone. There has also been more frequent sightings of C-130s and US Navy logistic flights at Ireland's de facto warport.)
Over a hundred leaflets were handed out to the public, who also appreciated the free food.
Afterwards, 7 of us went to Shannon to check up on our local US military airstrip. As usual we went to the industrial estate bordering the airport, rather than into the airport itself.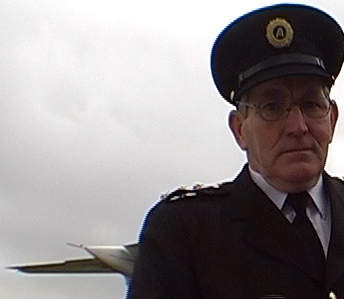 We weren't there very long when two members of the airport police turned up.
I looked down from my viewing point to see a uniformed Airport Police inspector in a tussle with a lady half his size who was trying to stand her ground and keep her video camera.
I strolled down to see what this guy was up to. The Airport Police vehicle had come to a halt in the middle of the road at a corner next to the PIE warehouse.
As I approached, I could hear the camera crew telling the tall man-in-black that they were in a public place, and acting within the law. The APO Inspector simply told us to get in our vehicles and clear out.
(He took a very macho and aggressive attitude considering that he had no jurisdiction and that we were perfectly entitled to stay watching or filming for as long as we wanted. )
I asked him who he was and he said he was an authorised officer. I could see from his I.D. that he was Airport Police Inspector Michael B Hogan. (I recalled meeting him before where he had taken an equally irrational position)
I told him that he had no jurisdiction outside the airport as he was not a Garda.
"How do you know I'm not a garda?!" he snapped back at me.
"You're wearing an airport police inspectors uniform" I replied.
At that point I warned him that it was a serious offence to impersonate a Garda and that he should not pass himself off as a member of An Garda Siochana.
(We have this on tape, and he knew we were taping it, that's probably why he was engaged in a tug of war with the camerawoman – so the tape would be admissible in evidence should the DPP choose to prosecute this man)
Rather than admit that he was not a Garda, this man kept up the pretence. "I am an authorised officer" he said.
"Yes, under the Air Transport and Navigation Acts" I replied, " that gives you jurisdiction inside the airport. We are not IN the airport."
He then tried to persuade me that we were, in fact, inside the airport boundary.
After a microsecond of utter disbelief, I had to correct his logic, and pointed out that the map in Aer Rianta's 2003 injunction clearly marked the aerodrome boundary (being the rather obvious fence in this instance)
"I am an authorised officer" he repeated.
"Yes, you've said that already, but I've read the Air Transport Navigation Act. I know what it says" I replied.
He made another grab for the video camera, almost knocking over the camera woman and nearly breaking off the side screen. I restrained him and warned him that what he had committed was an assault and that his behaviour was a breach of the peace.
At that point he backed off and went towards his car. I told him we weren't impressed with Airport Policemen trying to bluff that they were cops or had powers that they did not.
An airport police jeep came up behind us at this point, and the camera woman looked quite stressed so we made preparations to go.
We each went to our own cars, and headed out of the industrial estate, as we did so quite a few cop cars started appearing as well as a Garda transit van (with more than a couple of Gardai inside).
A checkpoint was quickly established right in front of us, just 20 yards beyond a roundabout, and, (surprise, surprise) the only two cars pulled over were part of our plane-spotting group.
After producing her license, and promising to produce a copy of her insurance policy within ten days, our driver was allowed to proceed.
The checkpoint evaporated as quickly as it had been set up.
The camera crew, who had parked further away, simply walked past the checkpoint.
Even from here I can hear you ask "Where were all these Gardai 5 minutes earlier when Mike Hogan was throwing his weight around?" … good question.
Other Recent Indymedia Ireland Features And Articles On Shannon Warport
Airport Police move swiftly to suppress evidence. Is there a "torture jet" behind that warplane?
Activists Lodge Complaint About Guantanamo Bay Express
CIA Torture Jet Sold In Attempted Cover Up

Inspector Hogan sees Tim coming