Give Us Some Space: New Initiative to Create Dublin Social Centre

dublin | miscellaneous | feature

Wednesday December 01, 2004 17:57

by Seomra Spraoi - Seomra Spraoi
World premiere of films about social centres
This Friday sees the premiere in Dublin of Six Films About Social Centres – a series of short documentaries about autonomous social centres from Belfast to Barcelona. Ideally, this screening should take place in an autonomous social centre, but Dublin has none. (A parish hall is being borrowed for the evening).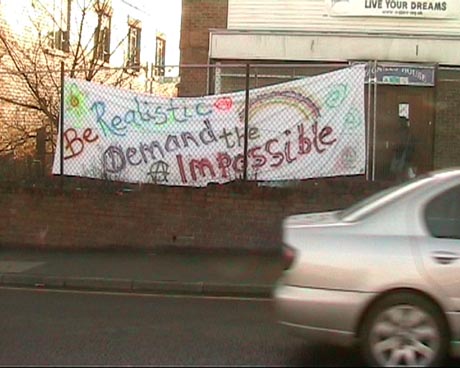 So, in a year or two will someone be able to come to Dublin and make a documentary about an autonomous social centre here? Or will fundraiser gigs, political meetings and workshops always have to take place in Teachers Clubs or the upstairs rooms of pubs? Will Food Not Bombs always be at the mercy of the weather? Will there be somewhere indoors to go after street parties?
The Indymedia centre that operated for a couple of weeks around Mayday this year gave many people a glimpse of the great use to which a disused building can be put. It reminded just how badly Dublin lacks an autonomous space.
The Six Films made by Direct Action Against Apathy, a Belfast-based collective will be screened at 8pm on Friday at the St Nicholas of Myra Parish Hall (Carman's Hall, a street running between Francis St and Thomas St Map), followed by a brief discussion, music, a raffle and a photo exhibition about social centres.
Directactionagainstapathy...numerous reports and photos of spaces.
Giros/Warzone Collective Belfast
The Story of Disco Disco.
One of numerous stories about the Magpie Squat.

The films explore and celebrate the phenomenon of autonomous social centres in Europe, independent of local authority, church, business, trade union or other controlling body. These spaces have provided a focal point for many of the social movements in the West, where public spaces have been eaten away by consumerism, property speculation and the culture of the car.

They celebrate collective cooperation and diversity and have numerous day-to-day uses: community drop-in centre, inexpensive cafe, political meeting space, library, gig venue, arts centre, internet cafe, to name a few.

Usually these social centres begin as squats in derelict buildings and eventually an understanding is reached with the local authorities. Of course, Ireland is unique in Europe in that the authorities are utterly intolerant of squatting. Today in Ireland there is virtually nowhere indoor for people to congregate that isn't a pub or overpriced cafe.

Many questions have to be answered on the long road to establishing a social centre in Dublin, for example should it – as a matter of principle – be a squat rather than a rental, with any eviction attempt fought against in the courts, thereby making more of a public issue of it? This is an issue treated in the films.

But at least a start is being made: Friday's event is an attempt to bring together people who are interested in such a project and hopefully to inspire people through the examples in the documentaries.
The Six Films
by Direct action against apathy and Belfast media collective.

Our Kitchen Squat Café
Belfast's first squat café November 2003, music, vegetables, & talk about anarchy in a very cold dark & secret place…
8 mins 2004

Aspire
Temporary squatted social centre in Leeds England December 2003. 10 days & 10 nights. Hundreds of people transform abandoned warehouse into kick-ass space for workshops, discussion, parties, and cafes; chop vegetables & huddle together to keep warm.
12 mins 2004

Canmasdeu
'Rurban' squatted social centre on the outskirts of Barcelona, bringing ideas, skills & technology from the countryside into the city. Sunshine, community gardening, fancy d.i.y. plumbing, & experiments in communal living. Canmasdeu is the squat your grandmother would love.
28 mins 2004

Three Social Centres in Amsterdam
Does exactly what it says on the tin. A tour of three legalised squats in Amsterdam; the Molli, the Film Academy, & the Binnenpret. Squat actions, children's theatre & electro-acoustic concerts with musings on the merits & pit-falls of 'dealing with the man'.
34 mins 2004

A Winter Walk Through Christiania
A quiet stroll through the infamous squatted town in Copenhagen; frozen lakes, wooden cottages & winding paths in the brilliant winter sun followed by a raid from the Danish police.
6 mins 2004

Sumac Centre
Vegan fries, vegan beer, vegans, & home to veggies the probably the best vegan catering outfit on the planet. The Sumac is a co-operatively owned 'Radical environmental community type social centre' in Nottingham. Some vegetables were cooked in the making of this film.
18 mins 2004