Haiti "a beginners guide"

international | politics / elections | opinion/analysis

Monday February 09, 2004 21:40

by iosaf - culling news wires.
with C/p & links & updates.
"We are not seeking the overthrow or opposition to President Aristide the way the opposition is, that has bought us a great deal of invective," he explained. "On the other hand, we can hardly give marvellous grades to the government performance on a number of areas such as disarmament as we would have wanted." He did point out that President Aristide was not opposed to holding elections and has called for the opposition to use channels open to them to bring about peace in Haiti. He said that the opposition's current stance could take the country to civil war however, President Aristide could prevent this.
**************
So it began. But the above is not really true as you probably have guessed. Aristide _must go_, and our governments must pressure him to go. NOW.
500,000 people in Haiti are suffering from malnutrition the situation is critical.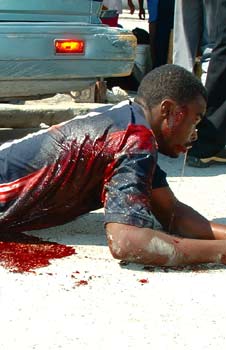 the photograph of this young Man Lionel Victor, was taken after a teargas cartridge exploded on his back.
Feb 4th. 2004
The Organisation of American States (OAS) said that even though the logistics may not be in place for elections in Haiti within six months, it is still possible for the Haitian government to create a more stable environment. OAS Assistant Secretary General Luigi Einaudi told BBC Caribbean Service that the measures President Jean-Bertrand Aristide agreed to with Caricom in Jamaica on Saturday are vital to this process. President Aristide has agreed to disarm gangs, release those detained for demonstrating, and set up a broad-based advisory council which will lead to reforming the country's electoral system.

Feb 5th 2004
An armed opposition group seized control of Gonaïves, Haiti's fourth-largest city, burning a police station, freeing prisoners and leaving at least four people reported dead and 20 wounded in clashes with police. Members of the Gonaïves Resistance Front began the assault shortly after noon on Thursday, setting afire the mayor's home and then dousing the police station with fuel and lighting it while officers fled, Haitian radio reports said. At least four people were killed in gunbattles with police, Gonaïves Resistance Front leader Wynter Etienne told Radio Vision 2000. Radio Metropole reported 20 people were wounded and more than 100 inmates were freed from the jail.

Etienne said the group aims to take control of other towns, while the government vowed to restore order. The attacks "are terrorist acts undertaken by the armed wing of the opposition," government spokesman Mario Dupuy said. "The police will have to take measures to re-establish order."

Members of the group set fire to both the home of Gonaïves Mayor Stephan Moise and a gas station he owns, private Radio Kiskeya reported. The group also set fire to a hotel where police often stay, according to one witness who spoke on condition of anonymity.

Roughly 200,000 people live in Gonaïves and surrounding areas. The city - located 70 miles northwest of Port-au-Prince - has been the site of many protests led by supporters of murdered Raboteau leader Amiot Metayer, who recently changed their name from the "Cannibal Army" to the Gonaïves Resistance Front. Dupuy, the government spokesman, said the armed attackers in Gonaïves didn't have the support of most people in the city and linked the unrest to violence in the nearby Central Plateau, where in the past year at least 25 people have been killed in violence blamed on a band of anti-Aristide former soldiers. (AP)

Feb 6th 2004
During the night the main roads across the Grand'Anse department were cut with road-blocks, and the bus service from Port-au-Prince had to turn back. According to a source close to the government, the road-blocks were erected by anti-Aristide activists.

Feb 7th 2004
In the capital, Port-au-Prince, President Aristide told a crowd in the slum of Cite Soleil that police were entering Gonaïves to regain order, and said the government would "disarm the terrorists." Government spokesman Mario Dupuy said on local radio stations that the police were once again in control of Gonaïves. But rebel spokesman Wynter Etienne told radio stations that his forces maintained control. Aristide was celebrating the third anniversary of his return to power in 2001 after re-election with thousands of supporters, who then marched through the streets proclaiming their support for him. "This was democracy that we made. It's anarchy that they have made," said Rubens Sofor, one of the hundreds of Aristide supporters filing down winding streets toward the pro-government demonstration. (Reuters)

Feb 8th 2004
Police fled Gonaïves after failing in bloody battles to vanquish rebels seeking to oust President Jean-Bertrand Aristide. The reported death toll Sunday in the recent violence rose to at least 18. Some 150 police had tried to retake Gonaïves on Saturday, two days after armed rebels seized and burned the police station and drove officers out. Before midnight Saturday, rebel violence had forced police to withdraw again, leaving seven officers and two rebels dead.

Police fought gunbattles with armed rebels hiding on side streets and crouched in doorways. It was unclear how many rebel gunmen were in the city of 200,000, Haiti's fourth-largest. Crowds mutilated the corpses of three police officers. One body was dragged through the street as a man swung at it with a machete, and a woman cut off the officer's ear. Another policeman was lynched and stripped to his shorts, and residents dropped a large rock on his body. Haitian radio stations reported claims by other rebels that as many as 14 police were killed, but that couldn't be confirmed.

Two other deaths were reported in the nearby west coast town of St. Marc, where residents on Sunday blocked the town entrance with felled trees, flaming tires and car chassis. Police fled Saturday after clashes with armed Aristide opponents that left at least two dead. Militants have attacked police stations and forced out police in at least five nearby towns since Friday, Haitian radio reports said. Judge Walter Pierre told private Radio Ginen that armed men were occupying the police station in the town of Anse Rouge on Saturday and had confiscated weapons. (AP)

7 February - In the capital, Port-au-Prince, President Aristide told a crowd in the slum of Cite Soleil that police were entering Gonaïves to regain order, and said the government would "disarm the terrorists." Government spokesman Mario Dupuy said on local radio stations that the police were once again in control of Gonaïves. But rebel spokesman Wynter Etienne told radio stations that his forces maintained control. Aristide was celebrating the third anniversary of his return to power in 2001 after re-election with thousands of supporters, who then marched through the streets proclaiming their support for him. "This was democracy that we made. It's anarchy that they have made," said Rubens Sofor, one of the hundreds of Aristide supporters filing down winding streets toward the pro-government demonstration. (Reuters)

In Port-au-Prince in the early morning, Aristide supporters erected burning tyre roadblocks in Canapé Vert and Carrefour, and opposition leaders called off a planned demonstration because of the deteriorating situation. In Grand-Goâve, police abandoned the police station which was then set on fire, along with houses belonging to two Aristide supporters. The state girls school was also set on fire, allegedly by pro-Aristide activists because the director opposes the government. In Cap-Haïtien, during the night of 7th February, the relay station of Radio Vision2000 (a pro-opposition station) was set on fire. On the morning of 8th February, Aristide supporters erected burning tyre barricades across the city's main roads. In Jacmel, the entrance to the town was blocked during the night of 7th February by hooded men. (various sources)

In the vicinity of Grand-Goâve (40 kms south of the capital) armed men from the opposition abducted a reporter from Télévision Nationale d'Haïti (TNH, National Television of Haiti) and a journalist from the privately owned television station, Telémax. The reporters were identified as Marie Andre Métellus and Frantz Moise. The two journalists were returning from the city of Les Cayes where they had covered a pro-government demonstration on Saturday commemorating the third anniversary of the inauguration of President Aristide's second term in office. The vehicle in which the crews from the two television stations were travelling was attacked by supporters of the opposition. According to initial witnesses, the attack was carried out by former members of the military who are working with the opposition political coalition. Other journalists who were also aboard the vehicle were able to flee. (AHP)

Feb 9th 2004
The prime minister of Haiti has accused the opposition of trying to mount a coup as unrest continues to spread. Yvon Neptune said the opposition should play a role in stopping the violence and help the country to hold elections. An opposition spokesman denied backing the unrest and called for foreign intervention to avert civil war. France, the former colonial power, said it was very worried about the developments and appealed to both sides to end the violence immediately. "Our officials on the ground are working together with the other diplomatic and consular missions that are present," French Foreign Ministry spokesman Herve Ladsous said.

Trouble was reported in the port of St Marc, where rebels torched a police station and crowds have been looting food and goods. Television pictures showed looters - said to number hundreds - escaping with electrical items and sacks of flour. (BBC)

9 February - Rebel forces in Gonaïves are preparing for new attempts to re-take the town on the part of police forces. "We are willing to fight and die if necessary," said Ralph D'Aout, a 32-year-old tailor from the Raboteau slum in Gonaïves. "It's a battle that we're up against, but it's one we will win." During the fighting, D'Aout crouched, surrounded by other men equipped with two-way radios and assault rifles. D'Aout was clearly in charge, as he called over armed men and boys and whispered orders.

As his men exchanged fire with Aristide's police force, D'Aout told The Miami Herald he was commanding Force 86, led by Jean Tatoune. Tatoune was convicted of involvement in the 1994 slayings of Aristide supporters in what became known as the Raboteau massacre and was one of more than 150 inmates who escaped from the Gonaives prison in 2002. (Miami Herald)

In pro-government enclaves in the dirt-poor provinces of the Caribbean country of 8 million, some community leaders said they were "fortifying" their towns against expected attacks from insurgents. "It's an open armed conflict now. It's not a joke," said Guy Delva, secretary-general of the Association of Haitian Journalists. In the southern port city of Jacmel, where Haiti plans to hold its main Carnival celebrations next weekend, former pro-government deputy and now radio station owner, Wilnet Content, said people barricaded the streets to prevent Aristide opponents from entering town. "They can do nothing in Jacmel," Content told Reuters by telephone. (Reuters)

Feb 9th 2004
There is high tension in the coastal town of Saint-Marc (96 kilometres from Port-au-Prince), abandoned by the police on Saturday. Gunshots can be heard in many districts, while a police helicopter hovers overhead. (HPN)

Haiti is _now_ Tuesday 10th of February.
update:http://feeds.bignewsnetwork.com/redir.php?jid=11628fc2208d8ee1

+++++++++++++++++++++++++++++++

sources:-
Haiti Progres. last published Feb 4.
http://www.haitiprogres.com
anti-Aristaud.
read: http://www.haiti-progres.com/actu02-04.html
previous riots / bids to topple Jean-Bertrand Aristide have been numerous here's one in
Dec 2001.
http://www.rose-hulman.edu/~delacova/haiti/topple.htm

Peace Brigade on their work on pacifist conflict resolution in Haiti:- (1995-2000)
http://www.peacebrigades.org/haiti.html

Info on Haiti.
http://lcweb2.loc.gov/frd/cs/httoc.html
Haiti "2004"
http://www.cam.org/~interso/h2004/H2004.html
haiti press network.
http://www.haitipressnetwork.com/
http://www.haitianinternet.com/index.php/66