'STRUMPET CITY'

dublin | bin tax / household tax / water tax | feature

Tuesday September 23, 2003 23:56

by No Bin Tax - sp
Anti Bin Charges campaign enters week four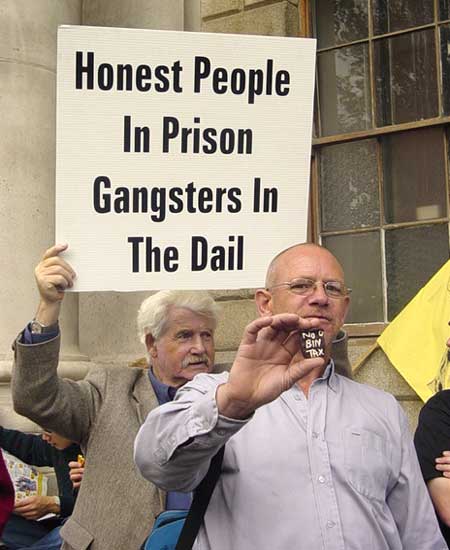 Mick O'Reilly and ATGWU strongly criticise Begg and ICTU on Bin Charges Stance
Reports from Dundrum/Ballybrack Meetings: 25th Sept
Discussion of Trade Unions and Bin Tax Campaign
Stoneybatter Solidarity Blockade Report: 25th Sept
Comprehensive series of reports on High Court proceedings: Weds 24 Sept


GARDAI HAVE arrested a further 12 anti-bin tax campaigners in Fingal. Three were arrested in Clonsilla and a further nine - including a husband and wife - were arrested in the Huntstown area. Two of those arrested appeared before the high court this afternoon, the rest are due to appear tomorrow. This is the latest Council manoeuvre against the Anti-Bin Tax Campaign. This follows the 5,000 strong solidarity demonstration outside Mountjoy Prison last night (Mon 22nd Sept), where Joe Higgins and Clare Daly are detained.

Recent Articles:
Mountjoy Rally Photos and Reports
Early Reports on Arrests Bin Tax and Reclaim the Streets Protesters link up Greens: Supporting the 'Bin Tax'?Previous feature including Timeline of Events
GARDAI HAVE arrested a further 12 anti-bin tax campaigners in Fingal. Three were arrested in Clonsilla and a further nine - including a husband and wife - were arrested in the Huntstown area. Two of those arrested appeared before the high court this afternoon, the rest are due to appear tomorrow. This is the latest Council manoeuvre against the Anti-Bin Tax Campaign. This follows the 5,000 strong solidarity demonstration outside Mountjoy Prison last night, where Joe Higgnis and Clare Daly are detained.
Six of those arrested are members of the Socialist Party. Some of those arrested today appeared on the Joe Duffy show on RTE Radio 1. Most of those interviewed said that they were willing to go to prison to defend their democratic rights. Among those arrested were a husband and wife who have three children. The husband, Stephen, has apologised and agreed to respect the injunction in order to look after their children. The government appears to think that by using strongarm tactics - similar those used against the workers of Dublin in 1913 - that the campaign will be cowed. This is not the case, as Cllr Ruth Coppinger said last night: "They will not be-head the campaign."

Last night, a massive protest of about 5000 people took place outside Mountjoy Prison. They were demanding the immediate release of Clare Daly and Joe Higgins and the ablolition of the Bin Tax. Solidarity speakers from England and Scotland addressed the rally.

Speakers at the event included Mr Mick O'Reilly of the ATGWU, who said the jailing of Mr Higgins and Ms Daly offered a "magnificent opportunity" for campaigners to appeal to the many who were outraged by the sentences, irrespective of their view of the bin charge.

Another speaker, Mr Denis Keane of the Civil and Public Service Union, suggested to cheers that if the trade union movement got behind the campaign, "we'll close down this city".

A member of the Scottish Parliament, Ms Rosie Kane, said Higgins had the political establishment in Ireland "crapping themselves".

Earlier yesterday Mr Higgins's 85-year-old mother called for her son's release after travelling more than 220 miles from Lispole on the Dingle Peninsula in Co Kerry to visit him in Mountjoy.Mrs Ellen Higgins said he and Ms Daly should be released next Thursday "at the very latest," after a week in prison. A month was "too harsh, too harsh," she added. "He is not a criminal. They are not criminals." Mrs Higgins, who had never been in a prison before, said her son was in good form yesterday afternoon and seemed rested. She described him as "the straightest, most honest person you could meet".

He had been seen a lot of poverty in the city areas where he had worked as a teacher, and that had reinforced his commitment to the underprivileged, she said.

SIPTU said yesterday it would seek a joint trade union initiative to campaign for an end to refuse collection charges.
Related Link: http://www.socialistparty.net/bintax/