Another 5 go airside in Ploughshares action at Shannon Airport

clare | anti-war / imperialism | feature

Monday February 03, 2003 02:50

by IMC Editorial Group - IMC Ireland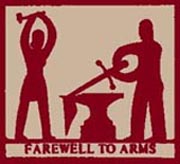 In the early hours of Monday 3 February, five members of the pacifist Catholic Worker Movement ( 2 ) cut their way into Shannon Airport ( 2 ). The peace activists poured human blood on the runway that has been servicing U.S. military flights, troop and munition deployments to U.S. military bases in Kuwait and Qatar. They constructed a shrine on the runway to Iraqi children killed and threatened by U.S./British bombardment and sanctions. The shrine consisted of copies of the Bible and Quran, rosary and muslim prayer beads, flowers, photographs of Iraqi children and Brigid's crosses. They then began to take up the runway, working on its edge with a mallet.
Despite other media giving space to reports of a Garda being assaulted or overpowered, this was refuted by the protestors themselves.
Ciaron O'Reilly, one of the Catholic Worker activists arrested, said today that they had indeed met met a Garda who, rather than being overpowered, had had a kind of stress/panic reaction to their presence and had become upset. According to Ciaron the Garda was concerned with his job and with the reaction of his superiors. Ciaran made it clear that at no point had the Catholic Worker activists approached, attacked or restrained the Garda and that he was their arresting officer. Ciaran is further reported as saying that the five Catholic Worker protesters were themselves upset by the Garda's reaction and had attempted to comfort and reassure him.
Read More | Updates: ( 1 ) ( 2 ) ( 3 ) ( 4 ) ( 5 ) ( 6 ) | Picture of those arrested

Comment on this Feature