This is Tyranny! French Police Beat the Crap out of a Woman for Shopping Without a Covid Pass

international | rights, freedoms and repression | news report

Sunday September 05, 2021 21:33

by 1 of Indy
The restrictions are never going to be lifted. Something will happen to justify more control.
Video footage has emerged of Paris police beating the living dayllights out of a French woman who tried to go shopping without a Covid Pass. The situation is already bad in Australia and New Zealand where they are in crazy lockdowns and Macron in France is doing everything he can to force mandatory vaccinations through by forcing the Covid "Freedom" Pass.

These passes do NOT give back your freedom. Your freedom is yours as and is not something to be handed out to you by politicians with the option to take away at any time.

It is well past the time for people to wake up to what is going on and what is coming down the line
This story broke on Twitter and it appears it took place yesterday in Paris as a woman tried to enter a shopping mall in the underground train/tube station complex. The French people around reacted swiftly to the brutality of police and an angry crowd forced them to redraw.
Would the same happen here in Ireland. As things stand not likely.
Here is a link to the original video which is also attached here
https://twitter.com/i/status/1434267241604792320
And here are two videos of some of the push back from the public
https://twitter.com/i/status/1434173581227929603
https://twitter.com/i/status/1434344343486156802
The story is reported here also:
https://www.rt.com/news/533985-paris-police-arrest-women-mall/
French riot police officers have been scolded for brutally arresting two women, after backing away when confronted by a big group of protesters against the so-called coronavirus health passes, who stormed a mall in central Paris.

Hundreds of people forced their way into the Forum des Halles shopping center on Saturday, amid a nationwide string of demonstrations against the Covid-19 restrictions and mandates. The group was seen chanting 'Freedom!' inside the mall, which is partially underground and connected to the metro transit hub of Chatelet–Les Halles.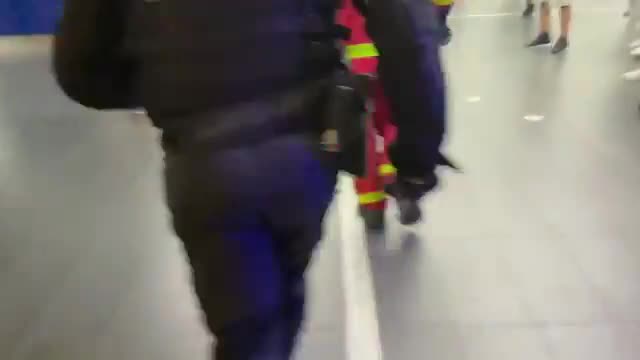 Click to Play
Download:
paris-police-beat-woman-who-tried-to-go-shopping-at-the-mall-without-a-vaccine-passport.mp4
7.34 Mb