National - Event Notice
Thursday May 14 2020
19:00 hrs
What the frack has gas got to do with plastic!?

national | environment | event notice

Saturday May 09, 2020 21:26

by foe
Join the Sick of Plastic campaign for an online screening of the newly released feature length documentary The Story of Plastic available from May 12th to May 14th.

Having watched the film join us at 7pm on May 14th for an Zoom webinar where we will have a panel of experts to discuss the full Story of Plastic; from fossil fuel extraction, through the many stages of plastic production and on to the noxious wastes it leaves behind, and how all of this impacts on our lives.
Natural gas is primarily composed of methane, a greenhouse gas which, when burnt, has over 100 times the global warming potential of carbon dioxide. This fossil fuel is used as an energy source the world over.
What is less well known is that gas is also used as a material to make plastics. Ethane is a hydrocarbon also present in gas and a primary raw material for petrochemical (or plastics) manufacturing. Global fossil fuel extraction companies are heavily involved in the production of plastics. They use the ethane access via fracking to produce plastics that can exist for hundreds of years in our environment.
As with fracking, transforming ethane into plastics and other products can be toxic, polluting the environment and exposing workers and nearby communities to public health risks. Earlier this week, a gas leak at a polystyrene and plastic factory in India , LG Polymers, killed at least 11 people and hospitalised over 100 people and caused over 1000 to suffer deleterious health impacts like breathing difficulties and burning in their eyes.
On May 14th, I'll be taking part in this webinar, the aim of which is to tease out the connections between fracking, global plastics supply chains, liquefied natural gas terminals, Irish politics, European decision-making processes, solidarity and international movements for change. Whoa.
In my presentation, I'll be emphasising the role of the Irish movement in this global struggle and showcasing some of the actions you can take in order to find leverage points for changing this complex web of injustice.
Unless we find the points for change-making, we can't win. And if we are not working together to connect struggles, we risk offshoring the injustice from Irish shores and missing the opportunity to get to the root cause of the issue.
From the activists in Ireland campaigning for no new gas, to the people in Texas and Pennsylvania trying to protect their communities from the toxic impacts of fracking, to the fisher-people in the Philippines whose health and livelihoods are being damaged by plastic clogging their waterways; all are connecting issues to get to the root cause of this global problem.
I'll be joined by Andy Gheorghiu, a prominent campaigner on the European scene who will speak to the transatlantic plastics pipeline as well as the opaque decision-making process in the EU which gives climate-damaging fossil fuel projects the 'highest political priority' and access to EU taxpayer funding, projects such as the Shannon LNG gas import terminal planned for our west coast. More on that here.https://www.foe.ie/takeaction/no-to-fracking-gas-terminals/
I heard a quote yesterday from activists on a webinar we held on food sovereignty, another global issue which requires us to act locally.
Check out the event page to read about the other great speakers joining me on the webinar panel - here at this link. https://actionnetwork.org/events/invite-to-an-online-screening-of-the-story-of-plastic
"Globalise struggle. Globalise hope."
I hope you'll join me on May 14th.
Meaghan Carmody
Head of Movement-Building
Friends of the Earth
P.S. Tonight, Saturday May 9th, Not Here Not Anywhere are hosting a FUNdraiser including a quiz, performances and climate action at 8pm to raise money for the Stop Shannon LNG campaign. Register here!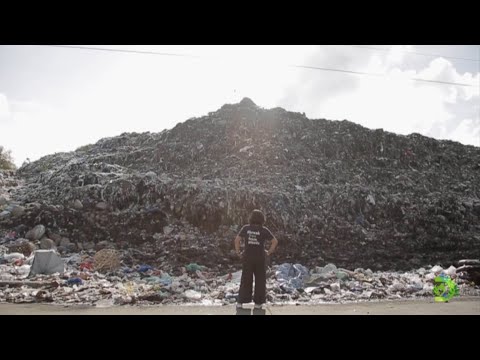 Caption: The Story of Plastic Trailer