Rotary Clubs of Newbridge & Naas put over 5,000 Kildare Students through Road Safety Programme

kildare | education | press release

Sunday March 08, 2020 13:09

by Stephen Maher - Rotary Club of Naas

stephenmaher at outlook dot com

0877073992
The occasion was marked by recognising the 5 key individuals who have made the programme a success over the past 30 months.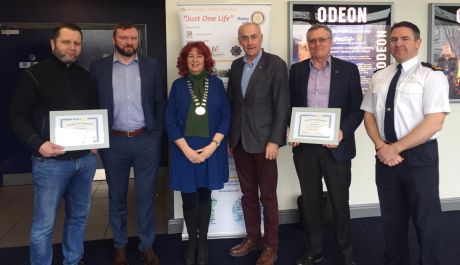 Pictured: Maciej Krzetowski, Stephen Maher, Carmel Kelly (Mayor of Naas), Conor Furey (Assistant Governor Rotary Ireland), Gerry Shinners and Superintendent Oliver Henry of Naas Garda Station at Just One Life in Odeon Cinema Naas 05/March/2020
Awarded for their efforts were Rotary Newbridge President Maciej Krzetowski and volunteer Gerry Shinners who put the Naas/Newbridge version of it together from day one, a tireless task of arranging schools, speakers and content. Gerry also MC's the event with extraordinary passion, and on this particular occasion Maciej ran the technical aspect of the presentation too, as he often does.
Also awarded: Dr George Little, Consultant A&E from Naas Hospital Emergency Room who gives his very matter of fact "if you see me – you're in trouble" talk, Garda Gary Cogan (community policing) who emphatically lets the students know that if they see him after a crash it's probably not the worst result, but also reiterates the emotional suffering the emergency services have to go through on a regular basis – as does his colleague, also awarded, Paul O'Dwyer with over 30 years exoerience in Naas Fire Brigade, who shows the students real life harrowing local footage and photographs of road traffic collisions. The event was attended by over 220 students on this day, all transition year students from local Kildare secondary schools.
Speaking on behalf of Naas Rotary Club, President Elect Stephen Maher said "It's great to be getting involved in such a fantastic programme, I look forward to working closely with Newbridge Rotary President Elect Alasdair Verschoyle to continue this success story over the next two years. A special mention of thanks to the current presidents of Newbridge and Naas Rotary Clubs Maciej Krezetowski and Michele Furey who have been an integral part of this series of events, as are the supporting members of each club."
The objective of the Just One Life programme is to save young drivers lives. This is done by demonstrating the common causes of collisions to 15-17 year old students in a practical manner which they can understand and relate to. Nearly every transition year class in Kildare takes part in Just One Life.
This is a shock and awe approach. In a hard hitting no-holds-barred presentation students witness a series of shocking interactive videos and listening to the tales of experience from the various presenters.
The Just One Life programme emphasises the stark realities and often-tragic results of inappropriate driving behaviours. Students are told that most of them will be involved in a serious accident at some stage of their lives, and that they may kill or be killed while in a vehicle on the roads. It provides much food for thought for these drivers of the future, and seeks to influence the choices they will make as young driver, in the age group accepted as being most at risk of having a serious road traffic collision.

The just one life programme in Kildare is run by the Rotary Clubs of Naas and Newbridge with support from Kildare County Council in association with An Garda Síochána, Health Service Executive and Odeon Cinemas. Plans are afoot to roll out the programme in a standardized format nationwide.
Just One Life was initiated by the Rotary Club of Wexford. A sister Rotary club in Sydney, Australia started the project in their area in 2000 following the tragic death of the children of some of their club members. Since the project has been extended across Australia and by the end of 2012 some 150,000 teenagers have participated in their programme across the whole of Australia and New Zealand. There is definite evidence that the programme has reduced road deaths and accidents in Australia. Therefore this project is tried, tested and proven to produce results.