Vegans in Temple Bar Square: the End of an Era

national | animal rights | news report

Monday July 23, 2018 20:59

by Roger Yates - The Vegan Information Project
VIP Vacate Temple Bar Square After 5 Years
The Vegan Information Project are saying a sad farewell to Temple Bar Square in the heart of Dublin after featuring its "Vegan Information Day" events there since 2013.
The first "Vegan Information Day" took place in Temple Bar Square (TBS), Dublin, in 2013. These were weekly vegan education events of either 6 or 8 hours in duration. "Vegan Information Day" was a real mould breaker in terms of vegan information outreach in Ireland as it broke free from the tradition of a small information table subject to the vagaries of the Irish weather.

Instead, "Vegan Information Day" consisted of one - and then two - 3x3m weatherproof gazebos which featured literature, including the always popular vegan and vegan-friendly restaurant guide for Dublin, banners, plant-based samples, virtual reality goggles and videos, and a small cafe area called the Tea Station where people would talk all things vegan with a Vegan Information Project (VIP) volunteer.

The VIP is an all-voluntary group and we'd like that thank all the wonderful people who over the years have helped this important ground-breaking event to happen.

There is no doubt that there has been a huge growth in interest in the justice-for-all vegan philosophy over the last number of years. We are glad that the TBS residency has played a role in that.

VIP would also like to thank the Temple Bar Cultural Trust (which has sadly lost its management role of the Square to Dublin City Council) for its guidance and support - and Art of Zen foods for all the plant-based cheese samples they provided over the years.

This video shows recent scenes from "Vegan Information Days."

ENJOY!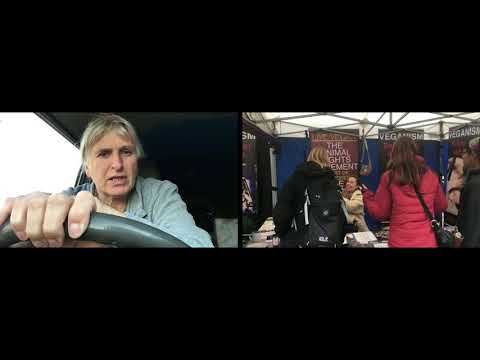 Caption: Fare Thee Well to Temple Bar Square