Connolly's history has not passed.

international | anti-war / imperialism | news report

Saturday May 14, 2016 19:24

by Jake Arden

ardenjake at hotmail dot co dot uk
Non Stop Connolly Show brings his legacy to life
100 years ago, if a Dublin Castle tout had entered the Connolly Books building on Essex Street, Temple Bar, he would have been quids in. Sitting hugger mugger around a huge table in the centre of the room are more than 20 of the most subversive characters in Ireland, spouting socialist verse and preaching revolution and rebellion. They include communists, trotskyists, anarchists, republicans, trade unionists, anti-austerity activists, pacifists, militant feminists, internationalists, environmentalists, ex political prisoners, independent TDs, writers, poets, singers, artists, and actors. They have banded together in one bold adventure: to read, over a series of lunchtimes, the entire, epic, 24-hour Non Stop Connolly Show.
On this lunchtime, the final act dealing with the Easter Rising is being read. Queen of Irish jazz and blues, Mary Coughlan plays James Connolly. Maura Harrington of Shell to Sea, freshly released from Mountjoy Prison, is Countess Markievicz. Derry's own Renaissance woman, Nell McCafferty takes a number of parts including a die-hard Dublin docker. An old gent from Kent with a gravelly voice, a veteran of anti-fascist street fighting, the poll tax riot and Troops Out protests in London, has flown in and demands to read Lenin, Leibknecht and a British and a German general. Overseeing all of it, with her heavy walking stick close by, is Ireland's Guantanamo Granny and co-author of the play, Margaretta D'Arcy.

The result is a triumph. With no rehearsal, the actors must immediately engage with their scripts and, such is their and the text's brilliance, that on the stroke of one o'clock the drama comes alive and the room is flooded with pulsating energy. Voices from the four corners of Ireland create a symphony of language.

As a young teenager, I took part in the original 24-hour stage production at Liberty Hall on Easter weekend 1975. It was an audio-visual spectacular. Villains wearing grotesque masks, squads of Irish Citizen Army men and women in uniform. Guns, flags, banners, scenery, props, music, song, drums, sound effects, lighting. The stage torn apart to create barricades in the GPO.

At Easter this year in London, I was blown away by Shane Dempsey's series of staged readings of the play at the Finborough Theatre. To me, his company of young, Irish, professional actors performed even better than the original cast and, by having women in men's roles, added a new dynamic and depth to the drama.

But the Dublin reading belongs in its own special category. Theatre of the people, for the people and by the people. Ireland's creative wealth in the hands of Irish workers. James Connolly would have said aye, but maybe Sean O'Casey would have been a tad jealous.

Connolly would have recognised the narrow streets and buildings of Temple Bar. I don't think he would be comfortable with this part of the city. Where once transport and general workers ruled the cobbles and British cavalry patrols trod warily, the main roads are now clogged with competing bus companies, swarms of taxis outnumbering available fares, and diesel-belching juggernauts going to and from the sites of city centre property speculation. The British now come into Temple Bar not in soldier's uniform but dressed as stags or hens. And every pub and petit bourgeois outlet now claim a piece of 1916. Dirty Murphy's propaganda sheet, the Independent, which demanded the executions of Connolly and other leaders of the "criminal and insane" rising, offers a special commemorative pullout of the event. The Germans, who failed to get guns to the rebels, have succeeded in bringing discount food to the Dublin masses and so Lidl must have a piece of the 1916 pie. But Connolly would have recognised, with feelings of anger and despair, the queue to the soup kitchen and charity clothing handouts outside the Central Bank of Ireland and the homeless sleeping in doorways.

Across the river, Connolly would probably have smiled at the women in Moore Street market hawking contraband, shouting "bacco, cigarettes!" in a timeless Dublin drawl. The site of the last stand at number 14-17 would also have been familiar, crumbling bricks behind hoardings, as if it only been Shelled yesterday. But of course it took protest and an occupation to save it as a heritage resource and prevent it being turned into fancy shops.

Connolly, I'm sure too, would have joined the cast after the reading in marching to Liberty Hall. Behind a banner, with red flags held high, broomsticks on shoulders and flowers in hand, they take the centre of the road and bring the true spirit of 1916 back to Dublin. Passerbys applaud and motorists toot support. Guarda are dumbstruck. No one has told them. They have no orders.

At Connolly's monument, one hundred years to the day he was brutally murdered by the British State, the cast lay flowers and Mary Coughlan sings a beautiful eulogy. The company then forms up, presents broomsticks and advances down the quay to sweep the corrupt capitalist filth of Dublin into the Liffey. A security guard at the Convention Centre whispers to Margaretta D'Arcy:"Good on ya. I wish I was with ye."

"I think," Margaretta says. "That we need a few more events like this to remind Dubliners that rebellion and revolution is in their DNA."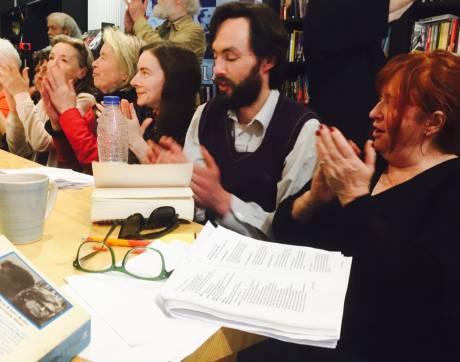 Mary Coughlan, far right, reading Connolly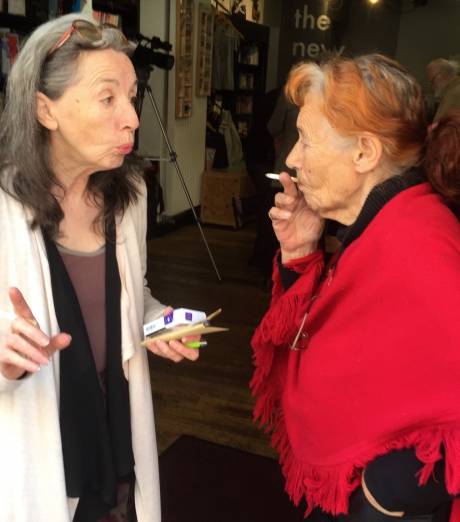 Maura Harrington and D'Arcy swap prison tales