Pentagon rejects that Turkey supports ISIS despite comprehensive proof of them helping sell ISIS stolen oil.

international | anti-war / imperialism | feature

Sunday December 13, 2015 23:43

by T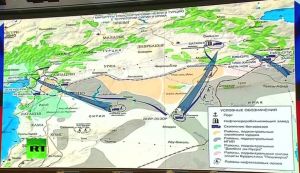 For the past year, there have been numerous reports that ISIS have been transporting the oil they have stolen from Iraq and Syria, to Turkey and this has been greatly facilitated by the Turkish state at the highest levels. It is widely known the oil was being sold and exported by BMZ Ltd owned by Bilal Erdogan, President Erodgan's son. It is extremely unlikely that they are doing this for nothing and tens of millions have probably been siphoned off by the Erdogan family and other key officials and the Turkish economy has no doubt benefitted from an injection of cheap stolen oil sold below world market rates. The Russian Defense Ministry on Dec 2nd revealed the vast scale of the oil smuggling operation which somehow was missed by the NATO/US in the past 2 years.
Related Indymedia Links: Syrian Refugees, ISIS / Al Nursa Butchers and Their Not So Secret Backing by Western Powers | The Paris Attacks -What's Going On ? | The French Republic taken hostage
Related External Links: Where will the Ukrainian bombs explode? (Hint: In Syria and blamed on Russians) | "The Art of War" The strategy of chaos | Why does France want to overthrow the Syrian Arab Republic ? | Why did Turkey shoot down the Russian Soukhoï 24 ? | More than 500 jihadists cared for at the Ziv Medical Centre | The method behind the madness in Syria | Turkish Special Services behind Terrorist smuggling, training: Whistleblower | Erdogan sends 'Grey Wolves' to Crimea - A History Lesson | What is the US cooking up for Turkey, Iraq, Syria, and Iran? "Divide and conquer" on a whole new level | Why's The US Hanging Turkey Out To Dry? | The Race For Raqqa And America's Geopolitical Revenge In "Syraq" (I) | The Race For Raqqa And America's Geopolitical Revenge In "Syraq" (II) | 'US seek to control the EU elites via refugee crisis' | Turkey Made Plans to Shoot Down Russian Su-24 a Month in Advance - Assange | Erdogan Blackmails NATO Allies | Massacre Proves Turk, Washington Complicity in Syria Terror By Finian Cunningham | Oil Smuggling and Syria: Is NATO No Better Than Turkey? | dA321 Crash: The Qatari Trace | ISIS-Linked Autocrats to Host British Navy | What Stinks in Saudi Ain't the Camel Dung | You Cannot Fight Terrorism While You Are Supporting The Terrorists - Full Interview with President Bashar al-Assad by Czech TV - 1/12/15 | The Radar Recordings of the Turkish Attack on the Russian Su-24 | The Shaping of American Character | How the US Helped ISIS | In Plain Sight: Coalition Forces Routinely Air-Drop Military Supplies to ISIS Fighters In Syria | 10th Dec - 100,000 foreign troops incl. Americans to be deployed in Iraq, MP claims | EXCLUSIVE: Israeli Colonel Leading ISIL Terrorists Captured in Iraq | Syria's Assad blames France as Arab world condemns Paris attacks
Less well known is that Erdogan's daughter Sümeyye supervises a secret hospital setup by Erdogan in Sanliurfa to look after Daesh jihadists.
For the past year the US has banged on about it fighting ISIS / Daesh and at the same time the mainstream media has made it known that ISIS was being financed by stolen oil to the tune of hundreds of millions, possibly a billion per year. Yet somehow the entire US intelligence state with it's satellites, global intercept capabilities, advanced surveillance technologies of the US air force with it's fleet of drones, AWACs and other planes, never seemed to find any of the oil tanker trucks shipping this oil nor has a single one up to very recently been attached.
However over the past two months with the start of the Russia air campaign attacking targets things have changed. The regime plans of Turkey, UK, France and USA for Syria have been upset temporarily and their blatant support for ISIS exposed and completely embarrased and made obvious to the public how ineffective the US & co campaing was in light of the huge success of Russia in the space of a few weeks doing inflicting a lot of damage on ISIS.
After the Paris attacks, the US had to do something and finally attacked over 100 ISIS oil tankers. There are reports that a leaflet drop was done 45 mins in advance to advise everyone to run away as an attack was immiment. It's a pity the 2,000+ civilians (and these are US military figures) killed by drone strikes over the last few years never got the same warning.
In the same week though Russia upped it's air campaign and destroyed over 500 ISIS oil tankers and have since gone on to destroy many more including oil storage tanks so as to disable the infrastructure to enable the large scale looting of the oil. While the US attack was a token gesture to keep up appearences, the Russian attack hurt the Erdogan's badly and he was mad that the Russians would dare disrupt his criminal entreprise.
It was widely speculated by many commentators that the shooting down of a Russia SU-24 aircraft in Syria by a Turkish F16 fighter was in retaliation for the attack on the oil tankers and attempt to warn Russia, although it had the opposite effect because they intensified their air campaign against the ISIS monsters. It should be pointed out that on a surface level this may have been how it played out, but taking in the larger geopolitical context, driving a wedge between Russia and Turkey plays to the advantage of the US, because it means the loss of trade with Russia while hurting Turkey, hurts Russia too. Also the Turkish Stream gas pipeline from Russia to Turkey and onwards to the Balkans is at best now on hold or possibly cancelled. The Balkans are traditional allies of Russia and undoubtly one of the objectives of Turkish Stream was to help strength those again. While the US has in public supported Turkey in the whole affair they still let it be known through a leak reported to Reuters news agency by an anonymous American military official that the Russian plane was downed while over Syrian airspace which is another way of the US saying to Russia we know. This suggests something deeper to that particular event and may relate to the speculation of a coming civil war in Turkey where so far Erdogna has been the fall guy and the planned end result is the setup of a Kurdish state -aka Kurdistan. This has been the goal of the neo-cons from the early 2000s. The general idea was to smash up all the larger states and fracture them into smaller ones, each then more easily controllable. Iraq is defact more or less on the way to being divided into three states. Libya is a failed state. Syria is the present target and Iran is the main target, at least in that part of the world.
But for the moment, the focus of this article is on the presentation made on Weds 2nd Dec 2015, the Russian military presented comprehensive and devasting evidence (for the Turks at least) of the large scale of the ISIS oil smuggling through Turkey and the complicity of the Turkish state in this massive criminal entreprise and for their support of these butchers who have ruthlessly murdered tens of thousands, beheaded people and destroyed some of the greatest archaeological that were treasures of all humankind.
In the presentation they illustrated the scale of the operation and how the oil is transported to Turkey. It goes via three routes (see map), the Western, Northern and Eastern route. There are thousands of oil tanker trucks (8,500 per day) used which are driven at night over the Syrian-Turkish border where they let through without any hinderance. It is reckoned they were making approximately 3 million dollars per day which works out at around 3x365 = 1 billion+ dollars per year. Some of the oil is exported through the ports of Dörtyol and Iskenderun on the South coast of Turkey and the rest sold within Turkey with the Turks taking their cut for services rendered.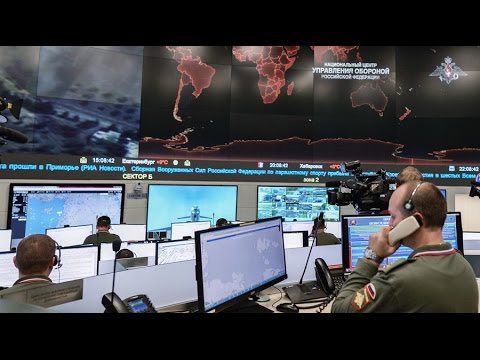 In the presentation a series of aerial and satellite photographs illustrated each point. On the Eastern route, one satellite image, dated the 14th November 2015, shows the presence of 3,220 tanker trucks crossing the border into Turkey via the crossing point at Zakho.
So far Russia has carried out air-strikes on 32 petrol complexes, 11 refineries, 23 pumping stations and 1,080 tanker trucks transporting petroleum products. The result for the IE is a loss of 1.5 million dollars per day yet ISIS are still receiving money, arms and munitions from their sponsors abroad.
Meanwhile ....'Great partners': Pentagon rejects Russian evidence of Turkey aiding ISIS
Src: https://www.rt.com/usa/324377-usa-russia-turkey-isis/

A Pentagon spokesman rejected Russia's evidence of Turkey's involvement in oil deals with Islamic State militants, calling Turkey a "great partner" just a day after his boss complained to Congress that Ankara was not fighting ISIS enough.

"Let me be very clear that we flatly reject any notion that the Turks are somehow working with ISIL," said Colonel Steve Warren, spokesman for the US-led coalition fighting against Islamic State (IS, formerly ISIS/ISIL). "That is preposterous and kind of ridiculous. We absolutely, flatly reject that notion."... ...
Isn't that incredible after all the coverage in the Western press about ISIS?? Does that not wake up some people from the incessant propaganda covering up their role in the creation of ISIS?
And on Nov 24 head of Turkey's Intelligence says we must stop Putin from crushing the Islamic revolution
src: http://fortruss.blogspot.com.au/2015/11/turkish-intelligence-chief-isis-is.html

Hakan Fidan, the head of Turkey's National Intelligence Organization, known by the MIT acronym, has drawn a lot of attention and criticism for his controversial comments about ISIS.

Mr. Hakan Fidan, Turkish President's staunchest ally, condemned Russian military intervention in Syria, accusing Moscow of trying to 'smother' Syria's Islamist revolution and serious breach of United Nations law.

"ISIS is a reality and we have to accept that we cannot eradicate a well-organized and popular establishment such as the Islamic State; therefore I urge my western colleagues to revise their mindset about Islamic political currents, put aside their cynical mentalité and thwart Vladimir Putin's plans to crush Syrian Islamist revolutionaries," - Anadolu News Agency quoted Mr. Fidan as saying on Sunday.

Fidan further added that in order to deal with the vast number of foreign Jihadists craving to travel to Syria, it is imperative that ISIS must set up a consulate or at least a political office in Istanbul. He underlined that it is Turkey's firm belief to provide medical care for all injured people fleeing Russian ruthless airstrikes regardless of their political or religious affiliation.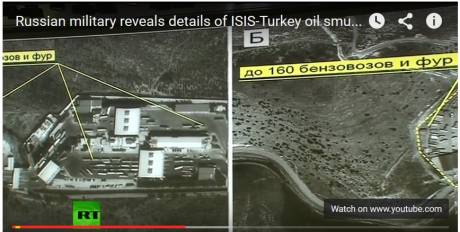 ISIS oil tankers at Turkey Syrian border crossing point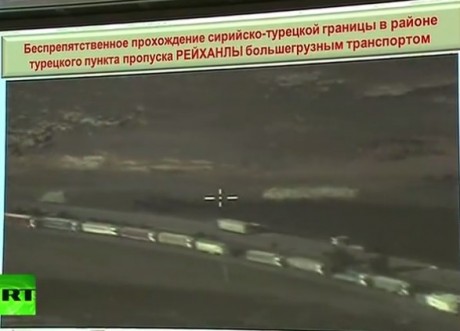 Night time convey of oil tankers transporting stolen oil as part of Turkish-ISIS operation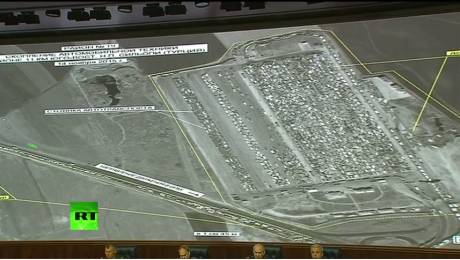 1300 trucks parked and used for Turkish-ISIS oil smuggling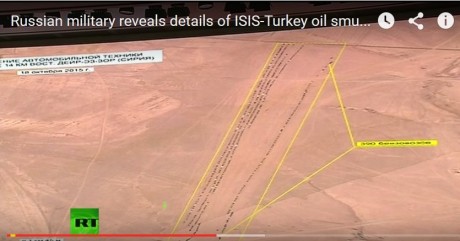 Hundreds of ISIS oil tankers wait to load oil in the desert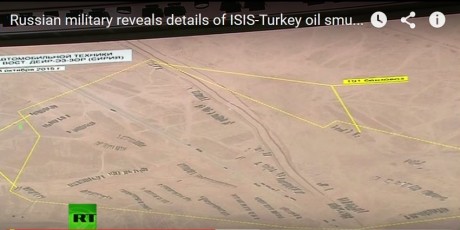 1300 trucks in this area wait to load oil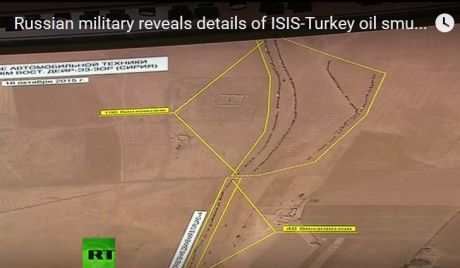 Long lines of oil tankers wait to transport oil stolen by ISIS to Turkey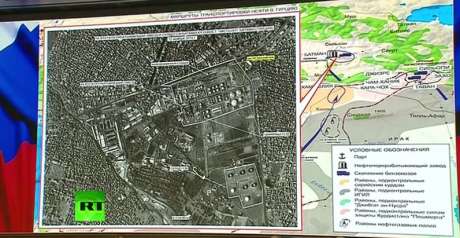 Refinery inside Turkey where trucks bring the oil for processing