New booklet: Shannon Airport and 21st Century War

national | anti-war / imperialism | press release

Tuesday November 24, 2015 21:47

by sw - shannonwatch
We are delighted to announce a new publication entitled Shannon Airport and 21st Century War, edited by Shannonwatch's John Lannon and PANA's Roger Cole. Printed copies of the 48 page booklet are available for €10 by contacting Shannonwatch or PANA. You can also download a PDF version of the booklet
We are delighted to announce a new publication entitled Shannon Airport and 21st Century War, edited by Shannonwatch's John Lannon and PANA's Roger Cole. Printed copies of the 48 page booklet are available for €10 by contacting Shannonwatch or PANA. You can also download a PDF version of the booklet by clicking here.
http://www.shannonwatch.org/sites/shannonwatch.org/file...5.pdf

The primary purpose of the publication is to document and raise awareness of the extent to which Irish values and neutrality have been eroded by the US military use of Shannon Airport. It charts Government support for this since 2002, and examines the flawed basis upon which they've attempted to justify it. The use of the airport in the illegal CIA practice of kidnapping and torture, known as renditions, is also outlined as is the cost to the Irish State for the support given to the US war machine.

Europe is now being subjected to brutal terrorist attacks and threats that are linked to the ongoing air strikes in Syria. At the same time people are fleeing from Syria and other countries ravaged by war and poverty. Cycles of violence and hatred are making the world a much more dangerous place, and as the West responds to Daesh (ISIS) with more airstrikes, there is unlikely to be an end to the current violence in the Middle East and Europe in the short term.

The West's airstrike campaign is a continuation of a policy of invasion and occupation that has destroyed Iraq, Afghanistan and Libya and has created the conditions that led to the growth of Daesh. Ireland has supported the US military throughout all these campaigns by making Shannon Airport available to them as a transit base. Ending the ongoing US military use of Shannon will not make the world a safer place on its own, but it would be an important step in the right direction. It would send a strong message to the world that Ireland does not support or accept a failed US policy of war in the Middle East.

Shannon Airport and 21st Century War includes activist, academic and political perspectives on the US military use of Shannon. It is hoped that the combination of insights and information will help to stimulate more debate over Ireland's support for global militarization and US-led imperialism, and ultimately to a safer world for everyone.

The booklet was published by PANA with support from the Irish Anti War Movement and Afri.

Note: That attached images are taken from the PDF booklet. See booklet for more.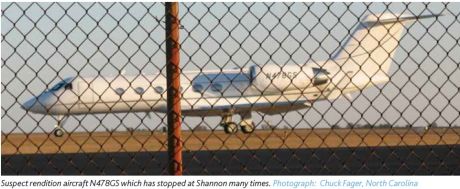 Image of suspect rendition aircraft frequently used for renditioning innocents to Guantánamo . A lawsuit filing in 2004 showed that White House knew the vasy majority of Guantánamo inmates were completely innoncent


PDF booklet: Shannon Airport and 21st Century War 2.59 Mb