National - Event Notice
Thursday January 01 1970
5th Annual International POW Day of Action.

national | history and heritage | event notice

Monday October 19, 2015 16:04

by Sharon. - Individual.
Event in support of Irish republican prisoners in Maghaberry, Portlaoise and Hydebank jails.
A picket will be held on Sunday 25th October 2015 at the Half'penny Bridge in Dublin , beginning at 1pm.
Hi!

The 5th Annual International Day in Support of the Irish Prisoners of War held in Maghaberry, Portlaoise, and Hydebank jails will be held on the 24th, 25th and 26th of October 2015 ; this event, since 2011, has been held annually on the last weekend of October and, as in previous years, it is organised by the "International Committee to Support the Irish Prisoners of War". The committee is supportive of all Irish republican prisoners held in Irish and British jails.

The last weekend of October is a historical date for Irish republicans ; on October 25th, 1917, the Ard-Fheis of Sinn Féin adopted a republican Constitution and, three years later, Sinn Féin's Lord Mayor of Cork, Terence MacSwiney, died after 74 days on hunger strike. Furthermore, Joseph Murphy died on hunger strike in Cork prison on that day. On October 27th 1980, the first H-Block hunger strike began and on October 26th 1976, Máire Drumm, Vice-President of Sinn Féin, was murdered in the Mater Hospital, Belfast, by a loyalist death squad. Finally, on the last day of October 1973, the helicopter escape from Mountjoy jail took place.

In 2015, as in previous years, to mark these historical events as well as highlighting the plight of today's Irish republican POW's, protests and pickets will be organised by various organisations and concerned individuals in Ireland, England, Scotland, Continental Europe, USA, Australia, and elsewhere. If you want to add a city or country to that list, contact the Organising Committee at the 'Related Link' below and/or email supportthepows AT irish-solidarity.net.
All international organisations, Irish republican activists and their supporters are invited to join preparations to make the 5th annual POW-Day a success. We would appreciate if those reading this in Ireland who want to show their support for Irish republican POW's could join us on Sunday, 25th October 2015, at 1pm on the Half'penny Bridge in Dublin city centre. All genuine supporters welcome!

Thanks for reading,
Sharon.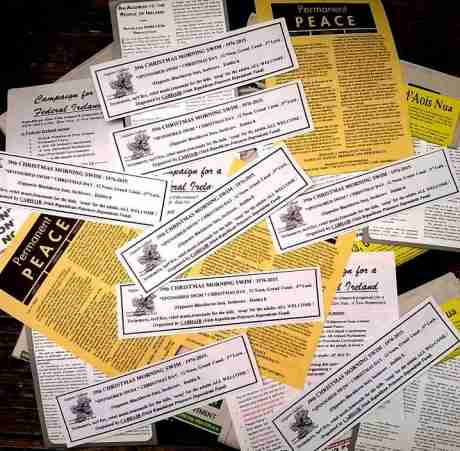 1,200 items of printed material of a republican nature will be distributed , in various-sized 'packs', at this event.