Ukrainian Neo-Nazis Declare that Power Comes Out of the Barrels of their Guns

international | miscellaneous | other press

Saturday March 01, 2014 12:55

by Paul Craig Roberts
Its worth pointing out that Roberts is an associate editor of the Wall Street Journal and a former Assistant Secretary of the US Treasury for Economic Policy, so hes hardly a loony leftie. He is however a Democrat in the real meaning of the word. KM

Reality on the ground in Ukraine contradicts the incompetent and immoral Obama regimeís portrait of Ukrainian democracy on the march. To the extent that government exists in post-coup Ukraine, it is laws dictated by gun and threat wielding thugs of the neo-Nazi, Russophobic, ultra-nationalist, right-wing parties. Watch the video of the armed thug, Aleksandr Muzychko, who boosts of killing Russian soldiers in Chechnya, dictating to the Rovno regional parliament a grant of apartments to families of protesters. http://rt.com/news/radical-opposition-intimidating-tech...-882/

Read about the neo-nazis intimidating the Central Election Commission in order to secure rule and personnel changes in order to favor the ultra-right in the forthcoming elections. Thug Aleksandr Shevchenko informed the CEC that armed activists will remain in CEC offices in order to make certain that the election is not rigged against the neo-nazis. What he means, of course, is the armed thugs will make sure the neo-nazis win. If the neo-nazis donít win, the chances are high that they will take power regardless.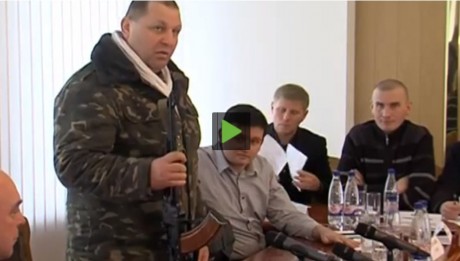 'I dare you to take my gun!' AK-47-toting Ukraine far-right leader Aleksandr Muzychko tells officials
Members of President Yanukovichís ruling party, the Party of Regions, have been shot, had arrest warrants issued for them, have experienced home invasions and physical threats, and are resigning in droves in hopes of saving the lives of themselves and their families. The prosecutorís office in the Volyn region (western Ukraine) has been ordered by ultra-nationalists to resign en masse .

Jewish synagogs and Eastern Orthodox Christian churches are being attacked.

http://www.paulcraigroberts.org/2014/02/26/ukrainian-ne...guns/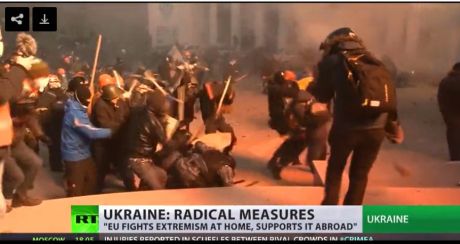 US & EU backed and trained Neo Nazi thugs beat policeman at a protest in Kiev -source RT.com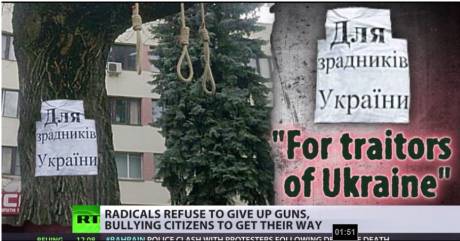 Nooses ready for 'traitors of Ukraine' -new nazi 'democrat's' show how they will deal with dissent


Caption: Video Id: RI0nUu_7jpc Type: Youtube Video
EU & US backed Neo Nazi freedom fighters slash eyes of Ukrainian policeman.